---
Smoothie operator: Janine Allis
Before fishing for investments on Shark Tank, Janine made her money from fresh fruit, founding the Boost Juice franchise. She now has 3 businesses under the Retail Zoo umbrella and is one of Australia's richest self-made women.
When she was 21 years old, Janine Allis found herself in a bar in France, alone, with no job, nowhere to stay, a few thousand dollars of credit card debt, and 400 francs to her name. "It was bizarre, but I wasn't that stressed," she recalls. "At 21, you just think – yeah, I'm broke. But it'll be fine." 
Halfway through a 7 year travel frenzy in the 80s, Janine had already worked her way from country to country – first as a girl scout counsellor in the US, then as a nanny in France, selling time shares in Spain, as a promotions exec in Portugal, then back to France. She'd found that pubs had often been a good place to scout out employment opportunities, and as luck would have it she met a man looking for a new stewardess to work on a yacht. "I talked my way into the job and started working onboard this boat. 6 weeks later, David Bowie bought it." 
She would spend 18 days traversing the Atlantic, from Antibes to Antigua, before spending two years in the Mediterranean serving David Bowie drinks as he sunbathed nude on the deck.
"People want to know, have I seen his bits? I have," she laughs. "I had to try to give him the drink without looking down. But actually, for a rock star there wasn't much sex, drugs or rock and roll. He was a beautiful family man, very inclusive of the staff and lovely to work for."
During her time rubbing elbows with Bowie's pals, she met Oscar-winning film producer, Lord David Puttnam, who promised to put her in touch with Village Roadshow CEO Graham Burke if she ever returned to Australia. He was true to his word, and when Janine finally swapped her sea legs for a stint back Down Under, she quickly got a job managing cinemas in Australia, then later Singapore. 
---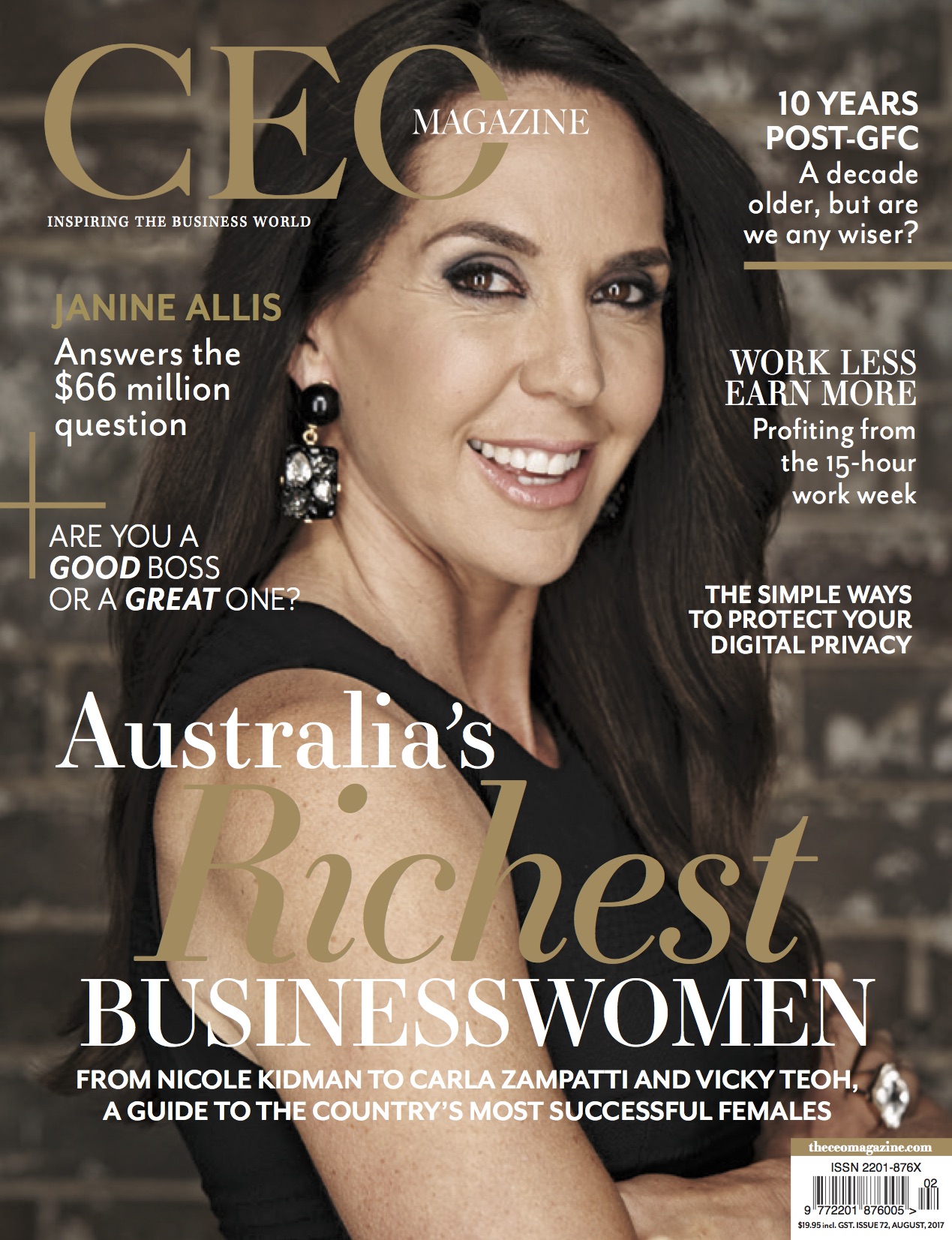 To find out more about how Boost Juice was born, and Janine's latest projects, pick up a copy of The CEO Magazine on shelves now or subscribe here to never miss an issue!
---