Future shaping: Wayne Davy, CEO of Tasplan
Wayne Davy is accustomed to the confusion surrounding his industry; it's his job to make it easy.
Swing by a baby boomer's barbecue on a Sunday afternoon and sooner or later, after the predictable conversation about real estate, chat is likely to turn to retirement. Usually, it's just a casual conversation with armchair experts offering advice on what should, could or might be. The reality, though, for most Australians, is that more time was probably spent preparing that barbecue than organising a retirement plan.
"It's sad, but true," says Wayne Davy. "Australians always think retirement is further down the track. Adaption to retirement is a new and changing concept and we're largely uneducated about it. On top of that, it reminds us of our mortality, and no-one likes to think about that."
The CEO of Tasplan, one of Australia's leading multi-industry super funds, admits he had exactly the same attitude 20 years ago when, as a barrister, he was determining the course of other people's lives but doing little to shape his own. It was his involvement in setting up a new board and legal framework for the superannuation fund Quadrant that triggered his interest in the industry, so much so he went on to become Quadrant's CEO.
Wayne describes the apathy towards superannuation and retirement by Australians as almost "financial illiteracy". "The level of financial literacy across the country is very low, and I'm not talking complicated finance but basic finance, finance skills which will set us up for life," he says. "We may teach geometry and algebra, but we don't teach the importance of saving for the future, the consequences if you don't, the benefits if you do. It's a problem."
Focused on the future
While the average Australian may not be thinking about retirement, Tasplan is certainly focused on the future. The company has undergone enormous change since it launched in 1987 as Tasmania's premier fund. In 2015, the Tasmanian Government announced its support for a single Tasmanian super fund created by the successor fund transfer of Quadrant and the Retirement Benefits Fund (RBF) Tasmanian Accumulation Scheme to Tasplan.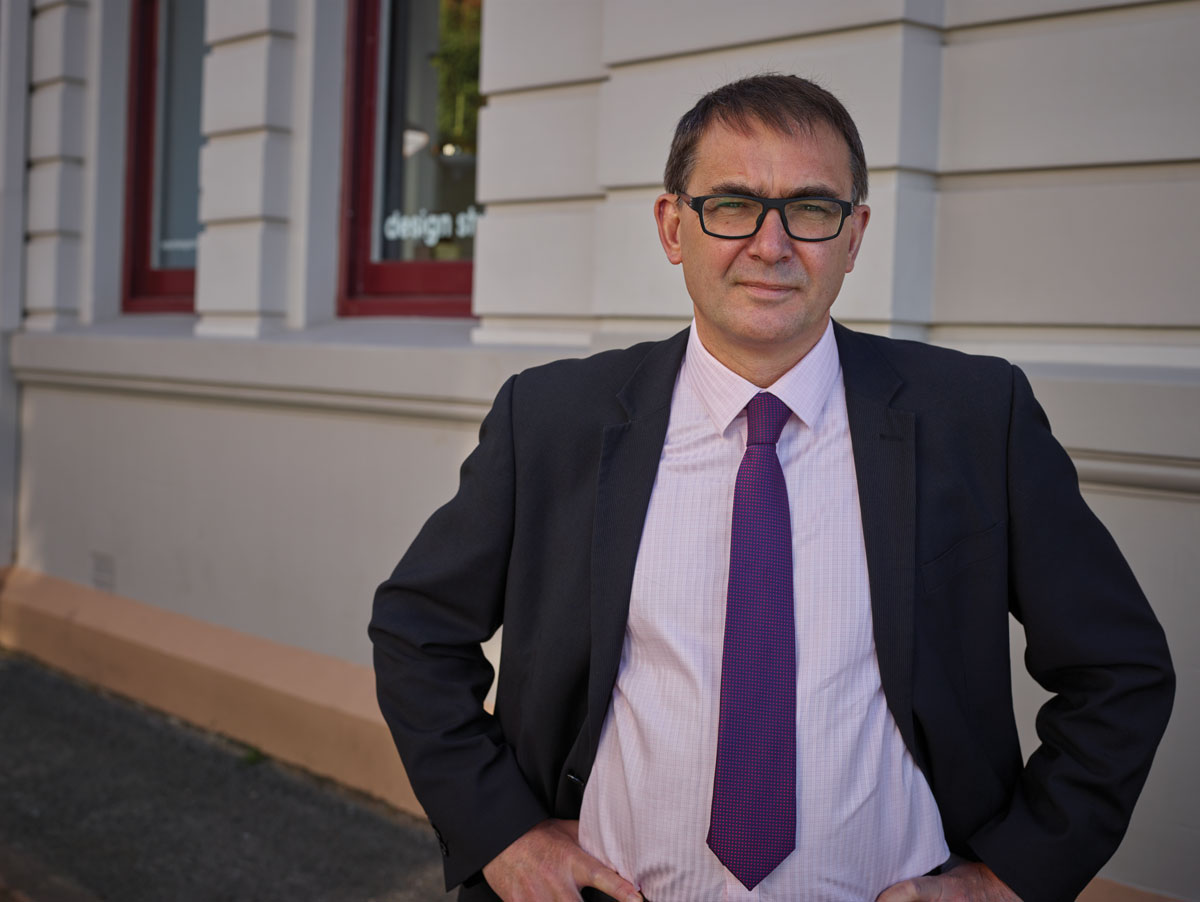 We may teach geometry and algebra, but we don't teach the importance of saving for the future, the consequences if you don't, the benefits if you do.
The transfer has expanded membership to around 146,000, with $7.6 billion of funds under management as at 1 April 2017. Wayne, at the helm, is quick to stress that no matter how much the company expands – and he predicts it will – Tasplan members are always the priority. "Ultimately, we are always here to service our members," he says. "It's important to be continually evolving, and we are certainly looking to continue to grow, both organically and inorganically. Of course, that means good management is required."
To help its members protect themselves against the unexpected and guard against big losses, Tasplan introduced Tasplan OnTrack®, a default option that changes the mix of a member's investments across 4 age categories, from a high-risk level to a low/medium risk level as the member nears retirement age.
All it takes, Wayne adds, is good management to set yourself up for retirement and an income for life. It's particularly poignant in a changing world where jobs are no longer for life and younger people are looking to the internet to change careers on a whim. Meanwhile, older workers face the threat of ill health or redundancy, which can throw even the best-laid plans awry.
"Obviously, it is better for people to start planning their retirement early, in their 20s, but it's never too late to start either," Wayne says. "There is no doubt it is difficult in the retirement space; it's not easy, and there are always risks.
The global financial crisis in 2008 was the worst year ever to retire and had devastating consequences. Meanwhile, there is inflation; an enormous cost for Australians has been the price of utilities; and longevity is another consideration. The good news is that we live longer; the bad news is that we could run out of money. Preparing for all these different circumstances is the key, and our mantra is to coach and encourage people to plan."
Super advice
So where to start? Even taking the first step towards getting help with financial planning can be daunting, a situation not helped by constant rule changes. Wayne concedes that super can be complicated, overcomplicated in fact. "It's overregulated," Wayne says. "People complain all the time that they can't keep up with it because the government changes the rules all the time, so they lose confidence in the system. Australians tend to ask a family member or the neighbour over the fence for advice; it is less confronting for them.
Australians tend to ask a family member or the neighbour over the fence for advice; it is less confronting for them.
"It's easy to get bamboozled, and we understand that. How much should you salary sacrifice, what's the best tax approach, how much insurance should you have, what diversification should you have and invest in? But what people don't realise is that gentle coaching and mentoring can turn their lives around and take away any worries. Tasplan offers a whole range of education, mentoring and coaching services for our members. We have people on the ground in Tasmania, Sydney and Melbourne doing that every day, offering advice from small tweaks to full retirement plans. We can walk them through every step."
Over the next few years, Tasplan is focusing on expanding its digital capability to include online advice, while maintaining the intimacy of service the company is renowned for. The company is also targeting younger members. It's a tough gig convincing a young person armed with attitude and their first pay cheque to even consider retirement half a century down the track, but it's a challenge Tasplan is embracing, with the introduction of broader services.
"We hope that by offering the services they need, we can then help them plan for the future," Wayne says. "Obviously, the trade-off is wanting immediate consumption, not deferred consumption. "We have to help young people realise that a super fund is simply a tax-effective vehicle, nothing more than that. It makes you save until and for your retirement, and it's a good mindset to get going."
You can download the PDF version (as seen in the magazine) below...