Di Westaway
Di Westaway is founder and CEO of Wild Women On Top and Coastrek. She is 2016 AFR/Westpac Top 100 Woman of Influence in Business Enterprise, an author, parent, and adventurer who takes her handstands all over the world.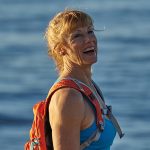 Di has inspired nearly 20,000 people to get off the couch and into adventure and raised almost $20 million for charity while leading an adventurous life she loves.
You can see more from Di on her website www.diwestaway.com or follow her on Linkedin, Instagram, and Facebook.