The future of work is people in partnership with technology
Have CEOs become captivated with technology's promise at the expense of human potential?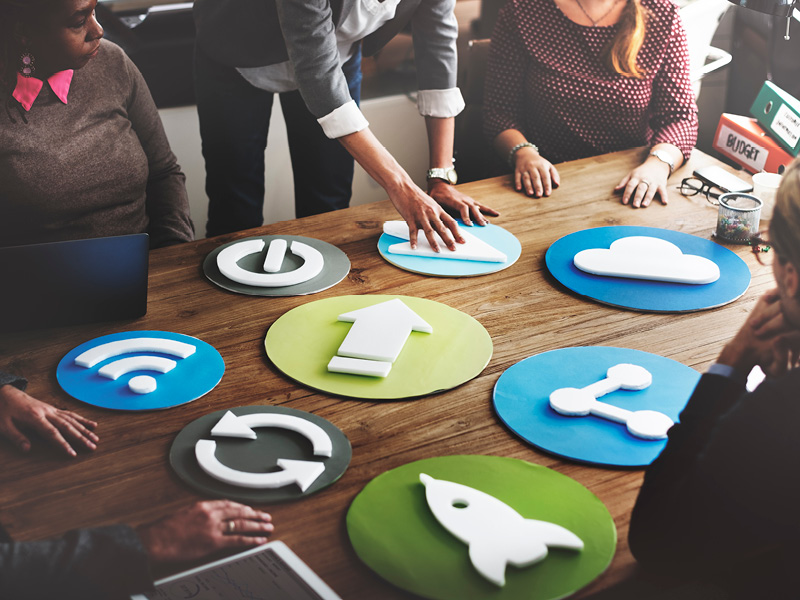 We all know technology is one of the most important enablers for business. The influence and relevance of mobility, big data and cloud computing in business and broader society has grown exponentially and has, deservedly, the CEO's full attention. But have CEOs become captivated by technology's promise at the expense of human potential? Recent research by Korn Ferry Hay Group would suggest they have.
Korn Ferry recently examined the top 5 valuable assets nominated by CEOs and found that the first two were technology related, followed by culture, then inventory, and R&D/innovation coming in fifth. CEOs consistently rate technology as their organisation's most valuable asset, both now and in five years' time.
As part of our study, we commissioned detailed opinion research to capture the thinking, knowledge, and experience of 800 CEOs, Chief Commercial Officers, and Chiefs of Strategy around the world. They have illuminated where they perceive value today and tomorrow and where people factor into their vision for success. Survey respondents, perhaps swayed by shareholder demands, said they are putting a priority on thinking, planning, and investing in technology — with significantly less effort going toward the people in their workforce.
But human capital is also the greatest value creator available to organisations: For every US$1 invested in human capital, US$11.39 is added to GDP, the Korn Ferry economic analysis finds. The return on human capital — value versus cost — should give a clear signal to CEOs: Investing in people can generate value for the organisation over time that significantly exceeds initial financial outlay.
Although this evaluation may be one of the most important they make in the near future, CEOs have a significant blind spot in the way they perceive people, tending to undervalue human capital. There is a clear trend among them to magnify the relative importance of technology in the future of work: 67% of CEOs responding to the firm's survey said they believe that technology will create greater value in the future than human capital will; 63% of CEOs said they perceive that technology will become their firm's greatest source of future competitive advantage. But the economic reality differs sharply, with human capital, not physical capital, creating the greatest value for organisations.
CEOs' distorted perceptions demonstrate the extent to which people are being painted out of the future of work — and the risk to organisations that do not recognise the potential of people to generate value: 44% of leaders in large global businesses told Korn Ferry that they believe that the prevalence of robotics, automation, and artificial intelligence (AI) will make people "largely irrelevant" in the future of work.
Leaders may be demonstrating, in a big way, what experts call tangibility bias: Facing uncertainty, they are putting a priority in their thinking, planning, and execution on the tangible — what they can see, touch and measure.
CEOs excel at this, of course. They want metrics to help them chart the best course. But organisations are also least likely to measure human factors, with just 4% of respondents to a Korn Ferry survey seeing revenue per employee as a critical performance indicator; 46% of responding leaders said their organisations don't understand how to measure workforce performance, 40% said their organisations lack an executive with specific responsibility for the performance of people, and, 64% of leader-respondents told Korn Ferry that they see people as a bottom-line cost, not a top-line value generator.
Without laser-focused leadership time dedicated to realising people's potential, how can CEOs unlock their workforce's value? Great performance does not happen by accident.
Technology does not create itself. It does not prompt greater efficiency in isolation. But organisational leaders and corporate investors are not making the connection now between people (their workforce) and value generation, between tangible assets and their activation by the workforce. Korn Ferry's research supports the critical finding that CEOs can value the workforce more and, by understanding its great worth and potential, they can focus on releasing it.
To increase performance and generate maximum value in the future of work, CEOs first need to change their perspective. They must close the gap between their perception that technology will be a greater value creator in the future than human capital and the economic reality that people are an organisation's most valuable asset. Enlightened CEOs will partner technology and people — maximising the performance of both assets to generate value.
Although familiarity can blind leaders to this reality, it is the partnership of people and technology — not just technology alone — that holds the key to performance. Humans will play a critical role in the future of work, inventing, using, consuming, and benefiting from technology. As a result, people will be, as they long have been, the most significant driver of organisational performance.