In the mid 60s, during the construction of Macquarie University's Arts, Sciences and Union Buildings, the 6-year-old Bruce Edwards sits on the lap of a bulldozer driver as the machine clears mounds of loose soil and rocks from the building site. His father is Stanley Edwards, then-Managing Director of trusted construction company AW Edwards, founded in 1921 by his father, Austin William Edwards. Forty-five years later, Bruce is back at Macquarie University, this time standing on site as managing director, coordinating the construction of its 18,000-square-metre, seven-storey library. His twin brother, Malcolm, joins him on site as fellow director.
The project would go on to win the company an 'Excellence in Construction Award' from the Master Builders Association in 2011. One year earlier, AW Edwards was also named the industry's 'Most Respected Company' by Business Review Weekly — just two of dozens of industry awards it has been presented with in the previous 10 years. Bruce and his family have played a vital role in much of Sydney's construction history, with AW Edwards responsible for many of the state's popular landmarks throughout its 95 years of operation, including the iconic Queen Victoria Building, the busy Chatswood Concourse entertainment venue, and the two most recently completed grandstands at the Sydney Cricket Ground.
No pressure to join the family business
"My dad used to bring us along to a lot of the projects when we were quite young," says Bruce. "My brother and I were very exposed to the business from a young age, and given the opportunity to join, but there was no pressure to do so. We were the same as the other kids coming out of school thinking 'What am I going to do now?'"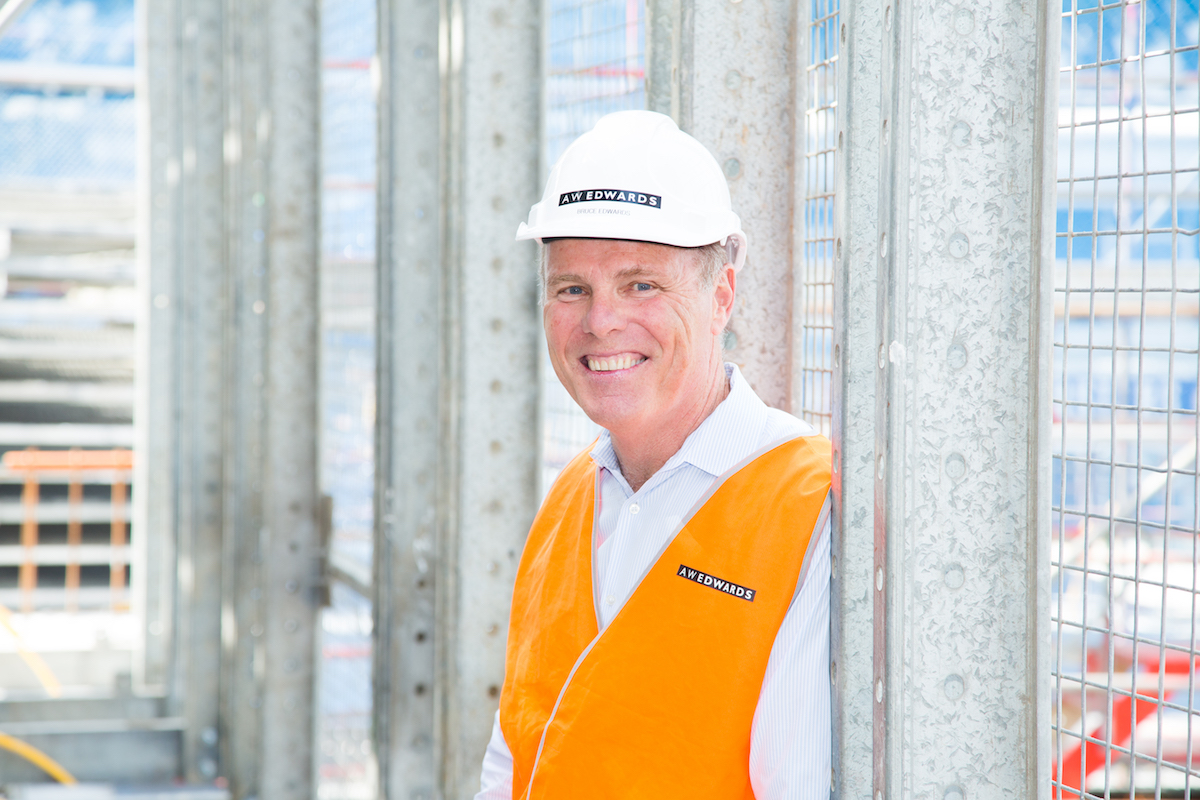 "We find that because we have a strong history and a highly skilled group of people working for us, our clients tend to want us on their projects on an ongoing basis." – Bruce Edwards
However, both Bruce and Malcolm ended up completing a university course in building, and have been working with AW Edwards ever since.
"My son and my brother's two boys were faced with the same decision when they finished school. My son wasn't clear on what field he wanted to be in, but he found a building course at UTS of his own volition," says Bruce.
"I told him, 'It's a great course, and even if you don't want to join the business, it will provide you with some great employment prospects.' So that is what he did, and he has also ended up working with us. All three of our boys have." There's no knowing if Bruce or Malcolm's sons will be the next leaders of the business, but for now the brothers are working to grow the company based on the values established by their grandfather, and upholding its tradition of quality, integrity and fair dealing.
Building Sydney's skyline
That same quality and integrity can be experienced by Sydneysiders and tourists whenever they shop or dine in the beautiful Queen Victoria Building; when they take the train journey along the northern line from Chatswood to Epping; when they step through the entry precinct of Taronga Zoo; or when attending an event or meditation session at the Nan Tien Temple — all projects built by AW Edwards, along with a range of local hospitals, community centres, research clinics, schools and university buildings.
"Our heritage certainly helps in the day-to-day running of the business, because it gives us a good reputation and a history of proven quality," says Bruce. "We find that because we have a strong history and a highly skilled group of people working for us, our clients tend to want us on their projects on an ongoing basis. So from a marketing point of view, a lot of clients come to us rather than the other way around, which is helpful." Indeed, when being recognised recently by the Master Builders Association's Excellence in Construction Awards for a number of projects, judges highlighted AW Edwards' high standard of finish, planning, communication, and excellent client relationships as a credit to the team.
Fostering future leaders
Bruce acknowledges that much of the company's success is due to the long association of its staff, with many joining as part of their Cadet Training Program, and over time progressing to management positions. The business now enjoys very skilled and competent associates at all levels, with a very low staff turnover record. "I think the marketplace accepts that we produce a very high-quality product, and we have extremely competent, proactive and friendly people. That provides a lot of opportunities for more projects," says Bruce.
"Because we are a family business, our employees become part of the family. To me, the most important aspect of the business is to look after our people. Obviously we have to look after our clients and meet their expectations, but the priority is to look after the people and the families of the people that work for us," says Bruce. "We have a very strong culture based on a family business ethic, and we find that, generally, people stay with us for a very long time because people like to be part of a family. It's one of our key strengths, that you can trust the competency of our people because they have been here for a long time."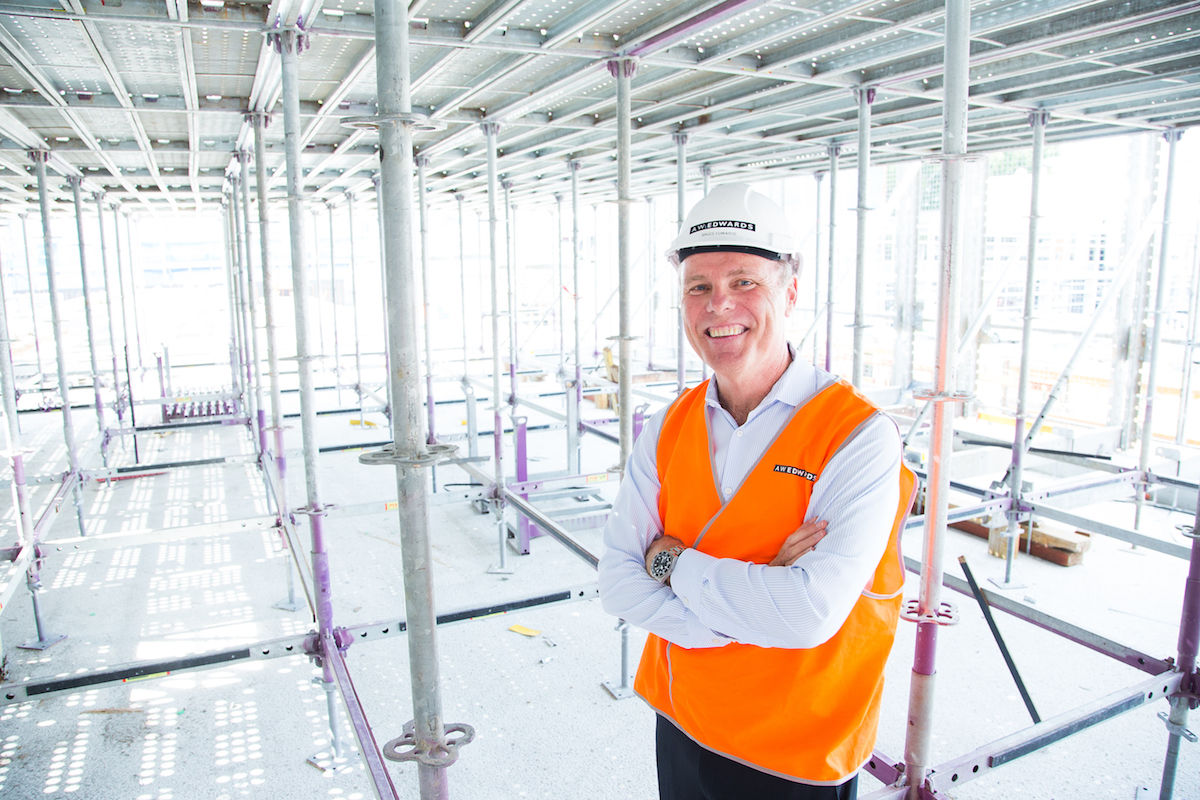 "When you have been around for as long as we have, you see many changes within the marketplace, but there's every intention that we are going to be around for many years to come."– Bruce Edwards
Concern that government is 'winding back the role of TAFE within the industry'
Despite the construction industry facing an ongoing talent shortage, the family is tackling challenges around maintaining its strong workforce. Further, an ageing Australian workforce is seeing tradies working well into their sixties, and the pipeline to replace them is thinning. Bruce believes that opening up more opportunities for TAFE training in trade industries could help to fill this gap, and has actively supported an increase in the amount of places available in construction-related TAFE programs around Australia. "I'm concerned that the government is winding back the role of TAFE within the industry.
"There are probably many people at university that shouldn't be there, because they're under pressure to do a tertiary degree. The TAFE environment would be more suited to the requirements of the construction industry, and there are so many opportunities in Australia for competent tradespeople who want to earn a very good living."
The business model of AW Edwards focuses more on the quality of the project and guaranteed delivery of the project, as opposed to taking on a larger quantity of projects delivering a full order book but with minimal margins. "There are a number of companies within the construction industry for which company growth is extremely important and is achieved by simply chasing turnover. We have a philosophy that the types of projects and the clients you work for are more important," says Bruce.
No compromise for turnover
"We do have aspirations about turnover and growth, but we balance that with profit expectations and thoroughly assessing the risk of each project.
That's more important for us than chasing turnover for turnover's sake." Also, based on this principle, Bruce and his brother partnered with a highly experienced property developer, Mark Monk, to found an apartment development company called Helm Properties in 2011, catering to new retirees and young professionals looking into owner–occupier opportunities. The Helm brand has seen the development of a number of projects that have gone on to win national, state and regional awards, including the 2015 UDIA National Award for 'Medium-Density Apartment Project of the Year'.
Also featured in AW Edwards' portfolio is a contract and maintenance plumbing service, Edwards Hydraulics; and a joinery and internal fit-out firm called Rintoul. Across all of its services and sister businesses, Bruce says strong and longstanding relationships with suppliers and contractors have contributed towards its reputation as a reliable partner and developer. "Our suppliers help us at tender time by providing competitive subcontract pricing because they know that we are a company of integrity. We treat our partners properly and pay them what they are entitled to, and they understand that we run our projects very well. They know they are going to be treated fairly."
How the family business will look moving into its fourth generation
Moving forward, Bruce and the team are looking to strengthen their position in the marketplace with a focus on tendering for the larger projects at the top end of Tier 2 and lower end of the Tier 1 industry sectors. Another challenge, looking ahead, will be maintaining the family business into the fourth generation, with AW Edwards currently recognised as being one of the longest-surviving family businesses in New South Wales. "For all family businesses, there are succession-planning issues that need to be sorted.
I have this discussion with my father occasionally, and he reminds me that the business that he ran was different to the business his father started, and I have to remind him that the business now is completely different to the business he was running," says Bruce. "When you have been around for as long as we have, you see many changes within the marketplace, but there's every intention that we are going to be around for many years to come, and maybe with either my or Malcolm's boy at the helm."