Monkey's Corner is an inspired addition to Sydney's Central Park
The brothers behind KOI Dessert bar offer ingenious Japanese share plates and creative cocktails at their new small bar.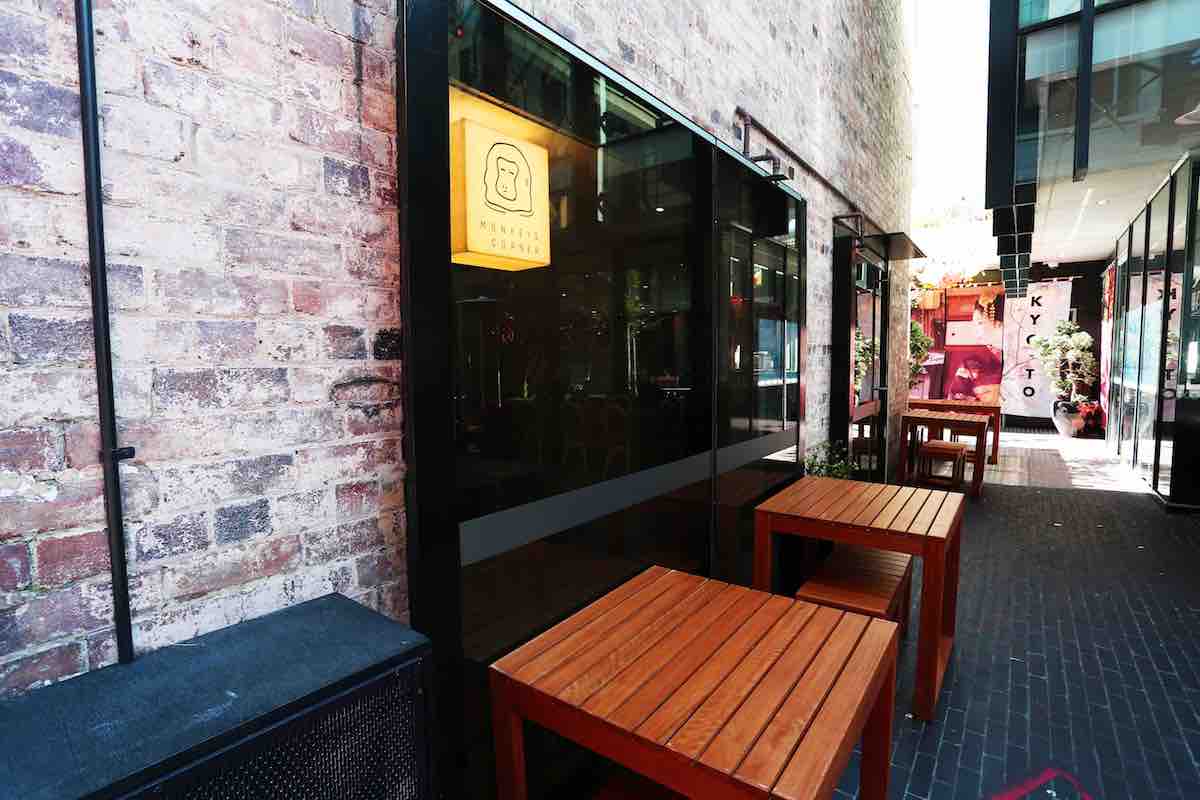 Of all the institutions in Japanese dining, few are as revered as the izakaya, the buzzing, ingenious, hole-in-the-wall establishments that dot the nation's back alleys and narrow streets.
Made for after-work dining, they are informal places offering bar food that is simple in the best sense of the word; stripped down and unpretentious though packed with flavour.
Monkey's Corner, a new venture from the Poernomo brothers – Arnold, Ronald and Masterchef alum Reynold, is a hugely successful adaptation of this dining template, capturing everything that is so satisfying and unpretentious about the izakaya, but which is rarely realised outside of Japan.
Located in a slender space in Sydney's buzzing Central Park complex and adjacent to the brothers' massively successful KOI Dessert bar, Monkey's Corner takes its upstart moniker from a childhood nickname; the Poernomos' mother would refer to the trio as three cheeky monkeys.
The bar they have created is no bratty affair, however, and does a nice line in low-key sophistication with its blonde wood and clean lines. There is an emphasis on cocktails and an impressive spirit list from sake to top-shelf whiskey options like Octomore and Hibiki.
In true izakaya style, the food options are focused instead of limited and the space feels cosy rather than cramped, with a tiny 20-seat capacity spread over a corner bar, outdoor area and a central table with stool seating.
You can start with a Hawaiian Old Fashioned, which taps into one of the Sydney bar scene's prevailing trends, fat-washed spirits, by using a ham-washed Dark Plantation rum as its base ingredient. This is added to spiced pineapple juice and finished with a jerky-like strip of dehydrated ham.
They liken it to a Hawaiian pizza, though if that conjures up unappealing images of greasy slices being shoved in blenders, be assured that it can also be seen as an embrace of the Japanese 'fifth taste', umami, with its complex, salty-sweet kick.
The small, tapas-style share plates include a pancetta dish which is like an inspired update of the daggy-but-still-good rockmelon and prosciutto entrée. Flavourful slices of pale pink pancetta are artfully strewn with neat spheres of brandy-marinated rockmelon and a dusting of Chinese five spice.
Another simple but modern and fresh option is the Silver Lake Smoked Eel on Toast, which comes as two generous dollops of moreish mousse-like whipped eel resting on perfectly crunchy bread.
A creative cocktail list, overseen by in-demand drinks consultant Quynh Van Nguyen (Charlie Parker's, Fred's), is made with food-matching in mind. To that end, a visually striking Green Tea Margarita, a cool shade of green in a glass rimmed with sriracha salt, pairs well with any number of menu items, seeking to complement but not overpower the dish.
The more substantial options continue the trend of ingeniously simple cooking. Paper-thin slices of ox tongue are cooked in beef fat and finished with lime juice and chopped chives. It's rustic, minimalist and you won't leave a sliver. Another plate has slices of hearty, marbled Wagyu hidden beneath translucent arcs of onion.
There is also a single dessert item on the menu, one which will be familiar to fans of the neighbouring KOI dessert bar, the KOI Bobba. There is a lot going on here, but the different elements (slippery tapioca pearls, airy sponge, crunchy free-dried mandarin, sweet salted coconut ice cream) work in perfect harmony.
Even the music feels fresh, with the bar ditching the anonymous background tunes many Sydney venues favour for the more vibrant likes of A Tribe Called Quest and Kanye West. A small but perfectly formed gem, Monkey's Corner brings the best of Tokyo alleyways to inner city Sydney.