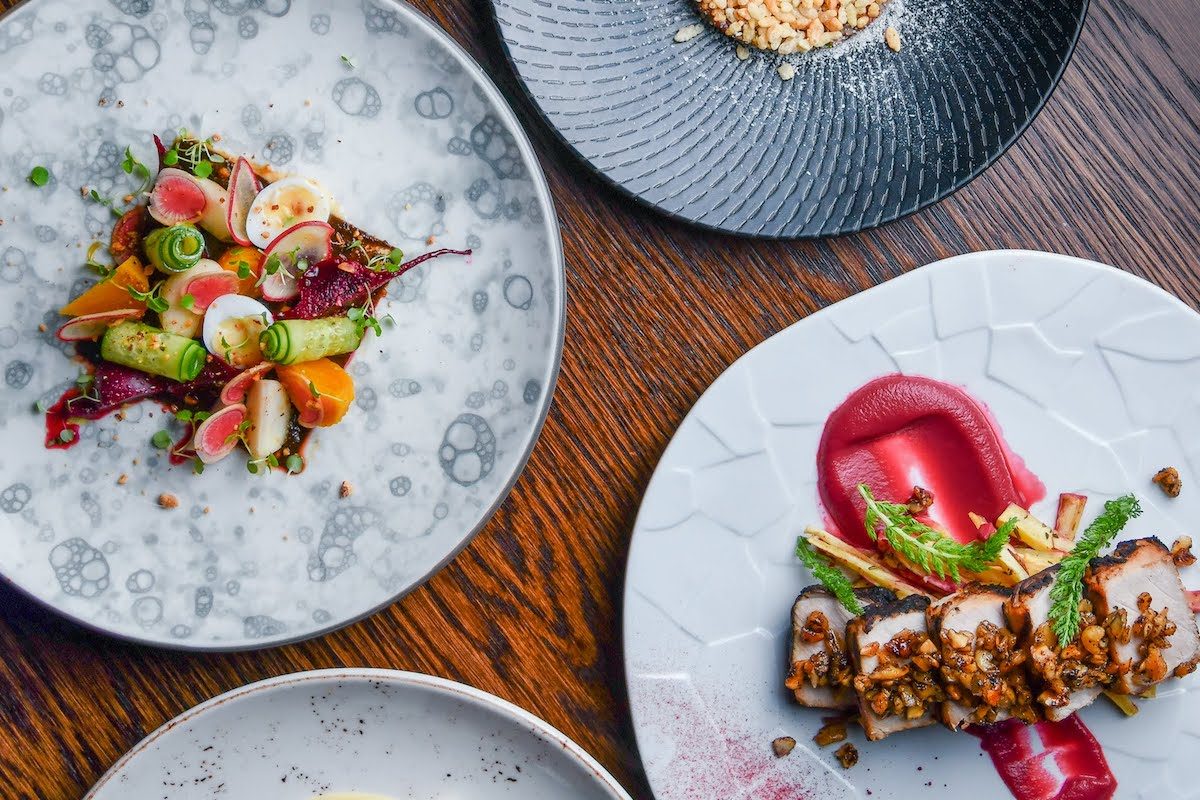 Eastside Kitchen & Bar is the latest addition to the Kensington Street culinary precinct of Sydney's Chippendale.
Housed in The Old Rum Store, this 100-year-old site has been given new life by designer Chris Wilks, who retains the heritage, industrial look of the building by leaving the brick walls bare; instead, incorporating two specially commissioned giant murals by world-renowned graffiti artist Caratoes for colour.
The all-new, leather-panelled bar with brass fittings provide added oomph. The menu is an interesting melange of traditional and new; east and west.
The menu is an interesting melange of traditional and new; east and west.
Executive chef Stanley Wong boasts a multicultural heritage himself, being half German and half Chinese, and has worked at the Spice Market in New York as well as the Mandarin in Hong Kong. Here, he joins forces with head chef Angie Ford, to produce an interesting fusion of Japanese and New York cuisines.
The house specialty is food prepared on a Japanese konro grill, fired by binchotan (white charcoal), traditionally used by yakitori chefs.
This adds a distinctive smoky flavour – without the smoke. Miles removed from the burnt snags of a typical Aussie backyard barbecue, but with the same homey feel.
Featuring Small, Raw, Chargrilled and Hot selections, the offering is a nice balance of textures, colours and flavours, including the uniquely Japanese umami, or fifth taste of 'savoury'.
Because of the locale's history, I kicked off the evening with a rum cocktail, orange sherbet mojito – spiced rum, orange sherbet, fresh pressed lemon, ginger beer ($18). Hit the spot!
My companion, who normally favours bourbon, was tempted but passed on the bone marrow old fashioned. The 'bone marrow' bit put her off. Pity – I would have liked to sample that too as it piqued my interest. Next time.
She opted for the rose petal margarita instead – rose-infused tequila, Cointreau, rose syrup and activated charcoal syrup ($18), stating virtuously that the activated charcoal might be better for her tummy anyway. I seriously doubt that.
For starters, we shared the tea-smoked beets, baby radish and quail egg with black garlic ($15) and the buttermilk-marinated crispy calamari with capsicum and pickled ginger dip ($16).
What can I say? Both were sweet and sour and umami, and the presentation was typically Japanese – so beautiful that you hesitate to dig in.
A feast for the eyes first. We were intrigued by the tea-smoked beets – didn't know you could do that to beets, but it worked.
The black garlic paste, another new taste, was more sweet than garlicky, almost like balsamic vinegar.
Squid is of course notoriously difficult to cook, and you usually end up feeling like you're chewing on rubber bands, which is why I never attempt it at home.
Maybe the secret was in the buttermilk marinade – anyhow, it was perfect. The flavours were so nicely blended that my dinner partner, who doesn't normally eat capsicum (did I mention she's picky?) ate every last bit.
For mains, we had to choose something from binchotan grill, so I had the Rangers Valley Angus steak with duck fat confit potatoes, broccolini and baby pumpkin ($44), and my companion the baked cod with butter beans ($32).
The only superfluous item, in my opinion, was the Gorgonzola butter that accompanied the steak: a) because it was not needed and b) because I don't like blue cheese, but I guess that's my problem.
We had the wine pairings recommended for the mains: the 2015 12 e Mezzo Malvasia del Salento for the fish, and the Lagrein, from South Tyrol in Italy, for the steak. It is not just Eastside Kitchen's food that is an interesting fusion, but their wine list had some unusual varietals to try as well.
To finish, we decided to go the whole hog and ordered the signature dessert presentation Fire and Ice, fit for a Lannister banquet.
The tastings of 10 different desserts included mini New York-style cheesecake, burnt fig bread pudding and mocha ice cream pots, chocolate brownies, crème brulee, icy poles, meringue, macarons, panna cotta, candied orange slices, and berries ($44).
There was two of everything, so we didn't have to squabble over who gets what. But it was a big mistake ordering the dish in the first place, for we struggled to finish it even with some zero adjustment courtesy of the Maxwell Honey Mead, Longview Late Harvest Riesling, and coffee. It might be better suited for a table of four.
Eastside Kitchen and Bar, The Old Rum Store, Level 1, 2–10 Kensington Street, Chippendale, Sydney 2008. (02) 9212 0900 eastsidekitchen.com.au