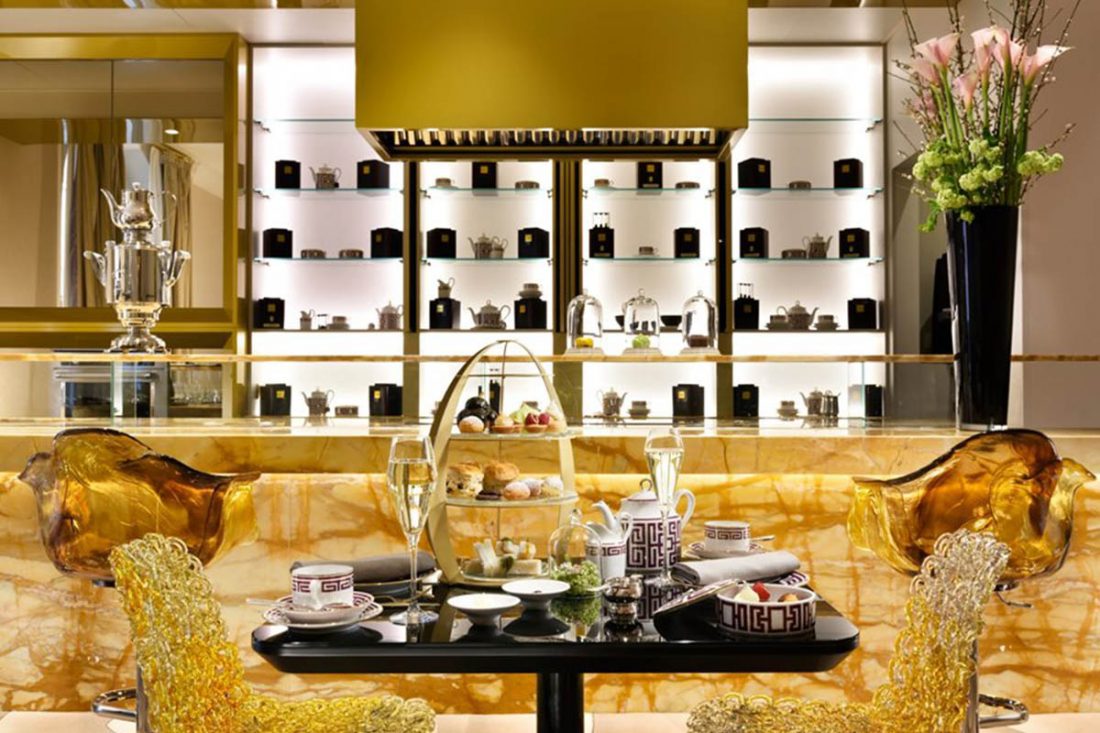 Away from the ever-bustling Via del Corso in Rome's blue-ribbon district, hidden discreetly among the glistening store fronts of Chanel, Prada and Patek Phillippe, are white townhouse-style doors opening up to a luxurious patisserie wonderland.
The First Roma Dolce is the premiere pastry-inspired hotel in Rome, offering guests a splendid plethora of dainty pastries and elegant suites in the heart of the magical eternal city.
Designed by famed Italian architect Giuseppe Valadier, the charming 19th century building has been transformed into an opulent bespoke five-star hotel, which opened in March 2019.
The gold-hued restaurant features an eye-catching metres-long cake display, seven-tier macaron tower, gold-toned chairs mimicking spun sugar, fine white china with splashes of gold, and fresh floral bouquets.
After hours of strolling the historic Roman streets, we find ourselves sitting in the nonchalant lounge-styled reception at First Roma Dolce sipping on a flute of refreshing prosecco – a welcome reprieve from the hot Italian sun.
A glass cabinet filled with mouth-watering, picture-perfect gateaux, a wall lined with sleek baking books, taupe marble tables, caramel shard chairs and a velvety croissant-shaped sofa is a wonderous feast for the eyes.
Following the hotelier's local tips about nearby attractions – which are endless given the property's perfect central location – we settle into our Prestige room on the building's top floor, complete with keyless entry.
It's an elegant oasis: pillowy king-size bed, French windows, Italian Saint Laurent marble-clad bathroom, suede chairs, marble-top tables and Nespresso coffee machine, all dressed in caramel tones and complemented by wooden-trimmed walls.
Seamlessly marrying elegant style with simplicity and comfort, a suite like this is tough to leave. Alas, the Roman ruins aren't going to see themselves.
Majestic icons such as the Spanish Steps, Trevi Fountain, The Pantheon and the Piazza del Popolo (also designed by Valadier) are all an easy walk from our sugary lodgings – once we finally make it past an abundance of designer stores sprinkled along the Via del Corso.
Exhausted from a warm day of exploring the beauties of the eternal city, we make our way back to First Roma Dolce, only to find a welcoming platter of dainty, homemade pastries in our suite. Flavours of lemon meringue, pistachio, blackberry and caramel ooze from the bite-sized treats, showcasing some of the best creations the hotel has to offer.
Whether you want to relax in a white bathrobe and slippers after your waterfall shower, complete with divine Aqua di Parma products, or recline on the bed perusing the interactive entertainment on the television, it's easy to feel at home in the opulent suite.
But perhaps what really makes this hotel stand out is its incredible attention to detail and tech-savvy inclusions. At the touch of a button (there's a panel on both sides of the bed), the curtains close to block out the faintest ray of light. Not only can we control the drapes without leaving the comfort of the dreamy bed, lighting and climate control are also at our fingertips, making for a tranquil night's rest.
With a day of Vatican City and Colosseum-exploration ahead of us, we venture downstairs to the gold-hued restaurant, which features an eye-catching metres-long cake display, seven-tier macaron tower, gold-toned chairs mimicking spun sugar, fine white china with splashes of gold, and fresh floral bouquets.
A selection of homemade pastries, granola, yoghurt, freshly squeezed orange juice, cappuccino served in dainty gold-rimmed teacups and the prettiest fruit salad you'll ever see is the start of our American breakfast feast. A charcuterie board with four types of meat and three types of cheese follows, accompanied by a generous selection of bread.
Just when we think we can't eat any more, eggs perfectly cooked to our liking are served with crustless toast, a drizzle of olive oil and crispy bacon.
It doesn't end there – pancakes are offered, concluding the bountiful four-course breakfast. When in Rome, indeed.
While the patisserie-theme subtly infuses every corner of the heritage building, it doesn't in the slightest resemble a shop. In fact, it's quite the opposite. The First Roma Dolce embraces sleek and sophisticated design all the while encompassing an innovative and tantalising culinary experience.
If you're planning to eat your way through Italy, what better place to start than from Rome's first patisserie-inspired hotel?
And the only way to explore Italy's mesmerising countryside is with Maserati. Find out what happened when we drove in an opulent Maserati convoy from Modena to Trivero.