Is Caryl Churchill's 1982 play Top Girls still relevant today?
With an all-female cast and a title like Top Girls, one might assume that the revival of this original is a feminist celebration of women. But we discover there's a lot more to it.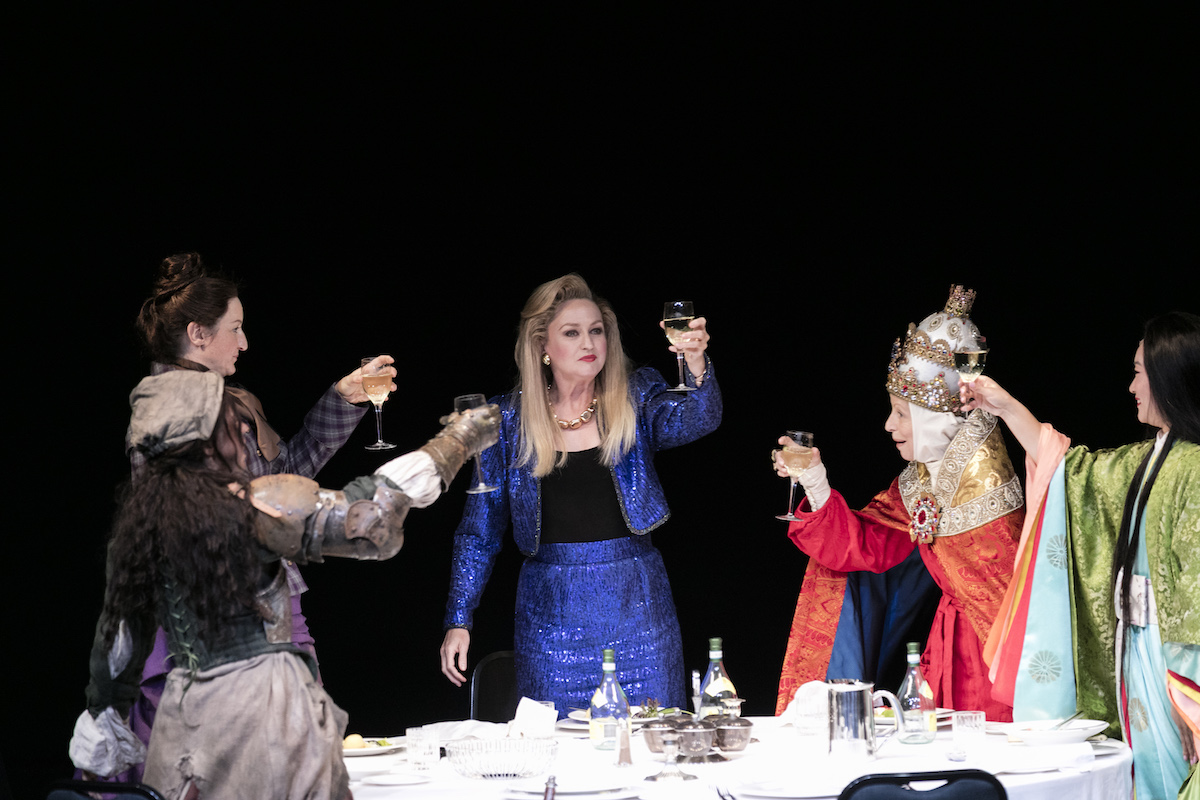 Set in England in the early 80s, Top Girls delves deep into the life of Marlene (Helen Thomson) – a successful businesswoman who has made her mark at an employment agency. She's just scored a promotion – selected over a male colleague – and is celebrating her achievement by throwing a dinner party.
It's no ordinary dinner party, however. The guest list is eclectic – five women from history, literature and legend who share their funny, confronting and often disturbing experiences of life, work, love and children.
There's Isabella Bird (Kate Box), the larger-than-life British traveller and writer from the nineteenth-century; Lady Nijo (Michelle Lim Davidson), the thirteenth-century Japanese concubine to Emperor Go-Fukakusa; and Dull Gret (Contessa Treffone), the woman depicted in a sixteenth-century painting by Pieter Bruegel, shown to be leading an army of women to pillage Hell.
They're later joined by Pope Joan (Heather Mitchell), a woman who, as legend has it, disguised herself as a man during the ninth century to rise through the ranks of the Vatican; and Patient Griselda (Paula Arundell), a character from European folklore who was known for her stoicism and obedience.
Overlapping, quick-paced dialogue ensues and the one thing these women have in common slowly unravels – their gender has dictated the outcomes of their lives.
Each was a pioneer in some way or another, defying society's expectations of what a woman should be or do. However, they couldn't have predicted what the (often dire) consequences would be when they tried to steer their life in the direction they wanted it to go.
The audience is later transported to the Top Girls employment agency to see how Marlene operates at work – in a cut-throat male-dominated industry. At one point she's confronted by the wife of the man who was expected to receive the managerial promotion and we learn that he's not coping well after the shock of losing out to a woman.
As the play continues, we discover more about Marlene and the sacrifices she has had to make to get to where she is. We meet her sister and see that while both women were raised in the same household, their lives have turned out very differently – as have their outlooks on the world and the opportunities they have within it.
Top Girls is a highly thought-provoking piece of work, leaving the audience questioning certain feminist assumptions and asking whether life really is better for women today.
Top Girls is a highly thought-provoking piece of work, leaving the audience questioning certain feminist assumptions and asking whether life really is better for women today.
Churchill has expertly weaved humour into the play and, although it can be uncomfortable viewing at times with the realness of the themes explored, it's an entertaining yet challenging depiction of what it takes for a woman to forge a new path that defies society's norms.
"In the wake of Hillary Clinton's election loss, the monumental Women's Marches, and the global reckoning underway examining sexual harassment in the workplace … the time was ripe for a revival," Sydney Theatre Company Artistic Director Kip Williams says on bringing Top Girls to the Sydney Opera House this year.
"Top Girls asks questions of equality, feminism, privilege, capitalism, and motherhood that resonate today as much as they did in the early [!margaret!] Thatcher era in which the play was conceived."
Top Girls is playing at the Sydney Opera House until 25 March 2018.
Read next: Was life better for women in the twelfth century?