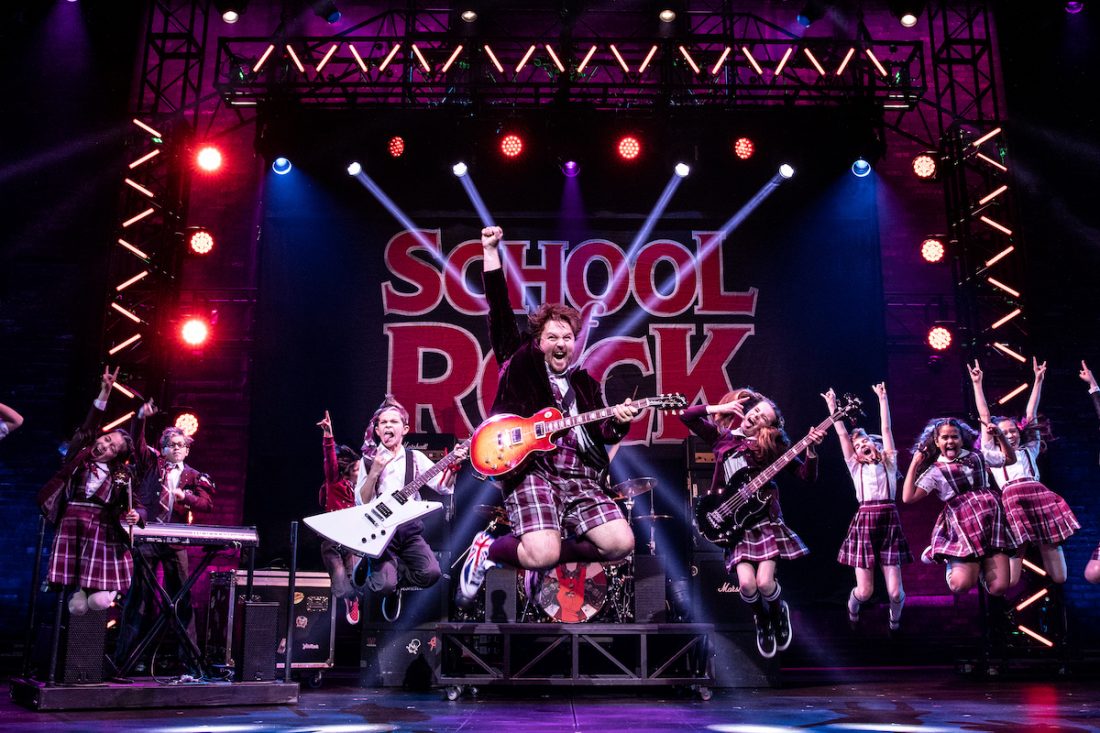 It rocks! It actually rocks. Big time.
Ok, so I was a little surprised because adapting School of Rock to the stage was a big ask. Just getting the right cast for a start. Who else could play sloppy rockstar wannabe Dewey Finn but Jack Black who nailed it in the 2003 movie hit.
Er, Brent Hill, that's who! He's so good in fact, he won the 2019 Helpmann Award for best actor during the show's successful run in Melbourne.
And what about the kids? Where do you find three casts of children, under 12, who can act, dance and sing, with some able to play instruments along the way? Live. No "Cut! Let's do that scene again because you dropped your drumstick" chances. This is live on stage at Sydney's Capitol Theatre. Somehow, casting director Natalie Gilhome pulled that off too.
Then there's the sticking point of Andrew Lloyd Webber, the household name we associate with Evita, Phantom of the Opera, Cats, and Sunset Boulevard, and a host of unremarkable others. While he included original hits of the movie, he added 14 more. What would he know about rock, or indeed heavy metal? Think back, all the way to Jesus Christ Superstar (1970), and that memorable scene with the moneylenders. Andrew has been known to dabble.
School of Rock centres on failed rock musician, Dewey, thrown out of the band he founded and passing himself off as his mate Ned Schneebly (John O'Hara) to score a job as a substitute teacher at the prestigious Horace Green, a school based on traditions, serenity and toil, run by a very repressed Principal Mullins (Amy Lehpamer). Sure, predictability follows as Dewey purges his young geeks of 'crapola' and races to get them ready to compete in the Battle of the Bands. None of that matters when there are surprises at every turn as the children evolve from serious nerds, armed with expectations limited to achieving academically, to mad-as-hell rockers spewing attitude you could chew on.
The show is a little slow to start but as soon as Hill's ridiculous energy and outrageous personality bursts into play, you're dragged helplessly into Dewey's web of lies and into the lives of children whose extraordinary talents deserve to be uncovered. So much fun!
Hill, who alternates his role with Joe Kosky, is larger than life as he bounces and boings across the stage. But not for a moment does he forget his young cast mates, encouraging them to shine equally in his spotlight. You can't help but sense his infectious enthusiasm is as much to inspire them as it is to entertain us.
Sydney's opening night cast of children left its alternate casts enormous shoes to fill. Summer (Deeana Cheong Foo) the over achiever, a perfectionist you willed to just shut up; Freddy (Cooper Alexis) hammering those drums, twirling – not dropping – his sticks; Lawrence (George Holahan-Cantwell) the dismal dweeb turned sensational sex god smashes the keyboard; and Tomika (Sabina Felias) the introvert until she belts out 'Amazing Grace' with unforgettable timbre. Meanwhile Zane Blumeris, as Zack, doesn't just play an electric guitar, he wears it like a second skin. But why wouldn't you when you've performed on stage at Festival Hall with Gene Simmons?
Anna Louizos' design is fluid as we're plonked seamlessly from classroom, to staffroom, to apartment, while Laurence Connor's tight direction keeps a large cast moving yet comfortably ensconced.
This is a generous show with enough to go around and delight everyone from very young children through to very senior grandparents. Trust me, just like Dewey's kids, you'll want to join the band.
School of Rock: The Musical plays at Sydney's Capitol Theatre until the mid February before opening at Adelaide's Festival Centre on March 21 2020.