More than a romantic comedy: Black is the New White shines bright in Sydney
Nakkiah Lui's Black is the New White has returned to the Sydney Theatre Company stage, bringing a fresh perspective on being Aboriginal in modern-day Australia.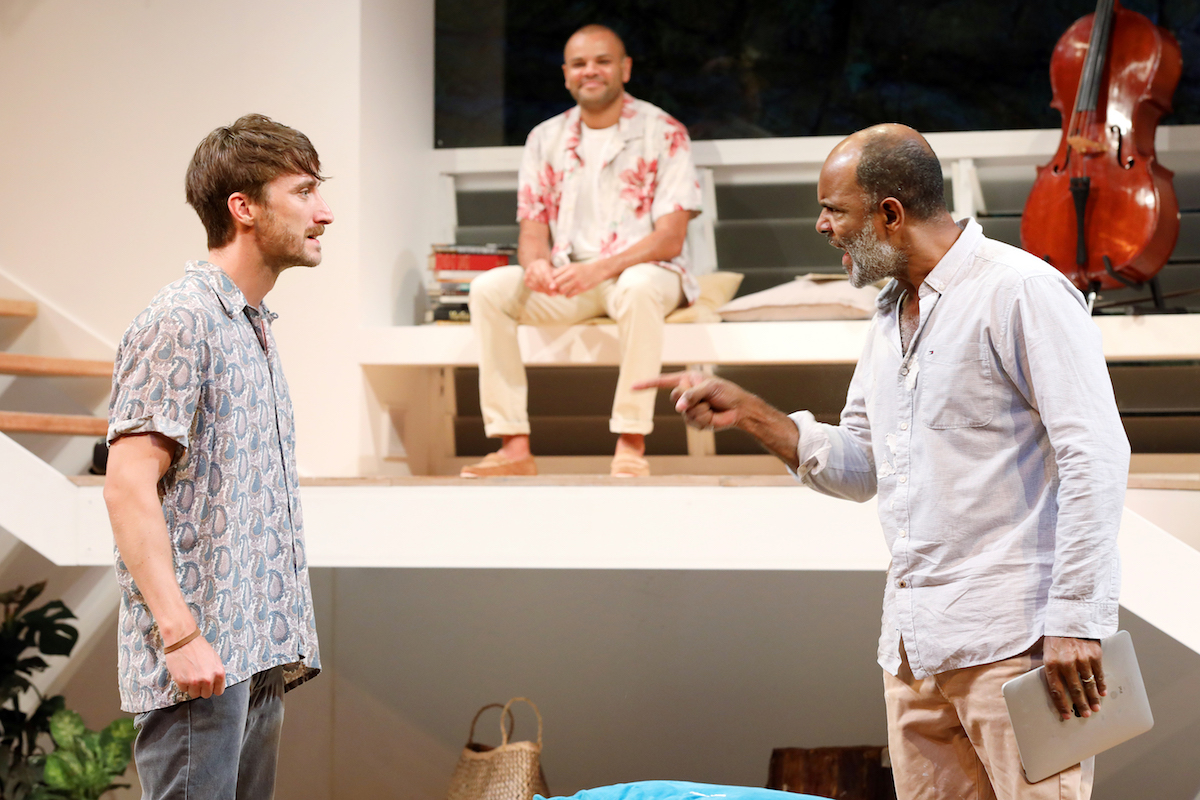 The 2018 opening night performance of Black is the New White at Sydney's Roslyn Packer Theatre ended with a well-deserved standing ovation.
Written by Nakkiah Lui, a Gamilaroi and Torres Strait Islander actor and playwright, the story is much more than your average romantic comedy.
Black is the New White begins with Francis (Tom Stokes) playing the cello. He is white. Then enters his partner Charlotte (Shari Sebbens) who is Aboriginal. What follows is a series of hilarious antics, heated conversations and heart-wrenching realisations when both their families meet for the first time.
Lui brilliantly weaves normal family dysfunction with the complex issues brought up by inter-racial relationships.
The audience steps into the minds of each character as they navigate the web of class, race and identity.
The audience steps into the minds of each character as they navigate the web of class, race and identity.
Sebbens, who plays the successful and intelligent Charlotte, is an absolute marvel as she persistently tries to get approval from her father.
Tom's portrayal of Francis perfectly captures the awkward and often cringe-worthy aspects of 'meeting the parents'. His performance will either have you holding your breath or guffawing with each encounter he has with Charlotte's family.
The standout performers are Tony Briggs, who plays Charlotte's father Ray, and Melodie Reynolds-Diarra, who plays her mother Joan. Reynolds-Diarra, as the loud and lively Joan, brings the sincerity of any mother who wants the best for their child.
On the other hand, Briggs, as the overprotective Ray, will strike the right nerve for all fathers wary of who their daughters want to marry. His stern personality is combined with excessive wit and fatherly love.
Miranda Tapsell also delivers a knockout performance as Charlotte's sister Rose. Her attention to detail wonderfully encapsulates Rose's vivacious and exuberant personality. She makes Rose her own and brings the audience along for the ride.
This is a play all Australians (over 18) should see. Lui brings a refreshing image of Indigenous Australian family life to the stage because this time 'black is the new white'.
Black is the New White is playing at Riverside Theatre in Parramatta, Sydney from 21 March until 24 March 2018. Tickets are available now. It then heads to Canberra until 31 March 2018.
Want more laughs? The Book of Mormon is playing in Sydney until September 2018.