Executive Awards: Australia's best in business revealed
Finalists announced for The CEO Magazine's 2016 Executive of the Year Awards.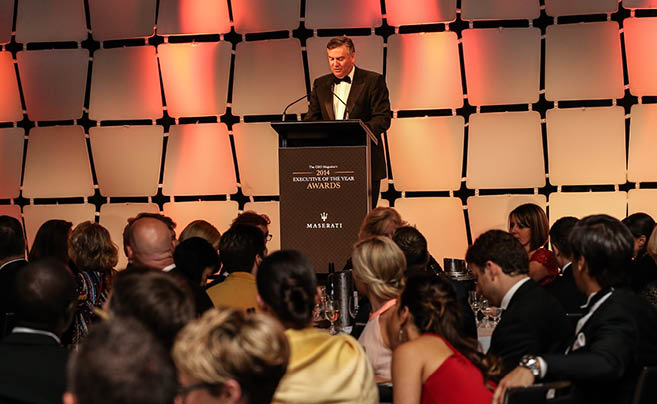 The CEO Magazine has revealed its top 102 finalists for the 2016 Executive of the Year Awards. Ranging over 24 categories, the awards will honour and acknowledge some of the finest business leaders and professionals in Australia.
The 2016 Executive of the Year Awards features two new categories: Professional Services Executive of the Year, and Sport and Recreation Executive of the Year, and among the other 22 categories are the elite awards; CEO of the Year, CFO of the Year, CIO of the Year, Managing Director of the Year, and Chairperson of the Year.
Host Eddie McGuire returns for his fifth consecutive year to MC the event, and to gather more than 550 guests on 24 November at Four Points by Sheraton, Darling Harbour, Sydney.
Chris Dutton, CEO and Co-Founder of The CEO Magazine says, "We are continuously impressed with the high-calibre and quality of entrants the Executive of the Year Awards attracts. And we are proud and honoured to highlight these individuals for their contributions in their respective categories."
The awards set out to acknowledge the efforts of business leaders both new and veteran, and reward those who made notable difference in the corporate world during the 2015/2016 Financial Year.
Click on a category below to see the finalists:
For media inquiries please contact Taurus Marketing on 02 9415 4528. More information about the Awards can be found at executiveawards.com.au.
---
Media Executive of the Year – Finalists
Jaimes Leggett
Group CEO Australasia
M&C Saatchi Group
Jason Dooris
CEO
Atomic 212° Group
Karen Stocks
Managing Director
Twitter Australia
Peter Bosilkovski
CEO
Leo Burnett Sydney
---
Retail Executive of the Year – Finalists
John Winning
CEO
Winning Group
Kate Morris
CEO
Adore Beauty
Michael Ford
CEO
The Good Guys
Shelley Barrett
CEO
ModelCo
---
Transport And Logistics Executive of the Year – Finalists
Gary Edstein
CEO Oceania
DHL Express
Kerrie Mather
CEO and Managing Director
Sydney Airport
Nancy Nguyen
Marine and Logistics Category Manager
Woodside Energy
Shane Ellison
Managing Director NSW
Transdev Australasia
---
IT and Telecommuications Executive of the Year – Finalists
Sponsored by
Nick Verykios
CEO
Distribution Central
Peter Maloney
CEO
GlobalX Legal Solutions
Peter Yialas
Managing Director
DX Solutions
---
Health and Pharmaceuticals Executive of the Year – Finalists
Christine Holgate
CEO
Blackmores
Stephen Cornelissen
Group CEO
Mercy Health
Mark Middleton
CEO
Icon Group
Dr Aniss Chami
CEO
Vitex Pharmaceuticals
---
Building and Construction Executive of the Year – Finalists
Clinton Dick
Director
Liberty Industrial
Danny Assabgy
CEO
Hudson Homes
Darren Wallis
CEO and Managing Director
G.J. Gardner Homes
James Kelly
Managing Director
Lifestyle Communities
---
Manufacturing Executive of the Year – Finalists
David Oliver
Australia Region President
ASSA ABLOY
Greg Ellis
Managing Director
Rinnai Australia
Nigel Garrard
CEO and Managing Director
Orora Limited
Stuart Payne
Director
GP Graders
---
Energy and Resources Executive of the Year – Finalists
Sponsored by

Sean Gordon
CEO
Darkinjung Local Aboriginal Land Council
Louise Cordina
CEO
Cordina Group
Dhruv Deepak 'DD' Saxena
Managing Director
Riverina Oils & Bio Energy
---
Hospitality and Tourism Executive of the Year – Finalists
David Assef
Managing Director
Spicers Retreats
Karen Bolinger
CEO
Melbourne Convention Bureau
Karin Sheppard
COO – Australasia and Japan
IHG
Simon McGrath
COO – Pacific region
AccorHotels
---
Financial Services Executive of the Year – Finalists
Sponsored by

Craig Dent
CEO
State Trustees Limited
Greg O'Neill
President and CEO
La Trobe Financial
Vivek Bhatia
CEO and Managing Director
icare
Jon Linehan
CEO and Managing Director
Defence Bank
---
Professional Services Executive of the Year – Finalists
Sponsored by
Laura Ruffles
CEO Australia and New Zealand and Global COO
Corporate Travel Management
Murray Hunter
Founder
Design + Industry
Nicholas Deeks
Managing Director
WT Partnership
Tim Orton
Managing Director
Nous Group
---
Sport and Recreation Executive of the Year – Finalists
Eugene Arocca
CEO
Confederation of Australian Motor Sport
Ian Campbell
CEO
JUMP! Swim Schools
Marne Fechner
CEO Netball World Cup 2015
Netball Australia
Tobias Pearce
CEO
The Bikini Body Training Company
---
Executive Assistant of the Year – Finalists
Christie Neville
Executive Assistant
BPM
Larissa Auditore
Executive Assistant to the CEO and Managing Director
icare
Simone Koolloos
Executive Assistant
Blackmores
Thu Snowden
Executive Assistant to Office of the Chairman
KPMG
---
Not for Profit Executive of the Year – Finalists
Anne Bryce
CEO
Achieve Australia
Gerald Andersen
CEO and Company Secretary
Foodbank NSW and ACT
James Forbes
Marketing Manager
Nature Conservation Trust of NSW
Janelle Goulding
CEO
City West Housing
Dr Matthew Miles
CEO
MS Research Australia
---
Start-up Executive of the Year – Finalists
Sponsored by
Anthony Wright
Principal and CEO
Lexvoco
Kath Purkis
CEO
Her Fashion Box
Lincoln Easton
CEO
Progressclaim.com
Ryan Hanly
CEO and Co-Founder
Travello
---
Young Executive of the Year – Finalists
Sponsored by
David Rohrsheim
General Manager ANZ
Uber
Mark Wizel
Senior Director
CB Richard Ellis
Sean Senvirtne
CEO and Founder
MyDeal.com.au
Suren Chandrajit
CEO
LEDified
---
Sales Executive of the Year – Finalists
Sponsored by
Brian Krishna
Sales and Industry Marketing Director Oceania
Xylem Water Solutions
Eric Jeanmaire
Sales Director
Blackmores
Kane Draper
National Business Development Manager
Dimple Care
Suzy Nicoletti
Head of Online Sales
Twitter Australia
---
Marketing Executive of the Year – Finalists
Sponsored by
Cara Cunningham
Marketing Director
BPM
John Arnott
Executive Director, Customer
ING Direct Australia
Nicole McInnes
Marketing Director ANZ
Pandora
(now Marketing Director Australia for eHarmony)
Robert Ambler-Frazer
Chief Marketing Officer
The Good Guys
---
HR Executive of the Year – Finalists
Alla Keogh
Head of People and Performance
MYOB
Jennifer Todd-Wilson
Human Resources Director Oceania and Japan
Xylem Water Solutions
Linda Redfearn
Head of Human Resources
Blackmores
Rebecca Nash
Group Executive, People and Culture
Perpetual
---
CIO of the Year – Finalists
Sponsored by
Carl Gadini
CIO
The Good Guys
Simon Raik-Allen
Chief Technical Advisor
MYOB
Tim Thurman
CIO
ASX (Australian Securities Exchange)
William Daniel Confalonieri
Chief Digital Officer, CIO and Vice President
Deakin University
---
CFO of the Year – Finalists
Sponsored by
Aaron Canning
CFO
Blackmores
Cameron Small
Group CFO
Pepper Group
Michael Harvey
COO and CFO
Australian Radio Network
Ross Koscharsky
CFO
Icon Group
---
Chairperson of the Year – Finalists
Sponsored by
Barry O'Brien
Chairman and Chief Commercial Officer
Atomic 212° Group
Marcus Blackmore
Chairman of the Board
Blackmores
Rod Douglas
Chairman
Mr Rental
Tina West
Chairperson
Darkinjung Local Aboriginal Land Council
---
Managing Director of the Year – Finalists
Sponsored by
Karen Stocks
Managing Director
Twitter Australia
Nathan Cheong
Managing Director
BioCeuticals
Nicholas Deeks
Managing Director
WT Partnership
Rolando Schirato
Managing Director
Vittoria Food and Beverage
---
CEO of the Year – Finalists
Sponsored by
Adrian Di Marco
CEO and Founder
TechnologyOne
Christine Holgate
CEO
Blackmores
Jaimes Leggett
Group CEO Australasia
M&C Saatchi Group
Jason Dooris
CEO
Atomic 212° Group
Nigel Garrard
Managing Director and CEO
Orora Limited
Pete Bosilkovski
CEO
Leo Burnett Sydney
Stephen Cornelissen
Group CEO
Mercy Health