Gina Rinehart debuts pink trucks for Breast Cancer Month
The CEO Magazine joins Gina Rinehart at the Roy Hill Mine site for her Pink Truck launch on National Breast Cancer Day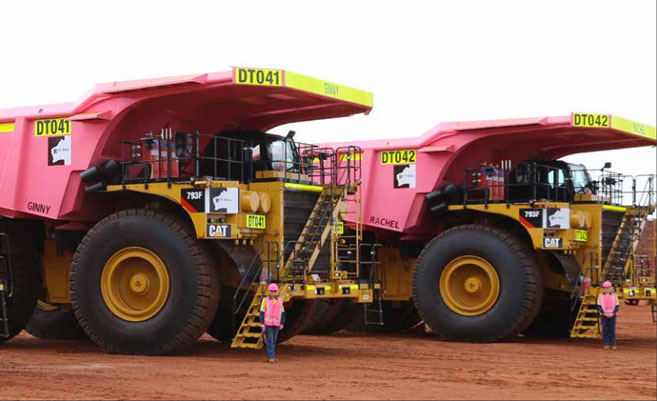 October is National Breast Cancer Month in Australia. To conclude the month, Roy Hill will unveil a new batch of pink trucks for breast cancer awareness. Earlier this year in March, Gina debuted the inaugural three pink trucks at the Roy Hill Mine site in West Australia's Pilbara region. The huge 225-tonne capacity trays of the trucks — named Hope, Ginny and Rachel — were painted pink to focus attention on breast cancer, as well as the opportunities for women in mining.
Gina has long been a champion of breast cancer awareness. She started Australia's first breast cancer foundation, the Hancock Family Breast Cancer Foundation Inc in 1992, and was instrumental in initiating Australia's first National Breast Cancer Day. The third pink truck unveiled in March, Rachel, was named for Gina's goddaughter, who has been battling breast cancer for the past five years, so she knows only too well the suffering that this terrible disease inflicts.
At the launch earlier in the year, Gina spoke of the need for further breast cancer research and support initiatives.
"We all know of the pink ribbon, an international symbol showing moral support for women afflicted with the breast cancer disease. This year alone there will be 15,000 new cases of breast cancer diagnosed. And it is estimated very soberingly, around 2700 women will die from breast cancer this year alone.
"It is imperative we raise attention to the plight and need for tackling breast cancer, and provide more funding for critical support and research. The more we can do to raise support to help fight this very serious and frightening battle, the closer we come to finding ways to improve treatment options and cures for one of the biggest single killers of women in Australia."
With this month's Pink Truck event, held during Breast Cancer Awareness Month, Gina hopes to reinvigorate people to do more to help those affected by breast cancer.