The CEO Magazine interviews GMA Network CEO Felipe Gozon
CEO of GMA Network, Felipe Gozon, attended a press conference with Editor in Chief Michelle Hespe, celebrating his recent interview in The CEO Magazine Asia.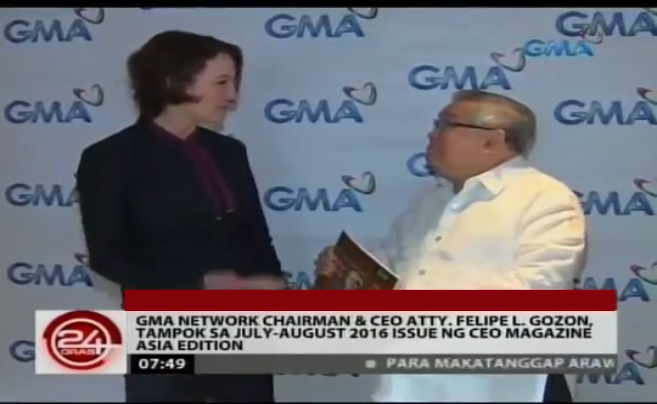 The CEO Magazine's Editor in Chief Michelle Hespe attended a press conference today in Manila to present GMA Network's CEO, Felipe Gozon, with a copy of The CEO Magazine Asia. The cover story for the July/August issue features an exclusive interview with Felipe who has been CEO of GMA Network for 16 years.
Celebrating his inclusion in the magazine, Felipe stated "We are elated that we have been chosen to participate in the magazine this month, it's a reputable magazine and we feel honoured."
GMA Network operates a number of media-related businesses in areas from film production to program acquisition, including television and radio networks. Over recent decades, the Network has received a number of prestigious awards, including the Peabody Award for 'Excellence in Journalism' and Asian Television Award for 'Best Terrestrial Station of the Year'.
Michelle commented that "Felipe has done so much for the media industry in the Philippines and in Asia, and across the world, that it's very exciting to have him on board as one of our top CEOs."
"It hasn't been easy," Felipe explains. "The bottom line is that we try to determine what our viewers want and then try to produce the programs that they want to see. There are so many changes that we have made over the years, and fortunately they have all contributed to our number-one market position".
Footage from the press conference can be seen in the news segments below:
[!youtube!]
[!youtube!]
[!youtube!]