The beauty king: KK Chua, President Asia–Pacific of Mary Kay Cosmetics
KK Chua traded Hollywood scripts for lipsticks when he joined Mary Kay Cosmetics. But it's a decision that, 22 years on, continues to be validated every single day.
Lipstick was clearly the one item missing from the toolkit of self-confessed "jack of all trades but master of none" KK Chua.
The president of Mary Kay Cosmetics Asia–Pacific admits that "Mary who?" were the first words to leave his mouth when he answered the headhunter's phone call. "I mean, I was in the movie business; I didn't have the faintest idea about selling lipstick," he quips. On paper, it appeared an unconventional career move, "but quite quickly I realised this was a special company with values that resonated with me," he says. "Treat people how you would like to be treated; look after your family first and your career will take care of itself; and respect yourself and those around you. These are the pillars of the Mary Kay Cosmetics culture. I find that when your personal and professional values align, passion and success are very easy to achieve."
The move didn't come without a settling-in period, however. "I had been a member of the Far East Motion Picture Board, and we would hold meetings with all the studio executives, each of them puffing away on cigars as they talked. All of a sudden, I found myself thrown into this very feminine, family environment. It certainly took some adjusting to, but it was all very rewarding," he says.  
Hailed as one of America's greatest female entrepreneurs, Mary Kay Ash founded her eponymous cosmetics brand from a Texas shopfront in 1963. Today it has grown into one of the largest direct-selling cosmetic companies in the world with more than 3.5 million independent beauty consultants. Yet the subtle tones of eyeshadow or the durability of waterproof mascara were not her first passion. "She told us many times that cosmetics was just a bridge to help her achieve her one desire: to inspire women to realise their full potential," he says. "The product Mary Kay Ash was really selling was belief — belief in the woman herself."
Apart from the financial successes — KK was initially hired as president of Mary Kay China before becoming Asia–Pacific chief in 1998 and has seen the brand become a Chinese market leader with over RMB10 billion in sales — witnessing the fruition of Mary Kay Ash's vision is what has kept KK motivated during his 22 years in the company. "I could tell you hundreds of stories, but let me start with my favourite." He recounts the tale of a sales representative who had moved to Shanghai from North East China with her young daughter. "Every night they would fall asleep cuddled up to each other because the bed they shared was too small to allow them to sleep on their backs." Some 15 years later, as he prepared to head to the UK to visit universities with his daughter, he bumped into her. "She told me I should look up her daughter, who was studying business in King's College, London. She had just returned from London herself, where she had purchased a flat in Kensington," he exclaims. "This is what keeps me going. She changed not only her own destiny but that of her daughter as well."
The Mary Kay Cosmetics business model of direct selling is one that KK labels as "misunderstood." But in an era of e-commerce, one which he believes still holds enormous value. "E-commerce is effective for us as a channel of communication as it allows us to reach out to people we wouldn't otherwise reach. But it's a starting point, an instrument of initial contact to leave people wanting more. When you demonstrate a product, it is all about the wow factor, the experience; that is something that e-commerce cannot deliver — unless someone is able to come up with a computer that emits fragrance," he laughs. "Being able to demonstrate the product is still very, very effective."
In the current market climate, however, he believes it is no longer about simply the look and feel of a product. "The consumer wants to go further: to know why it is making them feel good and why it is good for them. Not only that, but the product life cycle is now much shorter. In the past, when you produced a new formula or released a new product, you could afford to sell it for quite a while. Today you have to be constantly innovating to refresh your range."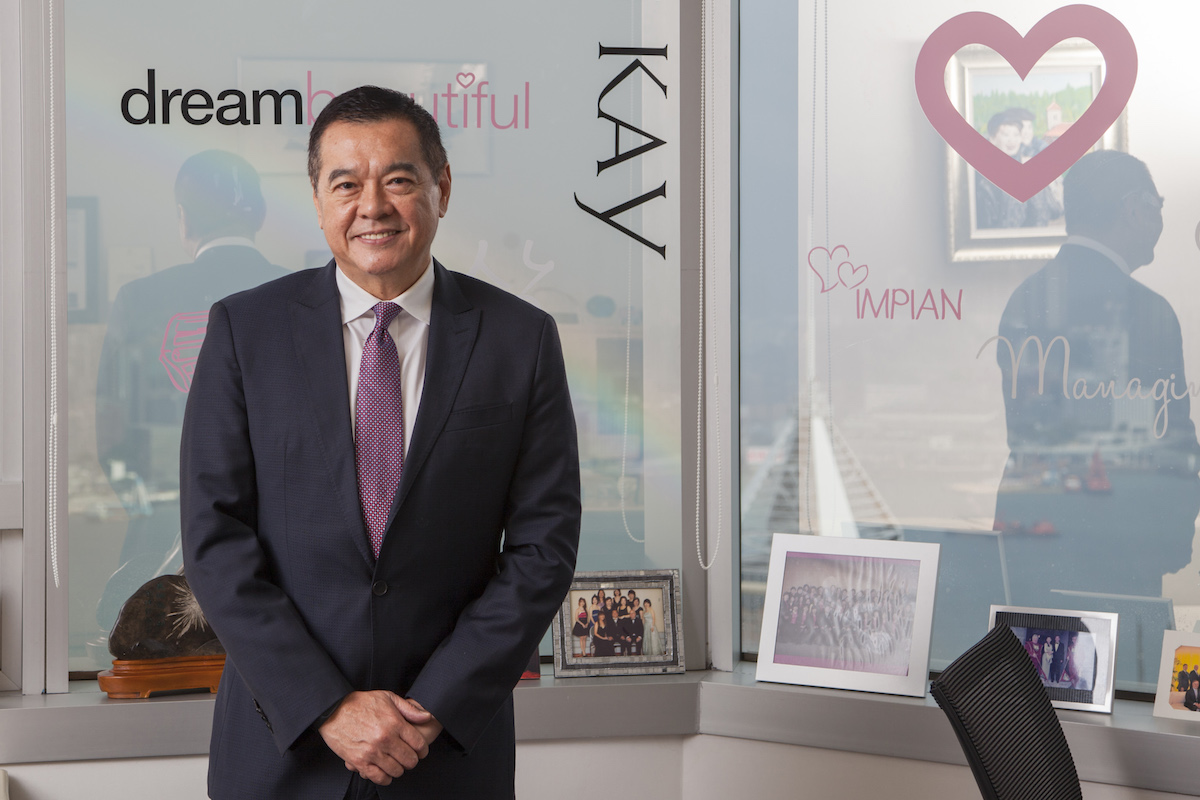 "The product Mary Kay Ash was really selling was belief; belief in the woman herself." 
Millennials, a generation of particular importance for the beauty industry, are driving this thirst for further product knowledge. KK may be keen to emphasise that his approach to them is one of "trepidation — as I don't understand them," but his strategy is as simple as it is effective. "We learn from them," he says. From the millennial Mary Kay consultant who invited her friends to join a webinar where she demonstrated the effectiveness of Mary Kay's best-selling CC Cream complexion corrector ("She had 23 sales from it," he proudly says), to the savvy 25-year-olds whose suggestions are finding their way into mainstream company infrastructure, "the lesson is humility," he says. "Experience and seniority may not necessarily mean that you know best."
Traditional product launches spearheaded by beautiful women are becoming obsolete, KK says, replaced by what he refers to as gamification, or the 'Pokemon effect'. "When we launch a product, we develop a game that offers price incentives based upon completion." It's hardly surprising to learn that the company has a team of more than 100 IT engineers in Shanghai alone developing apps. 
As KK looks to expand the Mary Kay footprint into new markets such as Thailand, Vietnam and Indonesia, and up the ante on its Australian presence, it's clear there's obviously much more to Mary Kay Cosmetics than make-up and that KK Chua has firmly added lipstick to his toolkit.  
You can download the PDF version (as seen in the magazine) below...