A view to the future: Mal Hiley, Managing Director of Waterway Constructions
Sydneysiders are fastidious about their water views, and while Waterway Constructions may sometimes get in the way, the Harbour wouldn't function without it.  
Mal Hiley has been involved in construction around Sydney Harbour for almost 40 years. During that time, he has seen increasing pressure on the availability of suitable space on the waterfront for companies such as Waterway Constructions, and believes it is essential to be regularly informing both politicians and the community of the essential role organisations like Waterway play.  
Maritime contractors are under-recognised
When people comment on the industrial clutter at the Waterway yard in Rozelle Bay, they have little understanding of what is actually a vital service in keeping the bustling harbour operating through the building and maintenance of ferry wharves and port assets. The competing interests for inner harbour waterfront land, together with a lack of understanding about what is required to support and service the harbour, is a reality that Mal, Managing Director of Waterway Constructions, has learned to deal with.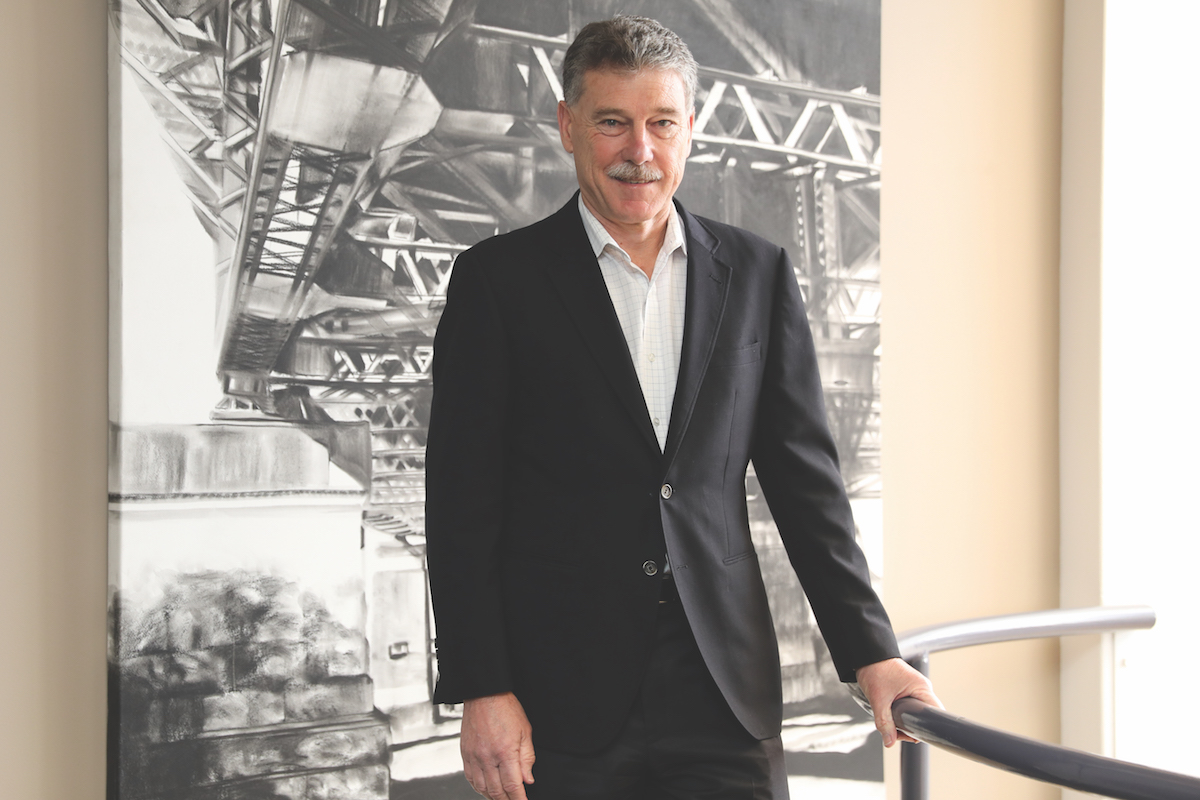 People don't understand that to fix the ferry wharf, or to build a new bridge, we need to work on the water and around it. It's our worksite.
"Yeah, it's fair to say the contributions of maritime contractors are under-recognised," Mal says. "It's not like a new major roadwork where everything is very visible to hundreds of thousands of people taking the same road every day. They understand what's going on and why all that debris and equipment is by the road. We have a low profile, and the value we add to the life and running of our harbours and waterways is not seen. People don't understand that to fix the ferry wharf, or to build a new bridge, we need to work on the water and around it. It's our worksite." 
Constructing Sydney Harbour
From renovating Woolloomooloo's Finger Wharf in 1998 to extending Circular Quay's Overseas Passenger Terminal in 2014, or completing the $14-million Timber Wharves Remediation project for the Department of Defence last year, there is not much construction around Sydney Harbour that hasn't involved Waterway Constructions.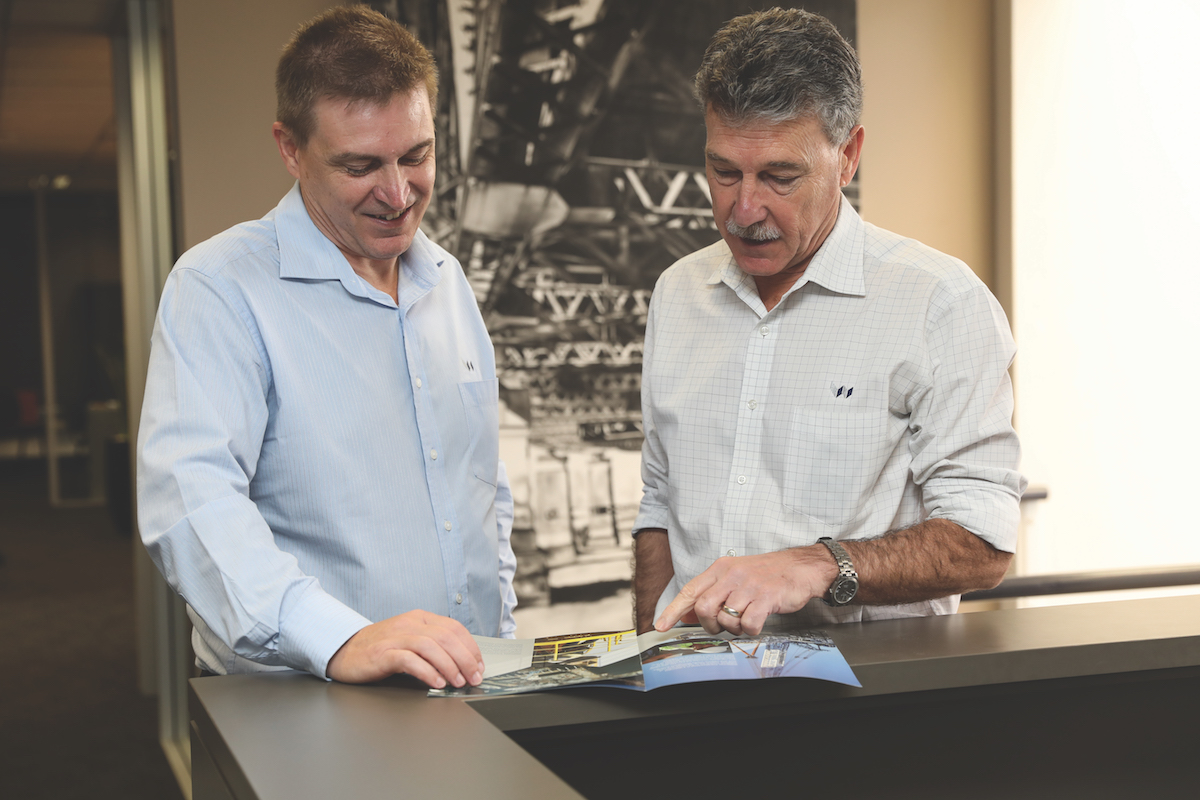 The company is currently nearing completion of the first stage of the Sydney Wharf Upgrade Program, a $55-million project delivering more than a dozen new steel and concrete ferry wharves providing safer and more modern access solutions to commuters.
Many other projects have been completed around Australia, including the award-winning underwater carpark at Pier 6/7 Walsh Bay, a $160-million material offloading facility at Gladstone, the repair and rebuilding of ferry terminals in Brisbane after the floods of 2011, and the Breakwater Pier and Station Pier upgrades in Melbourne.
Waterway Constructions flourishes
Mal spent 16 years with the Maritime Services Board (MSB) employed in a broad range of positions including design, contract management and construction, before taking advantage of a New South Wales Government decision to sell off the MSB's wharf maintenance section in 1993. Mal, in charge of the department at the time, joined with colleague Jim Millar to launch the fledgling company with just 10 workers. 
Today, Waterway Constructions flourishes, with offices in Sydney, Brisbane and Melbourne Brisbane employing more than 170 staff. The bulk of the company's workforce comprises construction tradies with experience in bridge and wharf carpentry, a traditional skill necessary to complete heritage work.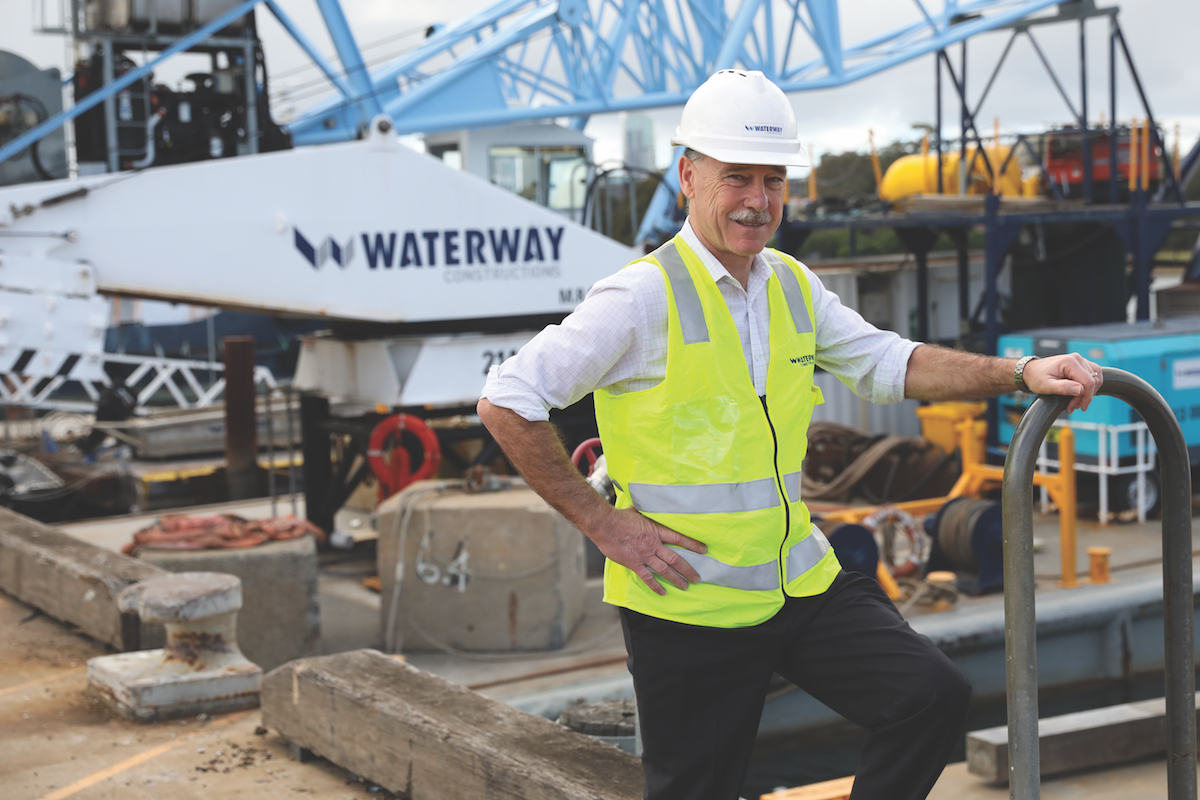 Many of them began their careers with Waterway as young, very green apprentices. "One of the strongest features of the company is our commitment to apprentices and skill development," Mal explains. "We expose our apprentices to all construction scenarios: timber and steel, forklift and crane operations, rigging, dogging, and of course learning safety in all areas.  
"We don't plan to just employ our trainees for the duration of their apprenticeship either," he adds. "The first thing we do is make them complete some work experience so they understand the job. If they are offered an apprenticeship from there, we explain that we understand we can't put a ball and chain around their leg, that they have the freedom to leave, but we make it clear we want them with us for the long term. 
"We watch these young blokes start at age 16, knowing nothing in their first year, meeting their first girlfriend, buying a house and having a baby, developing a substantial career along the way. It's like a big family for us."  
Mal Hiley stays connected
As the head of this large and growing family, Mal ensures he remains connected. Although he relies on a senior management team, he is insistent his workers always know where Waterway is heading. 
"It is important that a team knows where it is going, knowing where the next job is coming from, if there is job security, if the company is actually growing or going backwards." he says. "I think anyone who works for us feels like they are in a company that is moving forwards. That is important. 
"It is also important to grab opportunities," he adds. "In my case, it was to stay with the government or take the opportunity to start this company. My attitude is to always take the optimistic view about what is possible. Instead of asking why, ask why not."  
You can download the PDF version (as seen in the magazine) below...