Insuring improvement: Richard Pryce, CEO at European Operations of QBE
Richard Pryce explains how the insurer's openness to new ideas, willingness to change, and desire to do good sets it apart from its competitors.
Richard Pryce is a man driven by the need for continuous improvement. He wants to be the best person he can be, and he wants his company and colleagues to be as successful as they can be. "The most important thing is to deliver great outcomes for our key stakeholders — our colleagues, our customers and our shareholders," says the CEO for QBE European Operations. 
That's why Richard was excited to join QBE back in 2012 — he saw the opportunity to take the business to the next level. "QBE was always a company that intrigued me. It has come a long way in a short period of time. Clearly, in some areas it was extremely successful, but I would say in several other areas there was great untapped potential, and that untapped potential is one of the main reasons I was attracted to the role," he explains. 
Fortunately for Richard, he had the internal backing and support of shareholders to implement changes to move the business forward — although, with more than 30 years of experience in the insurance sector, it's hardly surprising that his bosses value his input.
Richard started out in insurance in the 80s at Lloyd's. He was attracted to the "very dynamic environment" with "global opportunities" and "immense variety" of the industry. At QBE, Richard was also pleasantly surprised to find that most people in the business were willing to embrace and accept his changes and improvements.
"We do operate in a market and an industry that probably hasn't changed enough over the past 10 to 15 years. So it has been very warming to see that people are prepared to be open about change and development," he says.
Changing the gene pool
The first point on the agenda? Making the business more collaborative. "When I took the role on, a couple of people said to me that the organisation was a little bit siloed. I wanted to get people to work more as a team to enhance the total potential of the organisation," says Richard.
His next priority was bringing in new people with different skill sets and approaches. "We talk a lot about gene pool — changing the gene pool and bringing new skill sets into the insurance industry. That's the only way that we will continue to improve as a business," explains Richard. 
He particularly wants more people in the industry with analytical and data science backgrounds. While data analytics has long been the backbone of insurance, and using customer data and analytics to set premiums is nothing new, the sheer volume of data out there now means it's increasingly important that insurance firms find better ways to harness it to more accurately assess risk.
"I talk about what I call 'underwriter plus', so I want an underwriter with extra skill sets: it may be in engineering, data science, languages. It's very important for us to have those additional skills," says Richard. "We don't have all the answers; that's why we like to hire different people from different backgrounds and to have advice from external inputs."
The more diversity among insurer staff, the better the company can be aware of and assess the risks of its different clients.
A forum for customer feedback
Richard explains that QBE is not just selling "a final product, which is wrapped in a box and given to a customer," but rather the quality of its people and their ability to work with customers and brokers to create successful, sustainable solutions.
"Our people are an absolute key asset and they represent us every day, wherever they go. They have to be knowledgeable, they have to be available, they have to be committed, and they have to be empowered." Empowerment is key in underwriting, says Richard, because customers "don't want to talk to somebody who then has to talk to somebody else, who then has to talk to somebody else."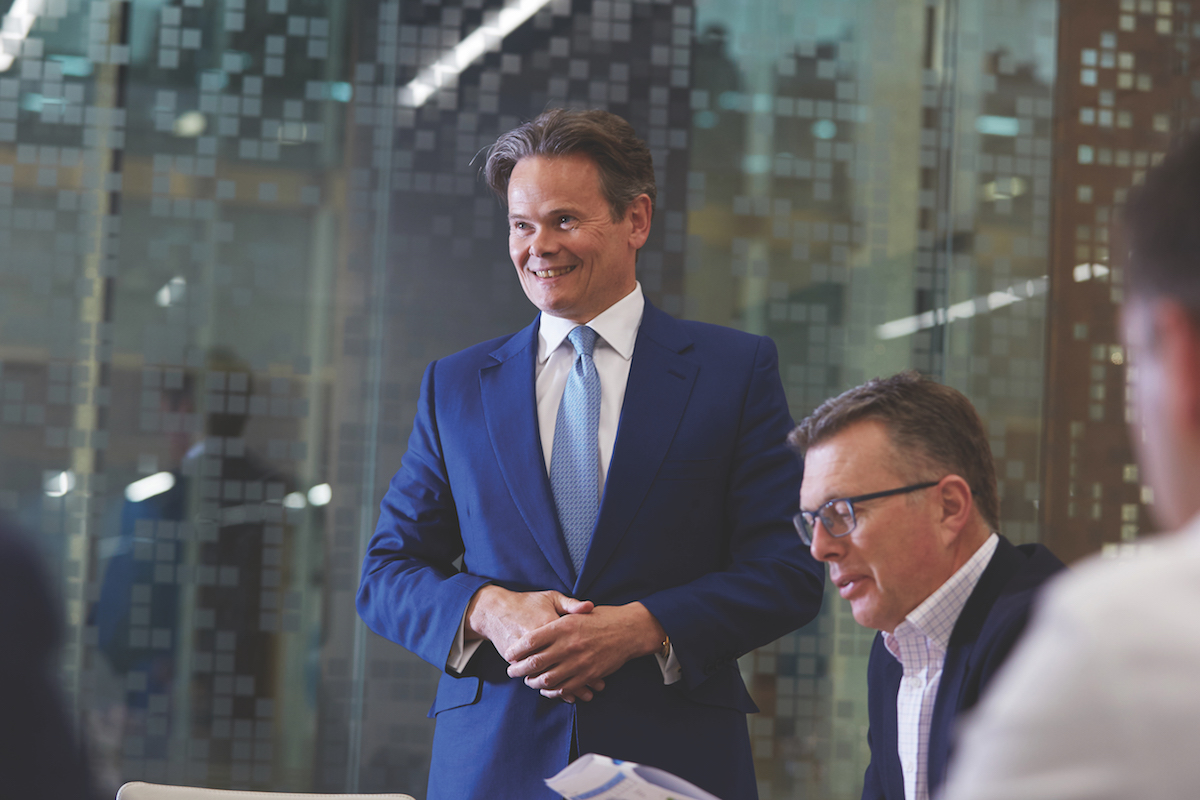 And as virtually everybody who works at QBE will impact the customer's experience at QBE in some way, he encourages his colleagues to meet the customers as much as possible. The company also holds events in London to provide customers with a forum to discuss their wants and needs, and provide feedback. "We actually invite customers to come and tell us what they want and what they expect. I think an initiative like that in an insurance company is quite significant because insurance companies can be prone to telling customers what they want and need. Instead, we have opened a dialogue to understand what is most important for them. And I think that's been a significant development and will make QBE a stronger company."
At these events, QBE staff and customers discuss not only the products but also the delivery of those products, the after-sales service and the industry itself. "There is a lot of talk around disruption in the industry, so we talk with customers and others about finding more effective ways to do business," Richard says. "We want to build the strongest partnerships with our customers, and we want to have an open and constructive dialogue."
No room for complacency
Relationships with brokers and consultants are something the company works equally hard at. "Every minute of every day, all my colleagues here are working with brokers on many different projects and different customers, and it's such an important part of our operating environment that it is one we absolutely have to get right," affirms Richard. "So they are very important partnerships for us. We have very strong and successful trading relationships with most of the major brokers."
There is an impatience to be the best we can be. We have to constantly challenge ourselves and each other to be better and more successful.
In order to encourage this type of dialogue, both with customers and within the company, Richard says he fosters a culture of "openness and support" at QBE. "We like to help people be more successful; but realistically, when you put people into bigger and more challenging roles, there has to be support to get them to the place they need to be."
And there isn't any room for complacency at QBE. "There is an impatience to be the best we can. We have to constantly challenge ourselves and each other to be better and to be more successful," Richard elaborates.
Socially responsible investment
Something that particularly unites and motivates employees at the insurer is the QBE Foundation, which supports the local communities in which the company operates. 
"It's something that really engages a lot of commitment and involvement from my colleagues," says Richard. "Helping others is a very important part of our culture. I know it's very important to my colleagues because so many of them get actively involved in those projects."
QBE employees in Europe have chosen to support Breast Cancer Care for 2016 and 2017. Last year, the employees raised £82,000 through the Tour de QBE, an event involving QBE staff cycling between the company's UK offices, and from Brussels and Paris to London. They look set to smash its £200,000 fundraising target for 2016–17. 
Richard is also particularly proud of QBE's recent initiative called Premiums4Good. The program allows customers to allocate a proportion of their premiums to socially responsible investments. Customers receive reports on what these investments are, why they were chosen and what the outcomes have been. 
"This initiative actually came out of an internal Dragons' Dentype environment that we had in one of our global leadership conferences in Sydney," explains Richard. "It's been incredibly successful, and it's certainly something that really sets QBE apart from other insurance companies."
You can download the PDF version (as seen in the magazine) below...