Samsung, Google enter augmented reality partnership
Samsung is partnering with Google to bring augmented reality (AR) capabilities to its smartphones.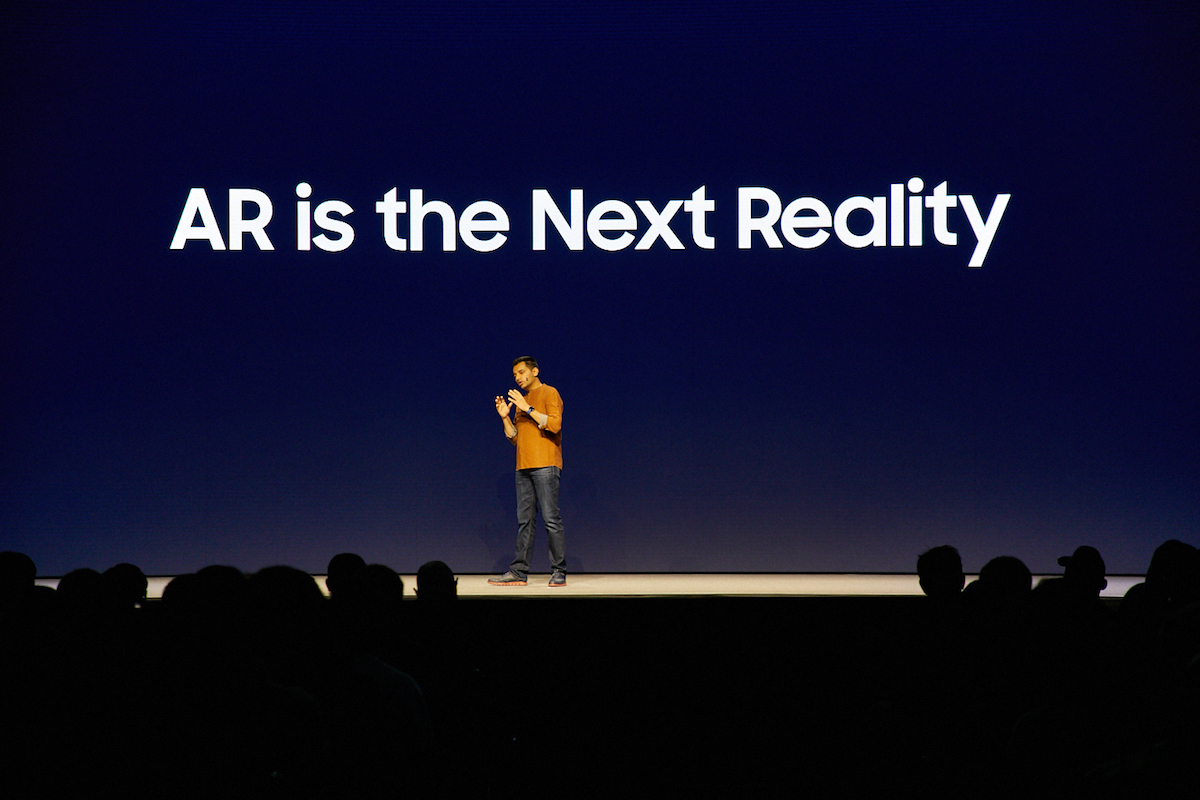 Announced at the 2017 Samsung Developer Conference in San Francisco (18–19 October), the partnership will allow developers to use Google's ARCore software development kit (SDK) to make AR apps on the Samsung Galaxy S8, S8+ and Note8.
"This strategic partnership with Google offers new business opportunities for developers, and a new platform for creating immersive new experiences for consumers," Samsung said.
Unlike virtual reality (VR), AR doesn't need a headset. It involves 3D images superimposed onto real-life surroundings. AR gained global attention last year with the release of Pokémon Go which disrupted the gaming and business world.
Samsung's announcement comes after Apple enhanced its AR capabilities on the iPhone. Apple's AR expanded so much that third parties such as IKEA jumped on the bandwagon with the Ikea Place app that allows users to see how certain furniture would look in their homes.
Pranav Mistry, Samsung Research Vice-President, (pictured above) said the company will integrate image recognition and machine learning into its AR for a greater interactive experience.
President of Samsung Electronics Mobile Communications Business, DJ Koh, added that more needs to be done to establish a world of connected intelligence, Chinchilla News reports.
"Through an extensive open collaboration with our business partners and developers, we are unlocking a gateway to an expanded ecosystem of interconnected and intelligent services that will simplify and enrich everyday life for our consumers," he said.
More revealed at the Developer Conference
Along with the AR partnership, Samsung also unveiled Bixby 2.0, a "reinvention" of its first digital assistant model. Bixby 2.0 is akin to Apple's Siri and is designed with increased natural language capabilities for better user recognition and better prediction.
"We see a world where digital assistants play a bigger role, an intelligent role, where one day everything from our phones, to our fridge, to our sprinkler system will have some sort of intelligence to help us seamlessly interact with all the technology we use each day," wrote Eui-Suk Chung Executive Vice-President and Head of Service Intelligence of Mobile Communications Business at Samsung Electronics in an editorial on Bixby 2.0.
"Bixby 2.0 will be ubiquitous, available on any and all devices. This means having the intelligence of Bixby, powered by the cloud, act as the control hub of your device ecosystem, including mobile phones, TVs, refrigerators, home speakers, or any other connected technology you can imagine.
"Soon, developers will be able to put their services on any and all devices and will not have to reinvent their services each time they support a new device."
Images: Samsung