Each day, we come into contact with food or pharmaceutical packaging of some sort. It's this direct connection to daily life that was part of the appeal for Stefan König when he joined Bosch Packaging Technology. "If you go to the supermarket, or cook in your kitchen, or talk to a doctor, you basically see the final result of the job we are doing. That was very motivating and remains so today."
Stefan also says he was drawn to the cross-functional work and entrepreneurial associates and the chance to work closely with the markets and the customer. The current CEO, Stefan has worked at Bosch since 1997 and transferred to the packaging technology division in 2009, initially to oversee the Assembly Systems and Special Machinery business unit.
Stefan König understands the heart of the business
Prior to becoming CEO in January 2017, Stefan worked at the heart of the business: the product. As a company proclaiming to be one of the leaders in innovation and customer benefits, Stefan carried out many customer visits. "I found it was quite easy to understand their problems, their concept, their dreams."
Today, the company is one of the largest system suppliers in its sector and, in Stefan's words, it is successfully dominating the field of innovation, producing high-quality products at super-high speeds, with the capabilities to be flexible for its customers.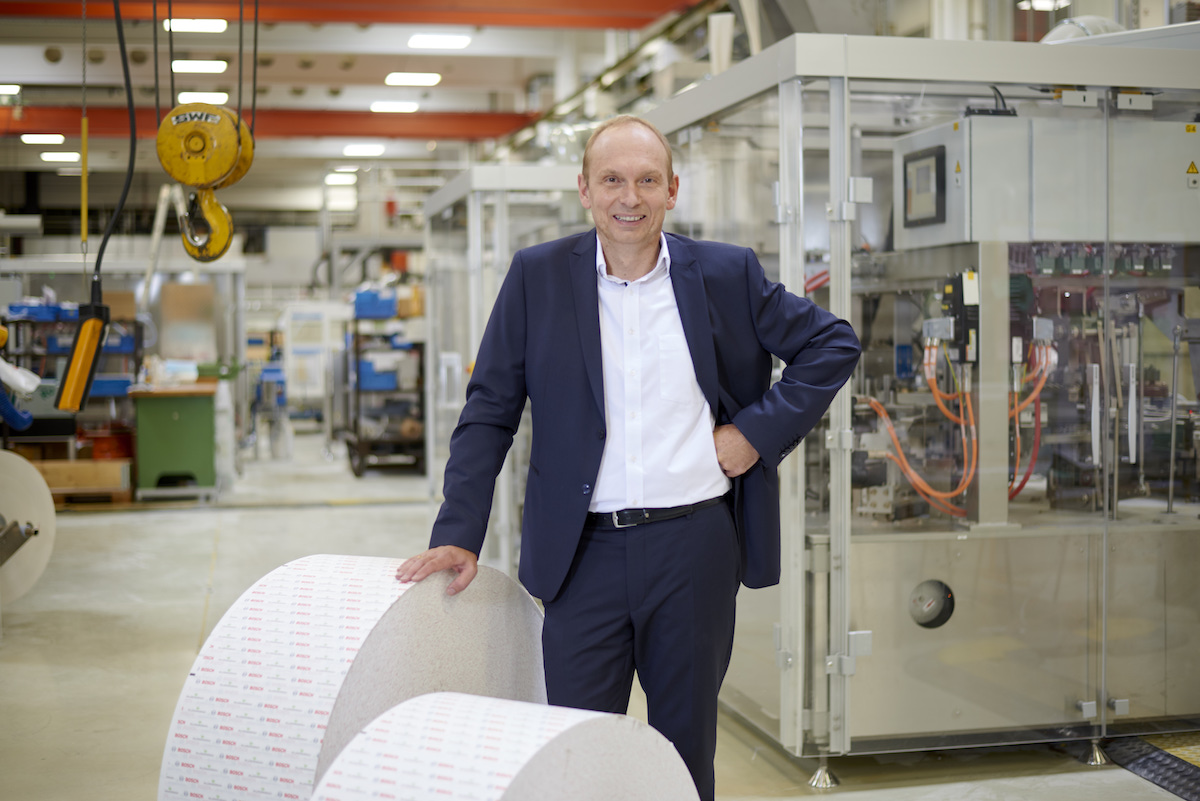 At Interpack, the world's largest trade fair for the process and packaging industry, Bosch Packaging Technology unveiled an abundance of innovations in machinery and digital services in line with its focus on Industry 4.0 solutions. "If we want to push improvement further – after 50 years of improvement already – to 100%, we need some new approaches," says Stefan.
He outlines that the direction of the company is to excel in its core business – ensuring reliable, easy, economical machinery, with the goal to build machines and systems that are "every day better than the day before".
Bosch Packaging Technology is pushing technology further
One of the current big topics at Bosch Packaging Technology is that of data-driven improvements. "Technology and data-based approaches will, from our understanding, play an integral role in the company. We need to push the limits of technology, and this can be done with knowledge, which we gain from data."
Furthermore, advancements in IT mean the process and packaging supplier can make its machines more intelligent. "So, if the machine has permission, it can react by itself to problems. In the future, the machines won't be notifying users about problems, but offering solutions."
In the future, the machines won't be notifying users about problems, but offering solutions.
Of course, it's not all about intelligent machines, data and IT. "Our business relies very heavily on people with passion, competence and good customer relations," says Stefan. A key direction for the company is in being a partner to its customers and a system-solution provider.
This customer focus means a 'their challenge is our challenge' approach. "We don't just deliver machines; we also deliver all the connection systems and the software, as well as the lifetime software solutions. This tremendously reduces our customers' complexity in order to help them to meet their challenges."
Stefan leads by the Bosch business ethos
Stefan is a leader who himself exudes great passion for the company and an excitement for its potential. His leadership style reflects this, and he believes that being close to associates as well as customers is important. He says that the big challenge, however, is to ensure you have a defined profile as a reliable and clear leader, while being adaptable to any situation.
"You have to be transactional, but then five minutes later you may need to be pushing a young team in a transformational way – you need to be agile and explorative."
Stefan is forward-thinking, a trait that is instilled throughout the 130-year-old Bosch Group. It's a brand that customers have clear expectations of, he points out.
"The values we live by, that live on in Bosch, basically go back to the founder, Robert Bosch," says Stefan. "The key topics we drive include being future-oriented, being responsible for what we do, having a clear purpose, openness, trust, fairness, and so on. These are part of my own business ethos too. But for me, the most important one is sustainable business manners."