Sunway Lagoon – home of Asia's first Nickelodeon-based attraction and the world's largest funnel ride, the Vuvuzela – is one of Malaysia's most popular family destinations. It is one of two theme parks owned by the Sunway Group and has six adventure zones featuring more than 90 rides.
The other park, Sunway Lost World of Tambun, is action- and adventure-themed, offering both a day and a night experience filled with recreational and leisure activities. The two parks enjoy a combined total of more than three million visitors each year.
Customer care is key
Apart from having some notable attractions, Senior General Manager of Sunway Theme Parks, Calvin Ho believes Sunway Lagoon's success is due to its customer care. "We strive to deliver the 'Best Day Ever' experience," Calvin tells
The CEO Magazine.
"We make families happy and, at the end of the day, we make them have something to look forward to for next time. The joy, the laughter, the family bonding, the friends we see hanging out in the parks – that's our greatest achievement."
Prior to Sunway, Calvin made his mark in the hotel industry. "I worked in Europe for a couple of years," he says. "I did hotel management courses and joined the hotel industry in Hong Kong and Australia. Then I got headhunted to join the theme park industry in Malaysia and I have never looked back. It's been an amazing ride."
The joy, the laughter, the family bonding, the friends we see hanging out in the parks – that's our greatest achievement.
Although Calvin describes working for the theme parks as fun, he acknowledges that there was a lot to learn to ensure continued operations. "In this industry, we are » vulnerable to a lot of things that could impact the business tremendously: Malaysia's economic situation, world stability and inclement weather," he explains.
"So it's up to us to keep innovating and finding new ways to accommodate these kinds of situations. With Malaysia's unexpected weather, we try to manage guest expectations with added indoor entertainment to address rainy days.
In terms of economic instability, Sunway Lagoon implemented a strategy to encourage local visitors who are struggling financially. "The economy is pretty challenging right now so we created package options that are a little more affordable for Malaysians and international travellers to still come and enjoy the park," Calvin notes.
But it's not just the weather and the economy that the parks have to deal with. "We have wildlife parks at both Sunway Lagoon and Lost World of Tambun" Calvin says. "We don't believe in having an enormous safari and lots of animals. Instead, we feel we could play a small role in giving back and sharing with young children about conservation, preservation and what not to do in the future with wildlife."
Teach them about conservation
Like all theme parks, safety is a major priority at Sunway Lagoon. "The good thing about today's world is that there is a lot of technology, software and programming available for tracking purposes," Calvin says. "Besides software, you need a lot of visual checks and well-trained engineers to go through the attractions. Of course, like other attractions, we have downtime where we shut the rides every year. Each ride goes through this process of scheduled maintenance and replacement."
With technology advancing at a rapid rate, Calvin says the company is innovating but still has a way to go to keep up with global trends. "We keep changing the park to make it better every year," he says.
"We are not quite there yet, but we are loving some of the technology that has come on board so far, especially in sales and marketing," he reveals.
"A lot of marketing channels have switched to online and digital. The Sunway Group is working tirelessly to look at system apps that can track the movements of our customers within the parks. This is so we can determine the main attractions they go to and how much time they spend at each."
Due to the history of the park, Calvin ensures that all its practices keep sustainability front of mind. "The park was built on previous mining land. There was nothing on it; it looked like a moonscape," he says, describing the former tin-mine site.
"Sunway City rose from a desolate 800-acre wasteland into an integrated and thriving township. "Today, we have trees," Calvin continues. "We didn't take away a forest or other natural environments to build a theme park; we took a wasteland and converted it into a wonderland. Sustainable development is very important for us. We have lakes within our park and ensure they are clean, and we have lots of flourishing habitats."
Inspiration and humility
There is one person Calvin is inspired by the most and that the Founder and Chairman of Sunway Group Tan Sri Dato' Seri Dr Jeffrey Cheah. "He is always supportive and points us in the right direction," Calvin says.
"He has given opportunities to all of us who serve at Sunway. Tan Sri Dato' Seri Dr Jeffrey Cheah established the three central values that our purpose, vision and mission are synonymous with throughout the group; a solid foundation based on integrity, humility and excellence.
"What I like the most is humility. If we forget about this, then complacency steps in and we stop innovating. If we think we » are the best, then that's it; we're not going to do anything more. But if we keep reminding ourselves that we can be better and we are humble with what we have, then that will keep us going for another 25 years or more."
What I like the most is humility. If we forget about this, then complacency steps in and we stop innovating.
These principles are exemplified by the staff. For instance, one of the cleaners found a bag containing nearly RM8,000 and handed it over to the park's Lost and Found counter. The bag, which also contained three passports, belonged to a Saudi Arabian family. This worker's honesty was praised by the company's management team, who presented them with a hamper as a token of appreciation.
Calvin attributes the low employee turnover rate to the founder's management style and his humility – he still picks up rubbish on the grounds when visiting the parks. "He leads by example," Calvin says. "There are plenty of employees who have worked here for 10, 20 years.
It speaks volumes about the kind of leadership the Chairman shows." And it's not just employees who have stuck by Sunway for this length of time but suppliers as well, and that, notes Calvin, is due to effective communication. "They are our teammates," he says.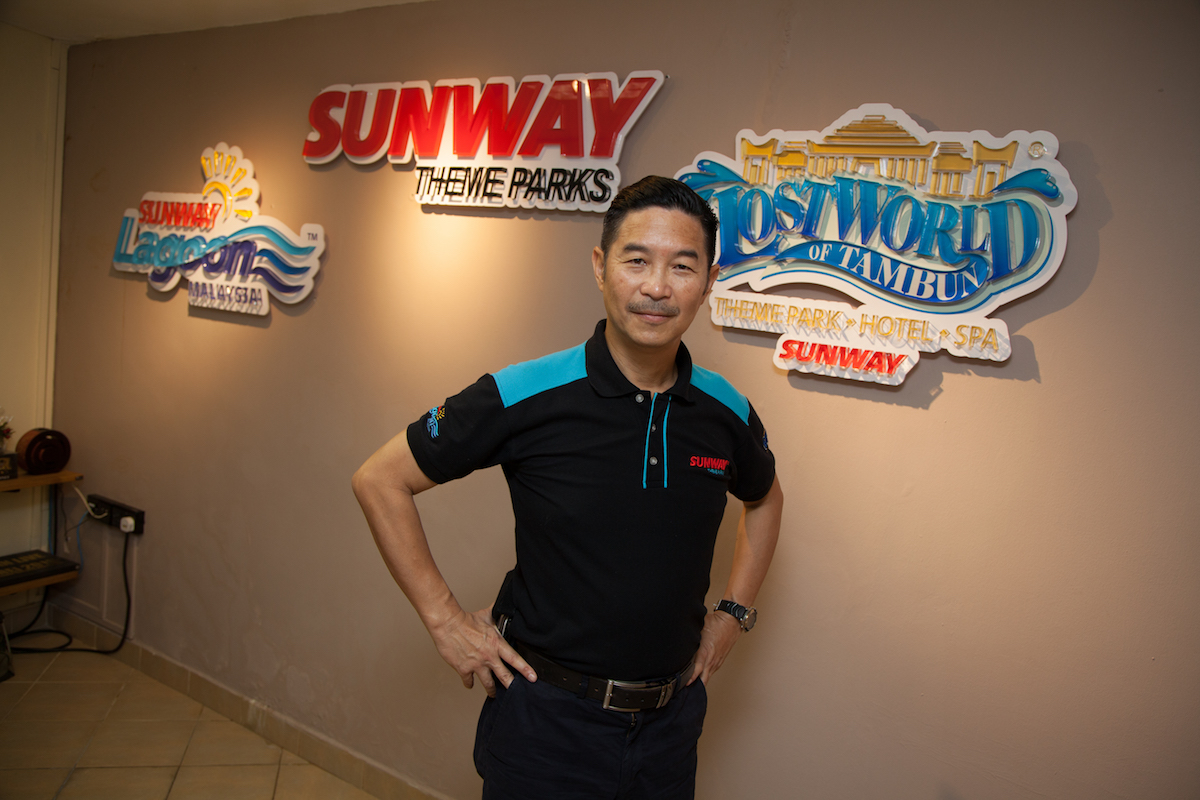 "We have constant meetings with them. Every partner has ups and downs, good months and bad months, and I think it's crucial that we maintain that communication. We have a business development division and a procurement department that constantly engage with our partners and our supply chains. There are so many improvement ideas that come to us through these two channels, so we keep doing it."
The need to share
Calvin believes sharing is the key to the longevity of the theme park industry. "We really need to get together and share best practices, values and ideas in marketing, safety, preventive maintenance, and so on," he advises.
"By sharing, we ensure every theme park in our region and around the world works well and our people are safe. Theme parks are becoming economic drivers in most countries. Businesses and partners go to work the moment a customer walks through our gate; so many other agencies go to work, and that pays salaries, which then pays bills.
You get a lot of people gainfully employed and families having a better life. It stems from that whole cycle that starts from operating successful theme parks around the world. It means not worrying about competition, because every park is unique to its country, to its demographic, to its design, and to its people. The want to have variety and they will visit other theme parks as well."
With Sunway Lagoon having celebrated its 25-year anniversary in 2017, Calvin believes there is much more to come. "We have good records and good profit margins, and I think it really augurs well for us in terms of opportunities moving forward," he says. "I always encourage my colleagues to do well and learn as much as they can, because the industry needs a lot of good theme park operators."
At the end of the day, Calvin is just happy to be able to bring joy to those
who visit the park. "I am a simple man. I take simple pleasure in the smiles I see when our customers leave the park. I think it is the best reward. It makes you go home and feel that you have achieved something small yet important."