Back in 1995, Amit Jatia was just 28 years old when he and one of the world's biggest quick-service restaurant (QSR) brands decided to join hands to extend its reach in India. Despite there being no QSR category in the market, McDonald's felt the time was right to introduce one. From scratch.
"Basically, we were dealing with a category that did not exist," Amit explains. "And not only did the category not exist, but there was no supply chain – not just for the raw materials but also packaging material, equipment – nothing. The farming practices in India for food service and restaurants was also a very disorganised sector, so there was an unbelievable amount of challenges to deal with."
Looking back on that time, when he was the sole employee, from where he sits today – as vice-chairman of a company that manages 265 McDonald's restaurants across western and southern India – Amit is justifiably proud of his accomplishments.
Amit Jatia leads early developments
Not only did he help establish a quality supply chain for McDonald's, developing local businesses along the way; he also paved the way for other QSRs to enter the market. All the packaging, transport, fresh produce and equipment businesses could be used by other newcomers like KFC and Burger King. The risk though, was they could poach his staff as well.
"There was no talent that understood QSR at that time in India, so pretty much my top leadership team started with me from the beginning and we've been fortunate to retain them," Amit says.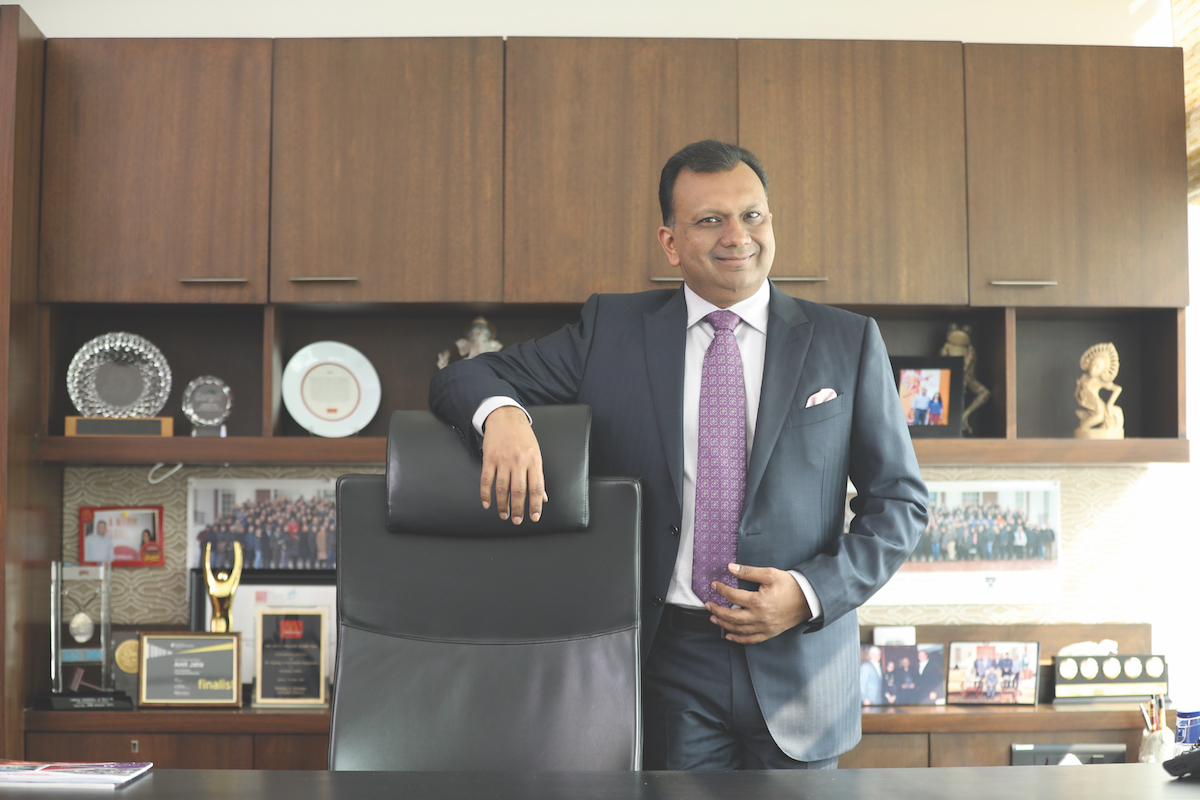 "Even though we were the early bird in this market in India, as other brands came in they were obviously looking for experienced people locally who they could only find among our employees, yet we were able to retain them.
"Recently, we were ranked thirtieth in the list of best places to work and number one in retail. So I think our people, the training systems, all of that has paid off well. Today, people who have left the company are in great demand in the industry. And that's not only in QSR, but in retail as well. If you have worked for McDonald's and you run a store, a restaurant, it's a very big plus on your résumé."
From paddock to plate
Amit is also proud to say that despite the lack of organisation and regulation he was faced with, the supply chain that he created all those years ago was almost 100% locally sourced produce. "I think there are two or three things that set us apart by miles," he says, "but the first is supply chain, because we are the only company in the country that has links all the way back to the farms.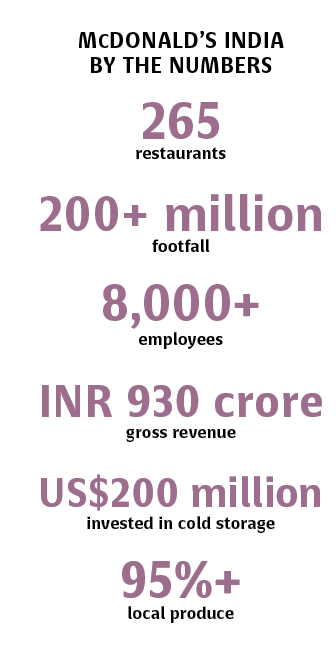 We actually created the whole chain from the farm to the restaurant; I call it a core foundation. We've developed our suppliers over the past 20 years, and from day one most of them continue to be our suppliers today. They all started as single, individual-owner companies, in most cases with very limited volume.
Today, we've been able to help them deliver world-class standards in food safety and quality. We've never focused purely on pricing. If you talk to our suppliers, they will tell you that we've helped them be better.
"We've helped them to be able to supply not just to McDonald's but to the whole industry. We have opened doors for them, and they have become multimillion-dollar businesses.
"Many of our suppliers also supply to the airlines, other industries, and other food companies. We taught them to think long term, we've taught them to invest, and we've been a true partner because through both the good times and the bad times we've worked with them to ensure that they come out ahead."
Innovative seed technology
Amit goes on to cite the example of the experience sourcing potatoes for those world-famous fries. His initial supplier's product wasn't up to scratch, so McCain and Westlife together spent 10 years developing the perfect potato using seed technology and then invested a further US$25 million to set up the processing facility.
This win–win philosophy is deeply entrenched in Amit's plans for future growth as well. "One of our biggest jobs is to grow the dining-out market in India. Our plans are quite aggressive. Our Vision 2022 talks about the fact that we want to increase the number of restaurants to 500. We want to grow our sales by two and a half to three times. And basically, we want to take both the McCafé and the McDelivery businesses and grow those quite substantially as well."
"In terms of jobs, we already directly employ more than 8,000 people. We want to more than double the number of people working for us to 20,000 people. Additionally, the number of indirect jobs and farmers who are impacted by our growth would also be huge: hundreds and thousands of farmers. So I feel that we will contribute substantially to the growth of India as well."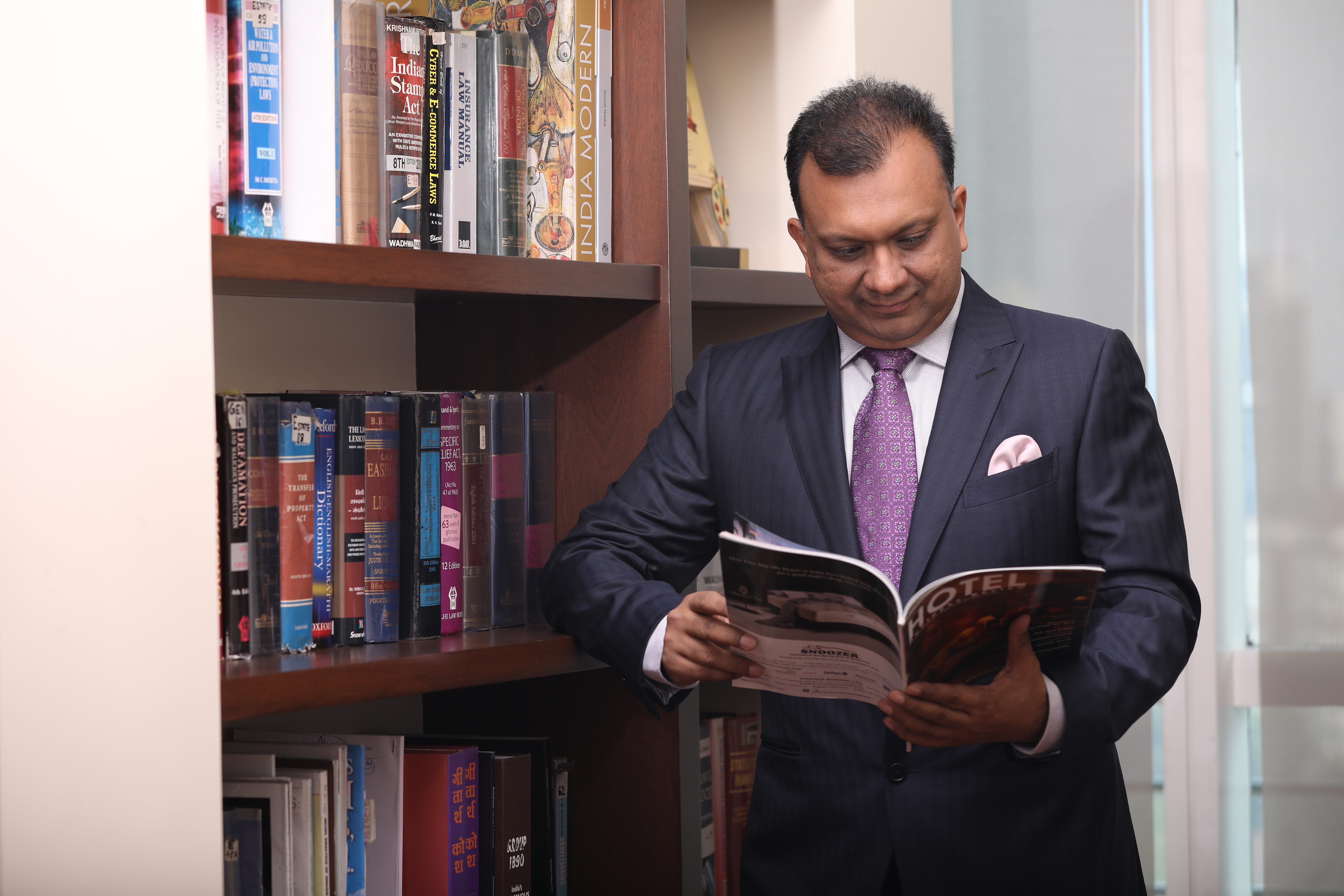 You need to keep evolving new ideas and new ways to remain relevant and stay competitively ahead.
What Amit is looking for is sustainable growth, and that's something he has been able to achieve so far through his strong, long-term relationships with his suppliers, as well as his own personal philosophy on good business practice. He says that the point is to see yourself as a company operating in an economy in a country that always goes through its ups and downs.
"A good company should be able to withstand that and should be able to give consistent, sustainable growth for its stakeholders," he says. "I think that what happens is that during the good times, exuberance gets the better of people because they feel invincible. And that is when most of the mistakes are made.
Playing to win
"It's also important to realise that when you are an industry leader, you have to play to win, always focusing on your strategy, versus planning not to lose. I think there's a significant difference in your actions based on that concept.
"The other big thing is, at least from a leader's point of view, the importance of authenticity and openness to listening. I feel that if you're not willing to consider diverse points of view and build a team that has those diverse points of view, it just won't work out. A good leader should also always be very human focused. Whether you are a B2B or B2C, consumer focus and building the organisation to remain agile and change constantly, that is the new reality
in today's world.
"I think in today's world there is no such thing as permanent advantage – it's called 'transient advantage'. Your advantages are all transient and therefore you need to keep evolving new ideas and new ways to remain relevant and stay competitively ahead."