Today, India is comfortably the largest milk producer in the world. In 2014, it had some 75 million dairy farms, far ahead of second-placed Pakistan, where there were 14 million farms. It also outstripped the entire European Union in production.
Yet, it wasn't always this way; only a couple of generations ago India was a milk-deficient country and its dairy farmers were often poor, illiterate and powerless. Amul Dairy is inextricably linked to the rise of this now-thriving industry, having totally revolutionised milk production with its cooperative model. It has risen to become India's largest food brand. Dr K Rathnam has been there for much of this growth, having joined the company in 1995.
"I knew of Amul Dairy since my student days in college in the 80s," Rathnam recalls. "It was my dream to work at Amul when I completed my undergraduate degree and started postgraduate studies."
India's 'White Revolution'
A development that spanned three phases, from 1970–96, India's White Revolution (or 'Operation Flood') was the world's largest dairy development program. It transferred control of the milk from middlemen to the huge number of small farmers. Amul Dairy, the collective formed to pool the milk from the individual farmers, was at the centre of the revolution.
The program was wildly successful, empowering the individual farmers who had previously been on the wrong side of a power imbalance as they only had one or two buffaloes and had to sell their milk within a short window before it spoiled.
The upheaval had its roots in 1964 when Lal Bahadur Shastri, then prime minister of India, visited Anand in Gujarat, known as the Milk Capital of India, for the inauguration of Amul's cattle feed plant.
The following year, the National Dairy Development Board was established and,
over the next five years, it went on to develop the program now known as the White Revolution.
Drawing on technical assistance from the United Nations Development Programme (UNDP) and Food and Agriculture Organization (FAO), the program's other key concept was to establish 18 'Anands' linked to the major markets of Mumbai, Kolkata, Delhi and Chennai. Dairy products that had previously been sold separately, such as skim milk powder and butter oil, were combined as liquid milk and sold at market price.
Cornering the market for rurally produced milk, the new scheme was successful in returning money to the cooperative dairies, allowing them to build up their resources. By taking milk and not cattle from villages into cities, farmers were able to better manage the breeding, healthcare and feeding of the animals.
The new model also gave the farmers access to greater resources and benefit from modern marketing that the collective had access to. In particular, the brand adopted the blue-haired 'Amul Girl' as its advertising mascot and the character achieved instant popularity.
She continues to boost brand visibility today, regularly popping up in new campaigns and even weighing in on current affairs. The iconic character is also listed in the Guinness Book of World Records as the world's longest running ad campaign.
Continued growth
Having played a major role in Indian history, Amul Dairy has continued to grow and evolve. Rathnam says he has seen immense changes in the more than two decades since he came on board in the tail end of the third phase of Operation Flood. "There has been a lot of investment and expansion, particularly in new technologies," he says.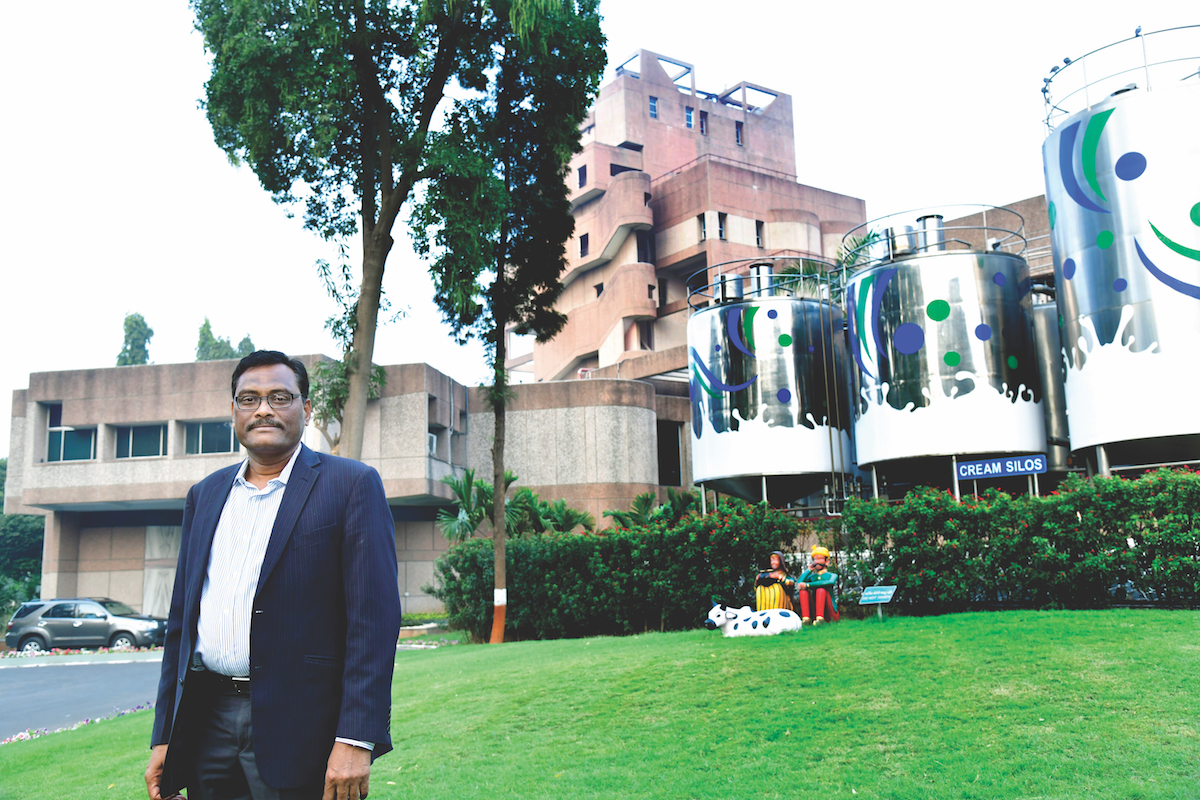 "We have also moved out of Gujarat for our milk processing, packing and marketing. We have also started new milk procurement operations outside Gujarat. Today, 53% of our income comes from elsewhere. The move has generated new income streams. Had we not gone outside Gujarat, that expansion of the business would not have been able to take place."
Rathnam says that many employees join Amul Dairy from a background in dairy technology or engineering, but his starting point was a bit different. "I come from a very traditional background. I did both a master's degree and a doctorate in nutrition." Having completed these studies at the Sardar Patel University, he taught there for three years before moving to Amul. Upon joining, he was immediately impressed by the culture of the company.
"What surprised me was people's dedication towards the organisation, the honesty and integrity of the people and everyone's commitment to ensure the quality of operations and products was maintained at any cost. There was a real determination that the brand's integrity would be always be safeguarded."
What surprised me was people's dedication towards the organisation, the honesty and integrity of the people.
He was originally employed as deputy manager (product development), where he was tasked with introducing several new products. His next move was into quality control management, a role he held for five years and that deepened his knowledge about the dairy production process.
In 2006, Rathnam left Amul for Heinz Wattie's India. He stayed there for around 18 months and he credits the experience with increasing his knowledge of product implementation, costings and savings.
When he returned to Amul Dairy in 2007, it was as General Manager. "That was
a very hard time," Rathnam remembers. "Learning and implementing new strategies was quite a challenge. In that role, I took the time to learn the economics of how the dairy works. The investments, return on investments, operation of new plants and so on."
During this time, he oversaw some of the key innovations in the company's history, introducing the latest technology in paneer (Indian cottage cheese) and whey processing. He was also responsible for introducing a pioneering automation system in its Virar, Mumbai, site where robots do the milk packing. "At Amul, evolution is constant.
We always look at things in a different way and we know how much we have to grow. We think: What would be the market price? What are the new products? What could be the new technology?"
The Amul Dairy difference
As well as its unique place in Indian agricultural history, Rathnam says there are three parameters where Amul Dairy differentiates itself from its competitors. "First, the quality of our product is the prime thing. We never compromise on that. Second, our technological system is ahead of anyone else's in India, ahead of all our competitors. The third point is that we have complete backward and forward anticipation. This means we don't depend on any other party for either raw materials or finished products for the markets."
The quality of our product is the prime thing. We never compromise on that.
The smooth running of its supply chain is another reason for the continued popularity of Amul Dairy products, Rathnam says. "Our success story is that we know how much milk we are can get from farmers and how best to satisfy their needs. The level of service and the procurement price are very important and the suppliers see that our farmers get the maximum amount paid by any dairy. Because of that, they are happy to remain with us. Having reliable transportation is also fundamental, Rathnam says, as some 2.25 million litres of milk have to be collected from the villages each day. "That is critical. If they don't bring the milk in time, our business isn't going to move further."
There are two different classes of key suppliers for Amul Dairy. First, there are the farmers who supply the cooperative with the milk it sells; and second, a range of technology and service suppliers. The importance of the former group is obvious, though Rathnam says it has also forged strong alliances with technology suppliers and that vetting potential technology suppliers is an important part of the selection process.
"We will always see their facilities and assess how they are doing. We look at whether they could be important suppliers in the long run. Only when we have been through that process do we make a decision to go ahead with them. Once they become suppliers, however, they become our partners until the end of the life of the technology. That is how we treat our suppliers."
Relationships, loyalty and service
Rathnam says Amul's strong relationships with suppliers have led to amazing levels of loyalty and service. "If I need something from a supplier at midnight, without even raising a purchase order or making any payment, they will get it to us. Depending on where they are, it will be here in about seven hours."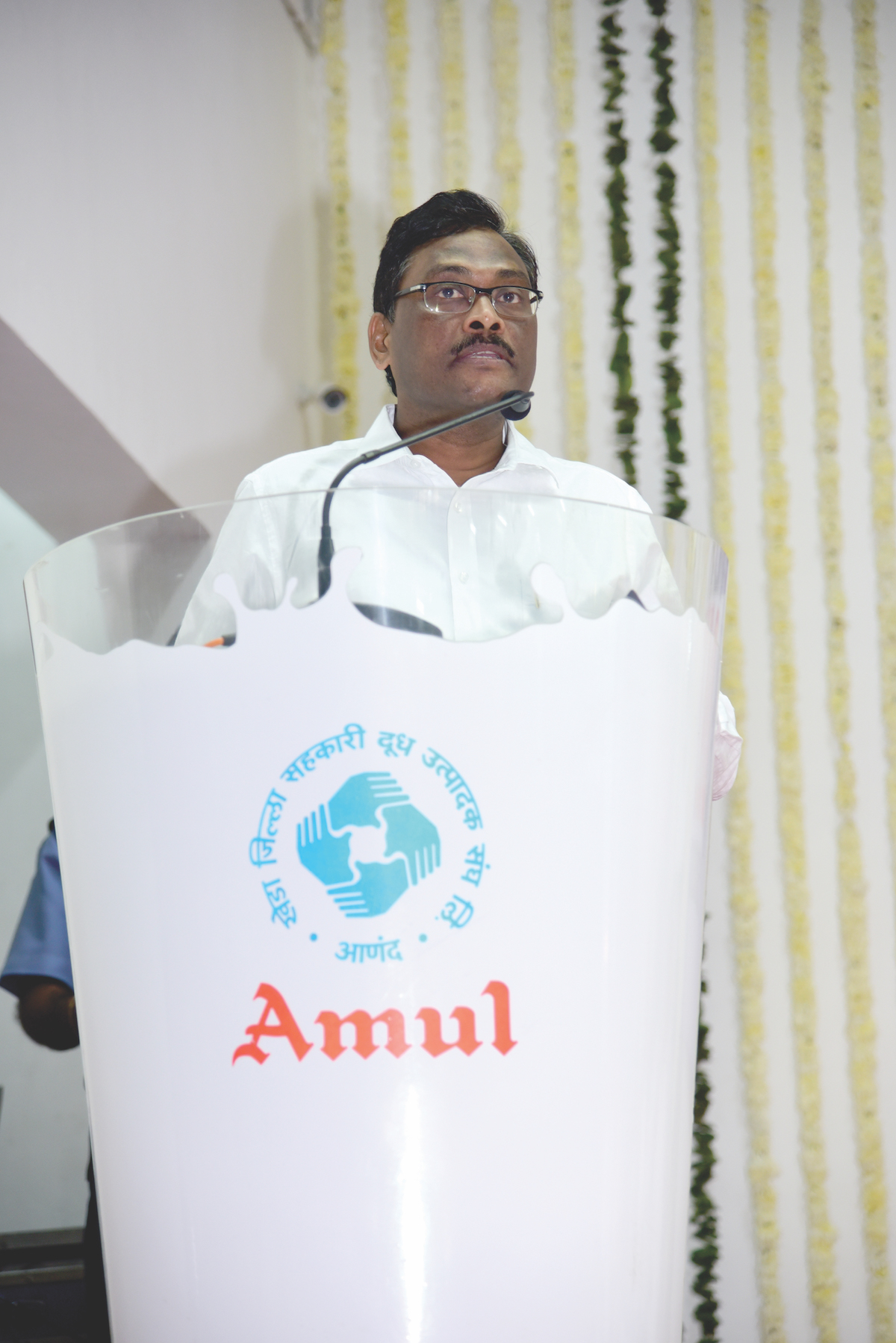 Finally, Rathnam believes Amul Dairy has a far greater capacity for market analysis and long-term planning than its competitors. "When you look at the other corporate leaders today, they do not have the kind of statistics to guide thinking on where they want to be
for the next five to 10 years."
"I come from a farming background," Rathnam says. "My parents are farmers who own a few acres of land back home in South India. I knew from my childhood days that dairying was a constant source of income to the family. In fact, a major part of my education was financed by the sale of milk."
This firsthand experience of life on a small family dairy farm has impressed on Rathnam the ability of a dairy cooperative to improve the quality of life of its farmer members by giving them fair pay for their hard work.
"I know the reality of farmers and their economic conditions as well as the lack of support for their produce. Some 80%–90% of milk producers in India are marginal farmers who own maybe a half acre to a couple of acres of land. They are completely dependent on income from their milk to raise their families, educate their children and try to achieve economic self-reliance."
I know the reality of farmers and their economic conditions as well as the lack of support for the produce.
Recently, Gujarat Cooperative Milk Marketing Federation (GCMMF), which manages Amul Dairy, announced that the farmers it works with have quadrupled their income over the past seven years.
Rewarding the farmers has long been a main focus of Amul Dairy. When Rathnam first joined the company, he was struck by the staff's "commitment to maximise operations to pay more and more to the milk producers". He continues to see this as central to his role. "It's my basic duty to see to it that our farmers' welfare is taken care of and that they can improve their quality of life and self-respect."
Challenges and plans
For an operation as extensive as that managed by Amul Dairy, even incremental savings can end up being substantial. Rathnam says his immediate goal for the Indian market is to reduce its manufacturing expenses by 1%. "About 17% of the total turnover is spent on other activities, such as salaries, maintenance and so on. Every rupee we get from consumers, we pay 80% back to farmers, that is the model we operate on."
Rathnam also has an eye on increasing procurement outside the dairy's Gujarat base. "Right now, what we have is about 27%, but I would like to take it to 33%" he says. More broadly, Amul Dairy has plans to introduce new milk and milk products as well as investigating the feasibility of setting up a dairy manufacturing plant in West Bengal. The Bengal plant should
have capacity for 1.5 million litres a day when completed and will also manufacture yoghurt, ghee and UHT milk alongside the company's core milk product.
27%–30% of the Indian population is malnourished or underfed. It becomes the responsibility of the industry to … reach these people.
Another dairy plant planned for the emerging industrial region of Khed City, Pune, will also be a major operation. Servicing the region, which is currently Amul Dairy's biggest market for ice-cream, the plant, located on 11 acres of land, is expected to address a supply shortage in the region, producing more than one million litres of milk and ice-cream each day. The Khed Economic Infrastructure Pvt Ltd (KEIPL) also said that it expects that the development will "revolutionise the socioeconomic state of the region".
Amul's focus remains on the domestic market, where it enjoyed double-digit growth last year, but it is increasingly gaining an international foothold. It recently opened its first US plant and has begun procuring milk in Nepal and Sri Lanka. Rathnam told Indian media that both neighbouring countries have huge potential and that Amul would work in association with the local government. Operations in these regions are expected to begin in Amul's plant in Sikkim, which is seven kilometres from the Nepal border.
These new plants may help extend the geographical reach of Amul Dairy, Rathnam says, but there are challenges in maintaining high standards while bringing in new farmers. "It takes time, because we need to educate the farmers on the importance of quality, whether that is in Gujarat or some other place. It will come in time, but you have to remind them day in, day out to provide us with quality milk."
Amul Dairy recently moved into the retail sector for the first time, with a mall and restaurant at Amul Plaza, adjacent to its Anand site. It currently has some 6,500 food and personal care items on sale. Part of this new venture is buying foodstuff like nuts, legumes, grains and spices, and using the existing technology at the dairy site to process and clean them. These products are then repackaged and sold under the Amul Green brand.
The company wants to continue moving into new territory as well as broadening the brand. Continuing to introduce new technology is another goal, as is further expanding production capacity and improving breeding of milch animals to obtain greater milk yields.
Manufacturing operations are currently undertaken by a third party, but Rathnam wants Amul Dairy to eventually have its own set-up. Rathnam also has an eye on expanding its already extensive product offering, which includes ghee, paneer, lassi, butter, chocolate and chocolate spreads, in addition to a full range of powdered, flavoured and classic dairy milks.
AmulPro, a whey protein malt drink, has also proven a popular addition to its product line. Furthermore, the company has plans to move into nutraceuticals, a growth sector that covers a range of pharmaceutical-grade and standardised nutrients.
Advice to those in the industry
Amul Dairy has been a prolific winner of industry honours, particularly at the National Productivity Council's Productivity Awards. It has also been rated as the leading Indian 'Green Brand' in a multinational opinion poll, for its sustainability initiatives like planting 10 million saplings on a single day.
Other awards include prizes for energy conservation, good housekeeping, contributions to the export industry and eco-innovation. The GCMMF sector has grown exponentially in India, recording a growth rate of 238% over the past seven years.
The Amul brand was at the forefront of this development and has been recognised as India's best in the fast-moving consumer goods (FMCG) company category in at the recent International Advertising Association (IAA) awards. This shows the benefits farmers in the cooperative reap from their access to cutting-edge professional marketing teams.
Having received so many awards, Amul Dairy is in a position to give advice to other industry players and Rathnam has some words of wisdom for those looking to emulate Amul's success. "You have to provide a quality product, give value for money as well as value for many (the farmers) with no compromise, plus good service. The products must arrive where they are supposed to, on time, and you need to offer good availability of the products."
You have to provide a quality product, give value for money as well as value for many (the farmers) with no compromise, plus good service.
He urges everyone in India's food production industry to consider the social impact of their work. "One of the key messages I would like to send is that 27%–30% of the Indian population is malnourished or underfed. It becomes the responsibility of the industry to develop an affordable mass product that can reach these people, to improve their health and possibly improve their economic conditions as well."
Economists and food technologists from around the world travelled to Anand to study Amul's game-changing methods. Visitors to the company's headquarters are also welcome and there is even a museum that tells the story of the company and hosts workshops and documentary screenings.
The gospel of quality
When the company ran into some quality issues back in 2001, Rathnam, then working as a quality assurance manager, received a call from Dr K Varghese Kurien. Known as the 'father of the White Revolution', Kurien had been the company's founding CEO and its most influential figure. After a detailed exchange on the issue, Kurien left Rathnam with one last piece of advice: "Amul stands for Quality, Integrity and Respect," the older man said.
"Please ensure that these are safeguarded even if you have to lose your job for speaking the truth." Kurien passed away in 2012, but his words stayed with Rathnam. "I have been following that advice ever since as the gospel truth."
Rathnam says he is honoured to play a role in a company that has had such a profound impact on the lives of so many. "Being part of the organisation for two decades, having seen exponential growth in post-Operation Flood programs OF 1, 2 and 3, I feel privileged to be a custodian of this proud history."