Since starting his career as a restaurant employee at McDonald's in Montreal, Canada, 42 years ago, Jacques Mignault has climbed to the top of the food chain. In April 2017, he took over as Managing Director of McDonald's Switzerland, responsible for 166 locations and 7,000 employees across the country. Known for their consumer spending power, the Swiss demand high-quality, natural products that are in season and respect both the environment and local traditions.
In general, their working hours are long, their spare time is limited, and the number of single-member households is growing, creating a strong consumer demand for fresh, convenient food options. Jacques has recognised these needs, tailoring specific services to ensure the best possible experience for the customers and the highest return for the restaurants and suppliers.
"Consumers today behave differently than they did years ago. Life is so fast paced, even in Switzerland, where the people are known for their punctuality and their politeness," Jacques explains. "That's where McDonald's comes in – we give people a break and make their lives a little easier."
Jacques Mignault's management journey
Jacques' management journey began when he was promoted to restaurant manager in 1978, after which he joined the regional office of Quebec where he held a number of management positions. He was named Regional Vice-President of the Eastern region in 2001 and became Senior Vice-President four years later.
In 2008, Jacques moved to Toronto to lead the Ontario region until 2009, when he was appointed COO, responsible for maintaining operational excellence in 1,550 McDonald's restaurants across Canada. Jacques had executive oversight for franchising, purchasing, IT and digital, operations, real estate and construction while developing businesses like McCafé, restaurants in Walmart, and future growth programs.
"Forty-two years and still passionate about the brand – that's me," says Jacques. "I've seen a lot throughout my years with McDonald's, but I'm particularly impressed with the potential I've seen in Switzerland. My first priority was to visit the restaurants and start a dialogue with our 46 owner–operators, who own 135 of the 166 restaurants here in Switzerland. I am continuously impressed with their level of engagement, their passion for the brand, and their dedication to their employees and customers."
McDonald's Switzerland is 'customer obsessed'
McDonald's has always been customer-centric, but Jacques believes there's an opportunity to become what he calls 'customer obsessed'.
"It's about creating that 'wow' moment every time they walk through the door." Jacques is working on an alternative ordering process where, aside from purchasing via a self-ordering kiosk or over the counter, guests are greeted by an experience leader – a new position in McDonald's – who will guide them through the ordering process before leading them to their table.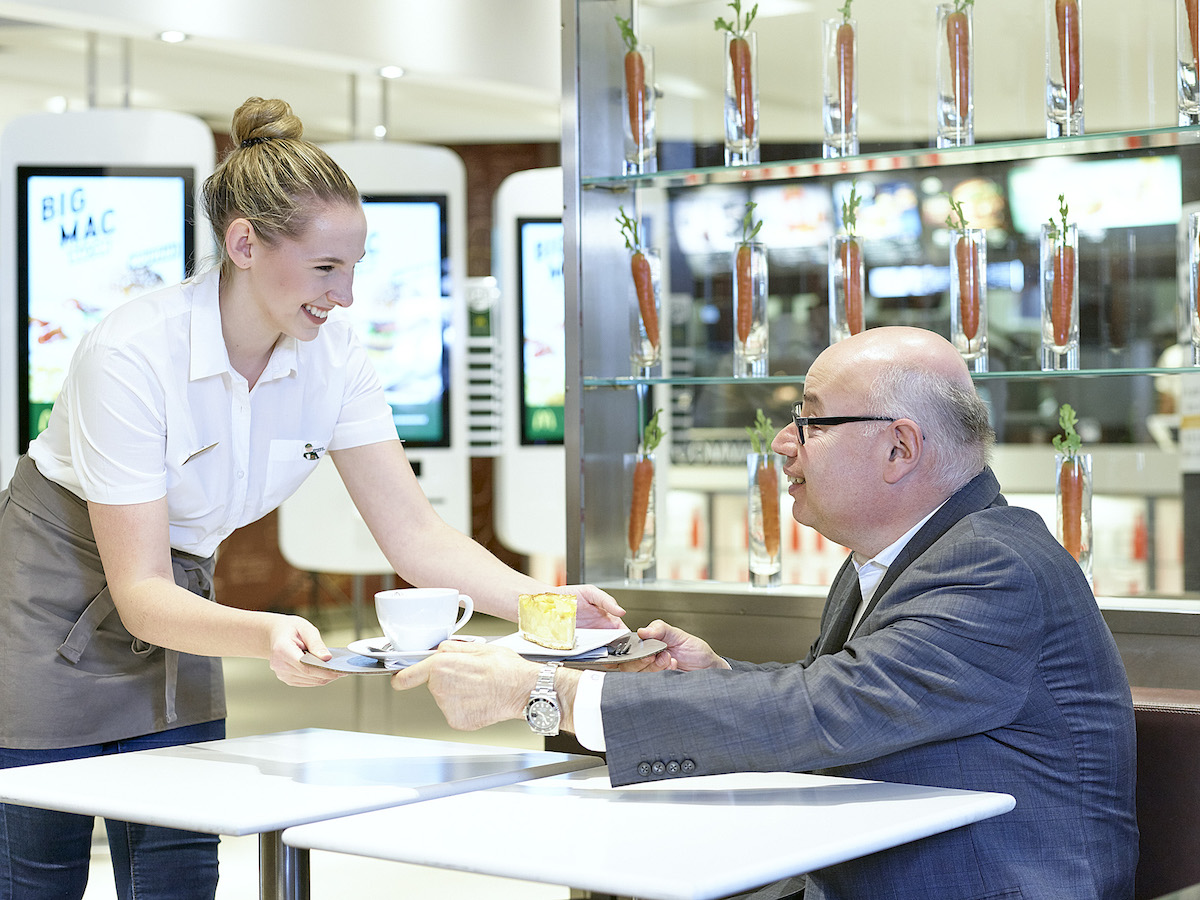 "The beauty of McDonald's is that our preparation system allows us to offer some of the fastest table service in the industry. Our 'experience of the future' system allows our customers to order at the counter or at the self-ordering kiosks. While their order is sent to the kitchen, they can choose a seat in the restaurant, enjoy their time with friends, and have their food delivered to their table in record time. That, for me, is going above and beyond for our customers. That is how we will unleash the potential of Switzerland."
The quick-service restaurant industry has changed drastically over the past decade, with consumers being bombarded with more options than ever before. "How do we become their first choice? How do we differentiate ourselves from the competition?" asks Jacques.
"These are the questions we face each day. I want us to be the dominant value leader in the marketplace. By value, I don't mean price – value to me is about experience." Jacques has learned that the key to a successful business lies in understanding how it's viewed by consumers.
"It starts with finding out where you stand in the marketplace – both from a financial and a consumer-experience measurement standpoint. Do our customers feel valued? Are we a company they trust? Are we meeting their needs? Or are we exceeding their expectations? Once you know where you stand, you can figure out where to go."
A three-bucket business model
Jacques leverages a three-bucket business model similar to McDonald's Global CEO Steve Easterbrook's Velocity framework. "The first bucket contains strengths to retain, while the second contains lost opportunities you wish to regain. The last bucket contains the opportunities you have to convert a casual customer into a customer for life," he explains.
"In Switzerland, we wish to retain our position as a restaurant of choice for families. Our restaurants are equipped with play facilities and I am consistently impressed by our employees' interactions with parents and children. In terms of what we would like to regain, we are tracking very well. However, there is still room to sharpen our focus and be smarter.
An example of our customer-conversion strategy is in the quality of our coffee. McDonald's is viewed as a credible coffee provider in Switzerland; it has enormous potential. The challenge now is to increase the reach and popularity of the brand."
Jacques plans to take advantage of the change in consumer eating habits, where the traditional idea of three fixed meals per day is becoming a thing of the past. "People now 'graze', reaching for snacks and treats. This presents a massive opportunity in Switzerland, given its notorious love of ice-cream and chocolate."
Leveraging the power of technology
Technology also continues to have a massive impact on the quick-service restaurant sector, affecting everything from ordering to pick-up to delivery. "A key part of our growth has been – and will continue to be – in digital acceleration. Food delivery is a CHF1-billion industry in Switzerland, so that is a promising future for us," says Jacques.
"Over the next two to three years, we will aim to make consumers' lives even simpler by leveraging the power of technology." McDonald's Switzerland has learned to refine its strategy by narrowing its focus and choosing quality over quantity. "My priority is on unlocking potential and delivering the greatest returns for all stakeholders, including our customers, by focusing on our most promising opportunities."
Although it was reportedly leaked online in August 2017, the McDonald's secret sauce is made up of something you might not expect, according to Jacques. "People always want to know the ingredients for success. I tell them it's made up of an aligned and engaged team," he says.
"No matter whether it's a company-owned restaurant or a franchise, we all need to be on the same page. Our owner–operators in Switzerland are passionate about the brand, and their advice and insight is crucial in the company's decision-making process."
A strong supplier network
When Jacques came to Switzerland, he inherited a strong supplier network, some of which date back to the inception of the market 41 years ago. "Swiss consumers are incredibly passionate about quality, so proper and transparent sourcing is essential. We now purchase 86% of our products through Swiss suppliers and farmers because their produce is the freshest," says Jacques.
On 1 January 2017, the official 'Swissness' legislation came into force, aimed at preserving the reputation of goods and services made in Switzerland, and thus reassure consumers.
Today, more than 60% of the food consumed in Switzerland is farmed within its borders.
This new legislation protects the 'Made in Switzerland' designation and the Swiss cross, helping to prevent and curb their misuse, so that the value of the 'Swiss' brand is maintained both at home and abroad.
"In general, the salad must be crispy, the tomato beautiful and red, the meat and chicken juicy, and the bun perfectly soft – just the way our suppliers such as Eisberg, Ospelt and many more make our ingredients. These ingredients are produced by our suppliers in line with strict policies to meet our high-quality standards.
"Our suppliers are also very important in the advancement of our products and provide us again and again with exciting ideas and innovations as we are better together." Jacques makes sure to give suppliers a voice, thank them for their work, and discuss current and future business plans through regular supplier meetings.
Jacques' leadership philosophy
His leadership philosophy is simple, yet effective. "When I came to Switzerland, I brought every corporate employee, franchisee, supplier and agency partner together to form one team. We all have shared accountability; we each carry an important piece of the puzzle," explains Jacques.
If something isn't working, let's fail fast, fail cheap, and fail forward by learning from our trials.
"I always tell my team to beat yesterday. As good as we are today, we can always be better. If something isn't working, let's fail fast, fail cheap, and fail forward by learning from our trials.
"The bottom line is, if we can't delight our guests consistently every time they visit, it doesn't matter what we do, how sexy we are, or what features our restaurants have – it's about delivering an outstanding customer experience and making their lives easier. Engaging with stakeholders – franchisees, suppliers, employees and customers alike – is key in creating an environment where people feel happy, valued and part of something bigger."