In 2015, Fly Ace Corporation broke free from the traditional notion of keeping family members in the upper echelons of management by hiring Ramon Daez – the first commercial general manager from outside the family. This was part of the company's strategy to professionalise its structure, policies and practices as well as to make way for continuing business growth.
Prior to joining Fly Ace, Ramon worked at household care company SC Johnson and pharmaceuticals business Warner–Lambert, which was later acquired by US pharmaceutical giant Pfizer. After working with these two companies, Ramon wanted to return to a place close to his heart. "I decided that if I was to work for a third company, I would do so with a Filipino company, as I believed it was my turn to give back and help a locally owned business become even stronger," he says.
Ramon Daez pinpoints three focus areas
Once he took on the role, Ramon pinpointed three key areas he would focus on to keep Fly Ace moving in the right direction: the people within the organisation; business growth and process improvement; and customers and consumers.
In terms of the people, Ramon wanted to strengthen the performance metrics of all workers and ensure all KPIs were consistent. "Organisational and personnel strengths were also looked at to make sure the company could continue to attract good talent, retain those already in and train those in need of further skills," Ramon says.
"Competitive compensation and benefits were studied and appropriate enhancements were put in place like job levelling for both management and non-management personnel, standardised merit practices, and more rigid development plans for identified talents."
With regard to spurring business growth and process improvement, Ramon sought clear and aligned priorities across all functions in the business, as well as strong returns on investment and streamlined processes through automation.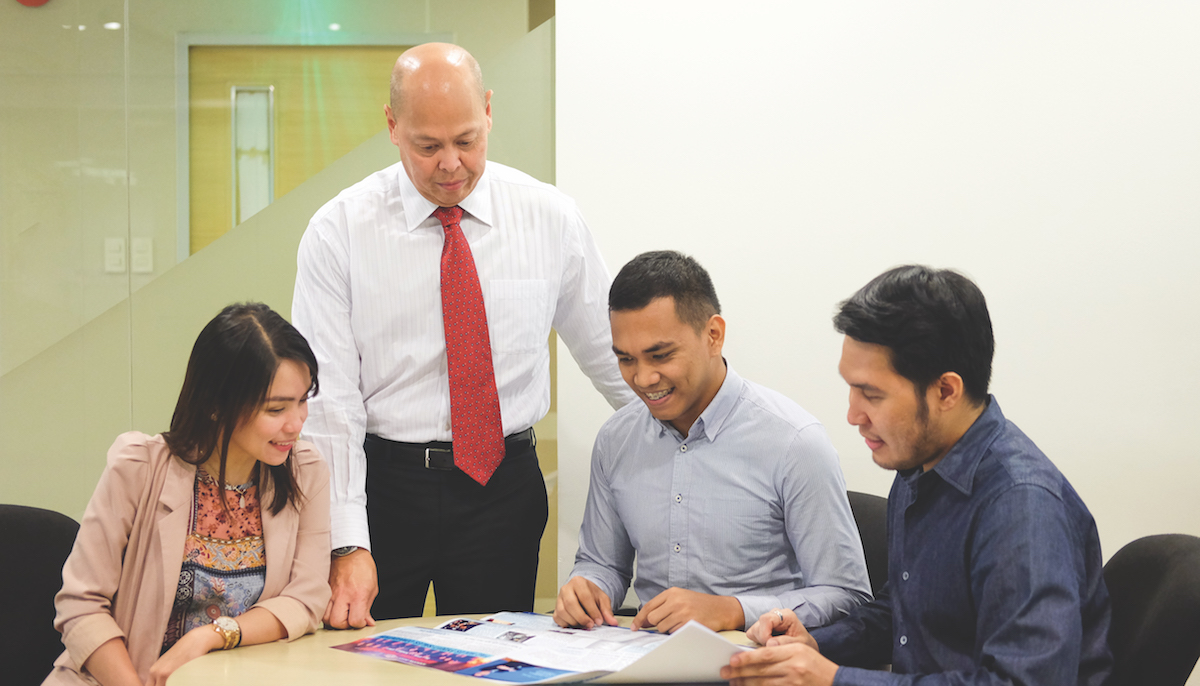 "Transitioning select processes to an automated platform – such as expense management, distributor information management, and HR systems – enables the team to focus on analysis and actions, rather than report generation," Ramon says. "It means processes become tighter and better controlled, allowing the organisation to address critical issues and opportunities faster."
Transitioning select processes to an automated platform enables the team to focus on analysis and actions, rather than report generation.
For customers and consumers, Ramon's plan is to continue driving growth. "The fast-moving consumer goods [!fmcg!] industry is at about a 5% to 6% annual growth in value, and Fly Ace has been ahead of this for several years now," he says.
Perfectly positioned product portfolio
Ramon attributes this success to the stronger market positioning of the brands it has, namely its flagship Jolly. Fly Ace introduced Jolly as its first brand in 1997, launching a canned product called Young Corn. "At the time, the goal for Jolly was simple – provide a quality vegetable and fruits brand at an affordable price to Filipino consumers. This continues to be a core goal of the brand to this day," Ramon says.
Since then, several other products have been launched under the Jolly name, including mushrooms, whole corn, creamed corn, salted black beans, and green peas. Ramon acknowledges the hard work the staff puts in to keep the company at the forefront of the FMCG industry. "Our journey to be better has not been a walk in the park," he notes.
"Change is never easy, but Fly Ace is staffed with highly committed and passionate colleagues. Once everyone understood what we were trying to do, we got down to focusing on the agreed direction and on what our priorities were. We have since started to see improvements in some of our operations such as better inventory management and working capital, expanded distribution in the general trade, and continued sales growth. I believe the future holds more wins for us and we are determined to seize them."
Managing staff
Ramon knows what it takes to keep his staff on the right track. "Discipline is paramount – it is a foundation for consistent excellence. I am known to be strict, precise, detailed and demanding, but at the same time understanding and flexible, as appropriate," he says.
"I abide by a promise-based management style – what one commits to do, one must do. This truly is what being a person of integrity means to me – it is not only about being honest, which is important of course.
I try to influence people I connect with to reflect on this. It's all about taking full ownership and accountability. I strive for results, but at the same time ensure that the means are not sacrificed." With the FMCG industry being highly competitive, Ramon reinforces the importance of jumping on opportunities that present themselves. "It is not always the biggest that wins nowadays. The ones that are faster to act and execute– excellently – can also beat the more established and better resourced brands."
And the key to securing the upper hand in the FMCG market? Gaining as much information on consumer habits as possible. "In-depth and insightful information allows us to better understand the motivations, influences and behaviour of our consumers – especially the younger generation. If the information is not readily available, we need to be creative to go out and source it – go to the market and talk to the sari-sari [!variety!] stores, or the wet market stall owners, and conduct informal interviews with our users, shoppers and consumers.
"Let me point out that shoppers and consumers are not necessarily one and the same. A shopper may be buying our product, but they are not necessarily the final consumer; thus, we need to understand triggers of purchase and consumption from both groups. As they say, the devil is in the detail. When working on major projects, I look at all the details with the team; the intent is to ensure that the customer–consumer experience is as good as we can make it for them, so we need to look at it from all angles."
The intent is to ensure that the customer–consumer experience is as good as we can make it for them.
While the company ultimately seeks higher revenues and better employee retention rates, Ramon believes true success is about the journey. "I enjoy the walk – and the run too – but I do not focus on just reaching the end, rather on what I learn, my successes and failures as I move towards my aspirations and life goals. Sometimes the failures are an even stronger source of strengthening than the wins," he says.