While Tim Hortons may well have been an iconic brand and way of life for Canadians for more than half a century, hotelier Rickie Yap knew he'd have his work cut out for him introducing the coffee and doughnut chain to the Philippines. After all, there were scores of well-established global names already catering to Manila's coffee crowd, and despite its prodigious status in the North American country, Tim Hortons was hardly a household name in Asia. 
Then there is Rickie himself. As a member of the extraordinary and distinguished Yap dynasty, and grandson of the legendary tycoon Emilio Yap, he is the first to venture into uncharted territory away from the vast family empire, which includes The Manila Hotel, Manila Bulletin Publishing, and Philippine Trust Bank in its impressive portfolio. Already the executive vice-president of the famous The Manila Hotel, there was certainly no shortage of business challenges to preoccupy Rickie – and a fast-service coffee chain was a world away from the refinement of The Manila Hotel. 
For Rickie, however, making his own stamp on business throughout the Philippines was a challenge he needed to adopt. Recognising in Tim Hortons an opportunity to offer fresh ideas, takeaway food and beverages, he began researching the market. Now as the president and CEO of Tim Hortons Coffee Services Philippines, his plans for expanding the brand are huge, and include launching 12 new stores by the end of this year. Miss Universe Canada 2016 cut the ribbon at the February opening of the first Tim Hortons at the Uptown Place Mall in Manila's BGC.
First indications were good, with the hype and buzz surrounding the opening resulting in long queues of customers spilling onto the street. The second was opened not long after, at the UN Square in Ermita. It's a clear change of focus for the businessman more used to the five-star service and hospitality offered at his own The Manila Hotel, but Rickie is convinced his experience in the industry, honed by the mentorship of his late grandfather, will award the chain the same success in Manila as it enjoys in Canada. 
It's all about customer satisfaction, whether dining at The Manila Hotel or grabbing a fast coffee at Tim Hortons.
The CEO Magazine: How do you go from the grandeur and culture of the historical The Manila Hotel to operating a chain of coffee and doughnut stores? 
Rickie: It's not too big a leap, actually. Both are in the hospitality industry, dealing with food and beverage. While The Manila Hotel may be all about five-star service, we also provide the best customer service possible at Tim Hortons. It's all about customer satisfaction, whether dining at The Manila Hotel or grabbing a fast coffee at Tim Hortons. 
How important is coffee to Filipinos? 
Coffee is hugely popular here, particularly among the young working class, whom we are targeting. We offer all the styles you can possibly think of to enjoy as a recreational drink, or a coffee to sustain you at work.  
Did you have to alter the traditional Tim Hortons' menus to cater to local tastes?
Yes. We researched for a year what we thought our market here would prefer. We have the Tim Hortons regulars, such as the Iced Cappuccino, Double Double, and of course the doughnuts. Filipinos have a huge sweet tooth, so the bakery is very popular. But we have also introduced fruit smoothies, which you won't find anywhere else, and we have introduced the ham-and-cheese croissant. 
You've opened two stores in Manila. Where else do you plan to open? 
We have an aggressive development plan in place and are planning 12 new stores to be opened in metro Manila this year, including locations at Eastwood, One Central in Makati, RCBC Towers, Venice Grand Canal, The Link Glorietta, Net Quad BGC, Insular Life, Ayala and Blue Bay.'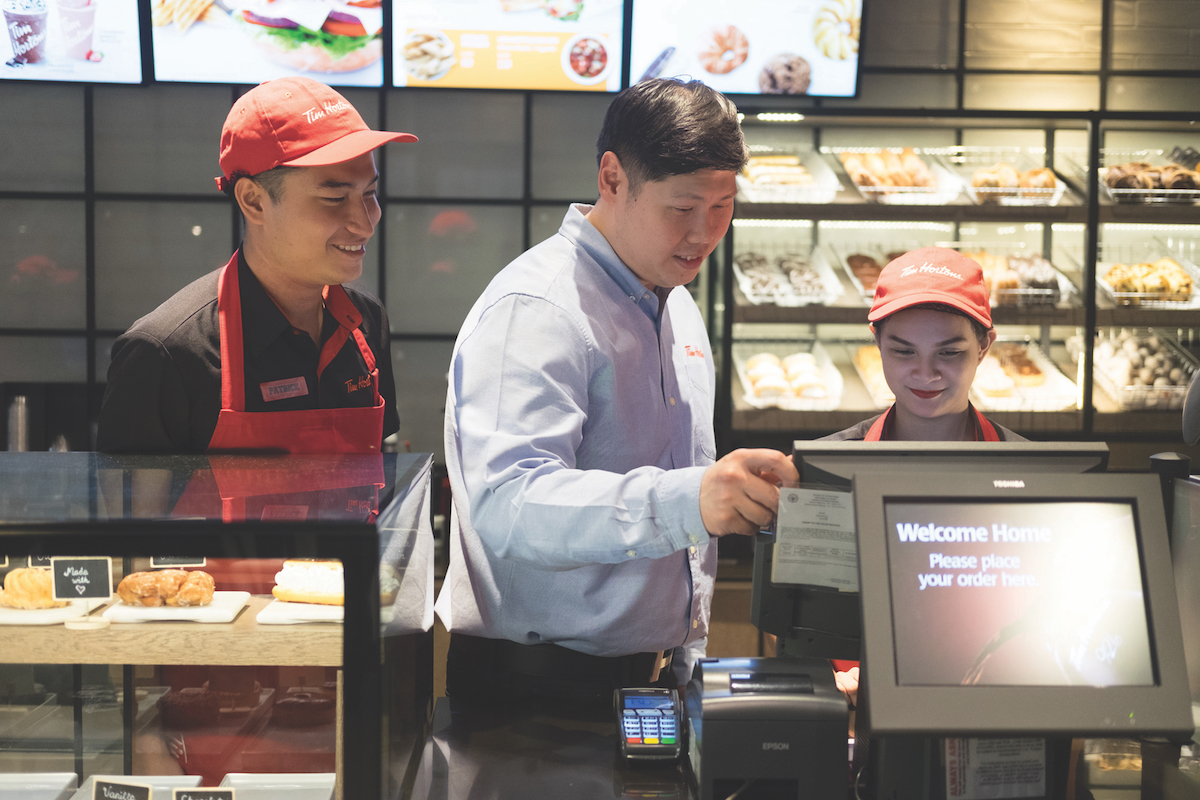 What is your leadership style?
I expect a lot from the team, but no more than I expect from myself. I give them a lot of room to make decisions, and even if they make the wrong ones I will support them as long as I know the decisions were made for the common good of the company. But if I lose trust, then it's a different story. 
What about your work–life balance? Do you ever get time to sit and relax with a coffee? 
Ha, ha! Well, yes. I will sit with a team and get updates. 
Fast facts:
Tim Horton's favourites: Timbits, Ice Cappuccino, Steak-and-cheese panini & Crispy chicken sandwich
What about sitting with no iPad, no phone, and just enjoying a coffee and some time out? 
Not really. I have to work on that. I do have an arrangement with my wife, though, where I only do three or four dinner meetings a week. I promise her two nights at home, and I take my two children to school every morning. I also try to sneak away with the family for long weekends. 
You mentioned your grandfather was a mentor. Do you carry any of his advice with you? 
He would always tell us to be patient and thankful, and that there was a moment, or time, for things. He would also tell us to be fair in business: it's got to be a win–win for everyone.
There's no point in negotiating things if it's all one-sided. He also instilled in all of us that if we commit to something, then we have to finish it. 
What do you think he would have thought of Tim Hortons? 
It's hard to say. He was more old school and preferred the more traditional brands. I think he would have preferred I stay focused on our current portfolio.
How difficult was it to be heavily involved in the Yap family's very well-established assets and launch a completely new and different business? 
It took courage. I'm the sole family member managing the family business while also launching another one of my own.