Health care necessitates a vast number of pharmaceuticals as well as equipment for the satisfactory care of patients. This becomes complicated in the case of outpatients, who rely on home care and delivery of services, and in 1992 there were some who felt there was more to be done in the industry. Into this breach stepped Andreas Rudolph, who founded GesundHeits GmbH Deutschland (The GHD Group), then known as HSC GmbH. Today, GHD is the largest health, treatment and service provider for outpatients in Germany.
The company places an emphasis on home customer care for those with acute illnesses, providing medicines and medical or rehabilitative aids to patients recovering at home. At the same time, it also offers expert advice, thanks to a network of more than 1,000 trained medical staff.
It sells thousands of products from 180 suppliers, and produces its own brand as well, under the name FORLIFE, which focuses on the care of incontinence and wounds, and recovery from certain types of surgery. GHD also produces personalised products for patients, and a select range of pharmaceuticals under the name Profusio. These pharmaceuticals treat cancer growth, pain and infections, among other conditions, as well as more personalised medicines.
Recent changes and developments
GHD has undergone several acquisitions over the years; the first in 2007 by Barclays Private Equity, which multiplied GHD's turnover fivefold during its ownership. It was later acquired, in 2011, by IK Investment Partners, a pan-European equity firm, and then changed hands again, in 2014, to another private equity firm, Nordic Capital. Since then, GHD has also established various partnerships, such as with US-based medical device company Acelity. This particular partnership, finalised in 2015, allowed GHD to provide high-quality wound care to its customers. Andreas has served the company as CEO since it was founded, and continues to oversee GHD in its position as industry leader.
But recent changes in Germany's healthcare system have hit the industry hard, and heavily regulated prices restrict healthcare companies' agency. Health insurance reimbursements for oncology infusions, for example, were recently reduced, dropping the profit margin by 70%. The impact on GHD was considerable, and it had to sell that branch of the company to the market leader. Since it was founded, GHD has adapted to an ever-changing industry, where companies "depend on the regulation of the government and statutory health insurance companies", as Andreas puts it.
It's a difficult environment, but Andreas sees it as more of an opportunity than a threat. Reliance on a single product or service can see a company crippled by regulatory changes, but GHD has avoided that problem. "Our competitors are in a real debt trap. They lose a lot of margin because they don't have their own product, so they don't have the capacity to grow. They have to think about their costs, while we think about a broader customer relationship."
GHD started to produce its own products in 2008, to increase its profit margin. It did not, however, content itself with a select range; instead, it focused on a wide array of products. This strategy has set it even further ahead of its competitors; since 1992, GHD has been the only company in its industry to have complete national coverage. "Even our number two and number three competitors don't cover all of Germany and, more importantly, they don't have a broad product portfolio," says Andreas. "Some companies are only in medical devices, or orthopaedic products, or pharmaceutical products. We cover them all."
"Some companies are only in medical devices, or orthopaedic products, or pharmaceutical products. We cover them all."
This policy has strengthened GHD compared with its competitors, who are hit harder by margin losses, and has allowed the company to break away from the pack; it is currently 10 times larger than its number one competitor. Moreover, this broad product portfolio doesn't just free the company from dependence on suppliers and provide an increased margin, it also lets it address all the needs of its patients. Essentially, GHD aims to provide everything an outpatient may require, rather than cornering the market on a single piece of equipment.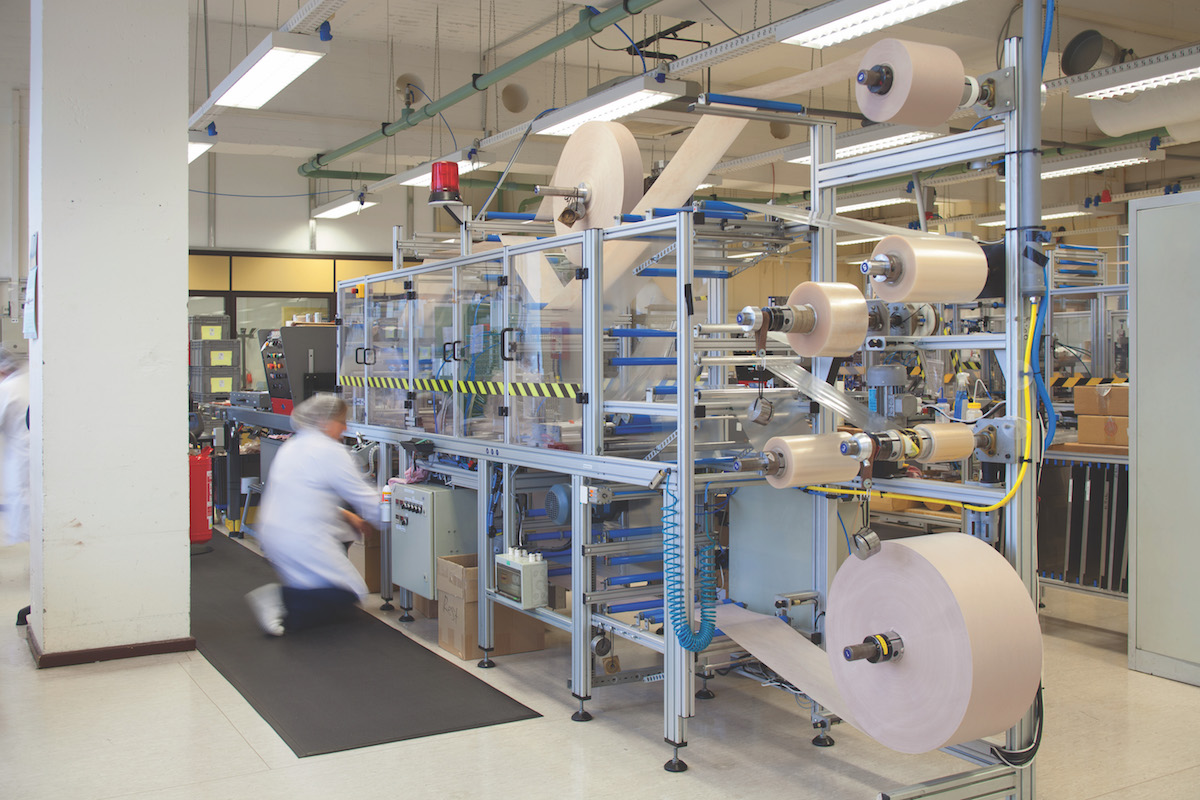 Looking to the future
"If somebody comes to us with a problem – let's say incontinence – they usually also need something for mobility, and so on," Andreas explains. "We want to cover all this and keep the patient as a future client. Using the client's data, we may go even further, to hearing aids, or whatever else their needs may be as they get older." This way, GHD ensures that its customers keep coming back to its products.
Andreas' mention of customers' future needs gives a hint as to the third and final prong of GHD's strategy. To ensure the continued success of the Group, Andreas hopes to use patient data to predict the needs of GHD's customer base as they arise. It maintains a massive database of patients' medical details, from which it aims to provide crucial services. It goes without saying that one of the company's core missions is to protect this data; in a digital environment where misuse of data is increasingly common, GHD has staff dedicated to ensuring that the data is used purely for the benefit of patients, partners and suppliers.
Looking to the future, Andreas wants GHD to consolidate its industry position in Germany. It also has a presence in the UK, Denmark and Italy (through Oakmed, Roland Healthcare and HTMa Home Therapy Management, respectively), but expansion at home is currently the priority. On top of this, Andreas wants GHD to increase its production. "On the pharmaceutical side, we don't have our own products. Currently, we are more focused on medical devices. In the future, we will look more into pharmaceutical products."
Nurturing relationships
One can hardly comment on the success of GHD without examining its relationship with its suppliers. "The basis for our business since 1992, is what we call an 'e-supplier strategy'," says Andreas. "We try to work together honestly with a few worldwide suppliers and try to strengthen their market share in Germany." This reciprocity guarantees a strong relationship with GHD's suppliers.
"We try to work together honestly with a few worldwide suppliers and try to strengthen their market share in Germany."
At the same time, GHD maintains partnerships with a number of professional organisations and individuals, forming collaborative relationships to develop medical practices of care, consultation and treatment. The company also works on certification programs for healthcare professionals and provides advice on the use of its devices and pharmaceuticals, ensuring that they can be easily accessed and used by healthcare professionals. Naturally, this ensures GHD's dominance in the industry, by making the company ubiquitous and easy to work with.
Andreas' overall strategy is therefore one of long-term security, of planning for the future. In a rapidly developing industry such an approach is essential, and Andreas sums it up thus: "First, we want to win value with the patient, to make the patient into a client. Second, we want to win on the product margin by using our own products. Third, we want to use our database for future value, including all the 'detailisation' you need to survive as a company."