When John Landi decided to construct a giant banana, some 13 metres long and five metres high, to promote his roadside banana stand back in 1964, he could not have guessed how enduring the structure would be, or what a central role it would come to play in the Coffs Harbour community.
For Michael Lockman, now General Manager of The Big Banana Fun Park, the instantly recognisable banana was a constant in the fond memories he held of the sun-kissed city. He lived close to the park when he was eight years old and, after moving away to Brisbane, as an adult he returned to manage a number of hotels, restaurants and resorts along the Coffs Coast.
He says his regional experience and feel for the area is vital in his current position. "I always saw The Big Banana as a major part of the community and I felt it had potential to become even bigger as one of the best-known icons in the country. I thought I could further reinvigorate tourism across the region."
Michael Lockman grows an icon
Michael had an eye on the iconic venue long before working there, and had actually approached the owners of the park before the role was ever advertised, indicating his interest. "My idea of what the park should be wasn't something that I only started thinking about when I took the job," he explains.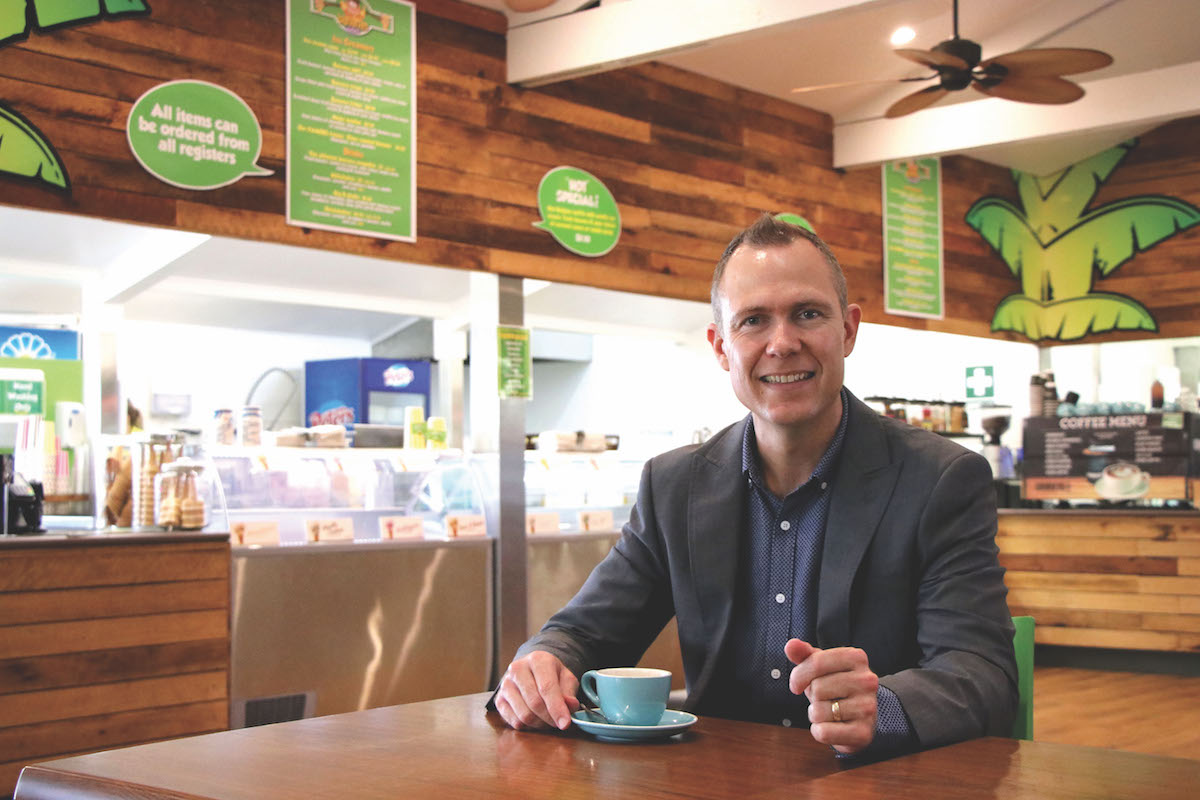 The community has been really supportive of what we've done here. We get a lot of return visits now.
"It's a great parcel of land and I had a heap of ideas for the site." These ideas have been warmly received, especially from the current owners, Canberra-based Village Building Co. "They've been extremely supportive of the growth of this icon," Michael shares.
The venue has been extending on its tourist clientele with a number of new features that have become popular for celebrations like birthday parties. "The community has been really supportive of what we've done here," Michael says. "We get a lot of return visits from the locals now."
Reshaping The Big Banana Fun Park
Over the years, the fortunes of The Big Banana site have ebbed and flowed as the park's identity has shifted. Once-popular attractions on the site, like the snow slope, have come and gone. Since taking over the role in 2013, a major part of Michael's job has been to update the park and reshape its identity.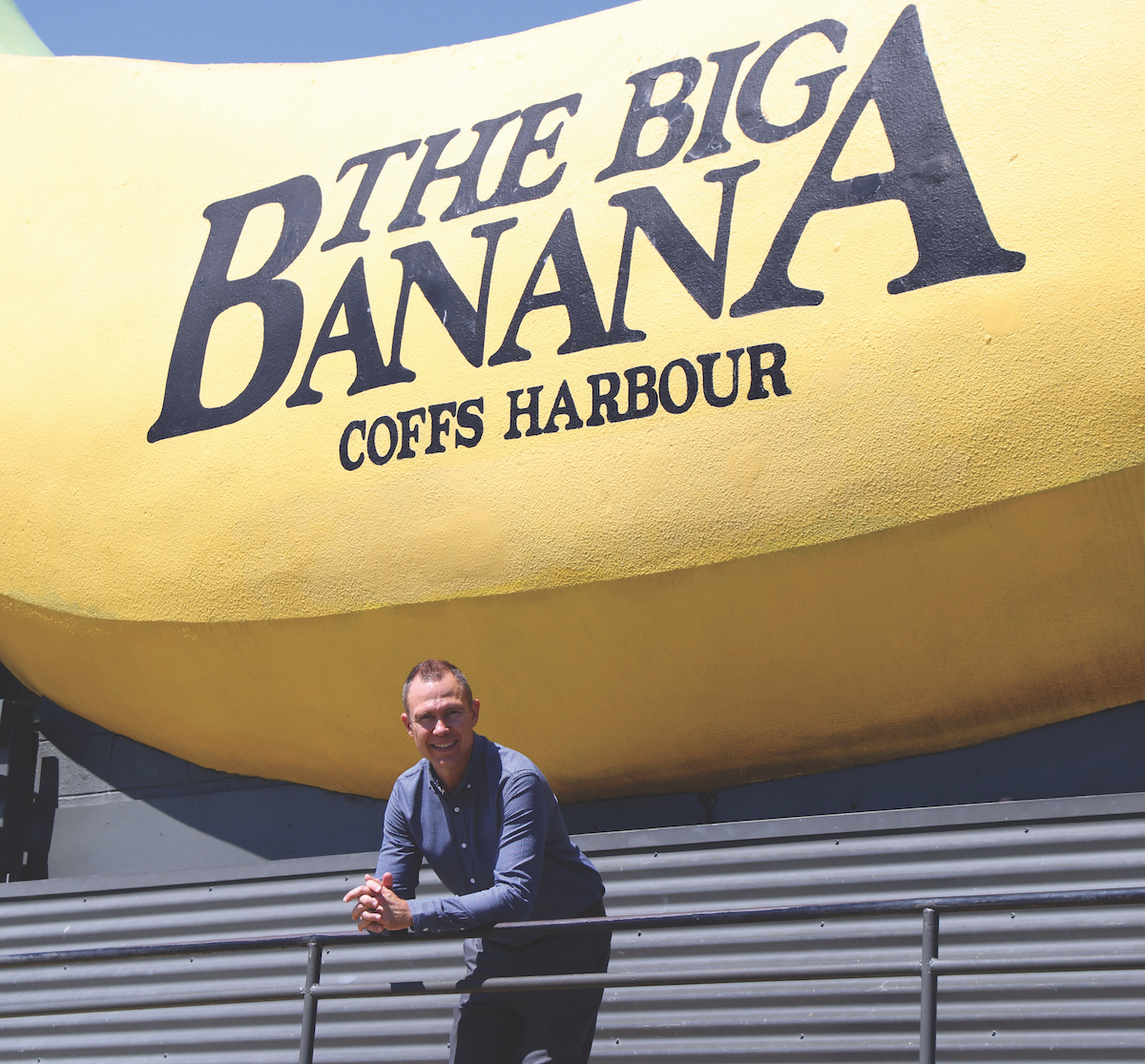 He rebranded the complex as The Big Banana Fun Park and oversaw the introduction of new attractions like a games arcade, a 36-hole mini-golf course, laser tag arena, and a high-tech water park. Michael says the new waterslides, which were made possible through a grant from Destination NSW, are now the showpiece of the site and a catalyst for the rebranding.
The newest feature, completed in 2017, is known as The Racer. "It's the biggest giant slide in the country," Michael enthuses. "It has a scoring system, so you can race each other and see who gets the fastest speed. It's very interactive and it's been received extremely well."
'If you have an idea, just do it.'
Michael is far from out of ideas; he is already working on plans to introduce an alpine coaster and a 4D cinema to broaden the site's appeal to families. He says this willingness to try new things is something that was encouraged when he worked as assistant manager under Andrew Charlton at Aanuka Beach Resort. "He was a doer; he would give everything a crack," Michael remembers.
"It was probably the most extreme level of giving anything a go that I've ever been exposed to. His approach was very much 'If you have an idea, just do it.' "It was quite a few years ago that I worked for him, but he certainly has stuck in my mind. He had a big impact on my career. I guess I've had bosses before that, and we've probably all had them, where you would get an idea and you really want to do it, and they would just fob it off."
One thing they tried were Sunday sessions. Michael had seen that these gatherings were a roaring success in Western Australia and took the idea to his manager. It would have been easy for Andrew to dismiss the idea as both men were busy with the day-to-day operation of the resort. Further, as the first place in Coffs Harbour to run the sessions, there was no local precedent to suggest they would work.
But the result? "It was massive," Michael recalls. "Every Sunday was just huge. People rolled in from all over the place. We introduced things that hadn't ever been done in the resort, like live entertainment and poolside barbecues. It really kept things interesting for the guests and also the staff.
"The time I spent with Andrew has probably impacted a lot on what I've done here. A lot of the stuff that we've introduced to The Big Banana came from that approach he instilled in me to just give the untried a go. If it doesn't work, you can always stop it. You never know until you try, as the old saying goes."
Big & bold
Operating with a fairly small workforce and in an environment where every day is different, Michael says choosing the right staff is vital to keeping this fun park moving forward. As well as seeking staff with good references, a record of reliability, and safety-consciousness, he also looks for more intangible qualities, saying the park seeks employees "who have always worked at a business like it was their own".
One of the core values of the park is 'Be Bold', which ties in with Michael's energy and enthusiasm for new ideas. On a big-picture level, this has included introducing fresh features, rides and attractions to the site.
In terms of interacting with visitors, it means being proactive in ensuring a positive atmosphere. "I look for staff who aren't afraid to call out to a visitor and say, 'Hey! How are you going over there? Having a great day?'"