For more than 50 years, NTT DATA has played a pivotal role in building and advancing IT infrastructure around the world. Today, it is a leading IT services provider and global innovation partner headquartered in Tokyo, with business operations in 52 countries.
The company has a wealth of enterprise application experience across sectors including manufacturing, finance, telecommunications, logistics, retail, and public administration. With a focus on innovation and the principle of 'quality first', the company works to improve the lives of people, communities and societies around the world.
In line with its vision to become a global IT innovator, NTT DATA has been aggressively expanding its overseas business since 2005, now employing more than 111,700 people from diverse cultural backgrounds.
To take its operations to the next level, in 2011 the company merged its two Chinese subsidiaries – NTT DATA (China) and Beijing NTT DATA Systems Integration – to form NTT DATA (China). This unification of the development and sales functions allows for quicker responses to the needs of local clients in China, making it even easier to actively market NTT DATA products through the company's 14 offices in the region.
The company mission
Under the leadership of CEO Yoshio Matsuzaki, the company's mission is to strengthen local business in the China market and make use of development resources, not only for offshore projects commissioned by Japan, but also for local businesses. After joining NTT DATA in Tokyo in 1986, Yoshio left in 2001 to work in leadership positions in several American computer security companies based in Tokyo. He returned to NTT DATA eight years later, and was soon sent to spearhead its burgeoning China business.
"In Japan, it's very rare to leave a company and come back to it later. However, my presence in the organisation has been highly valued and it has been a very rewarding experience," explains Yoshio.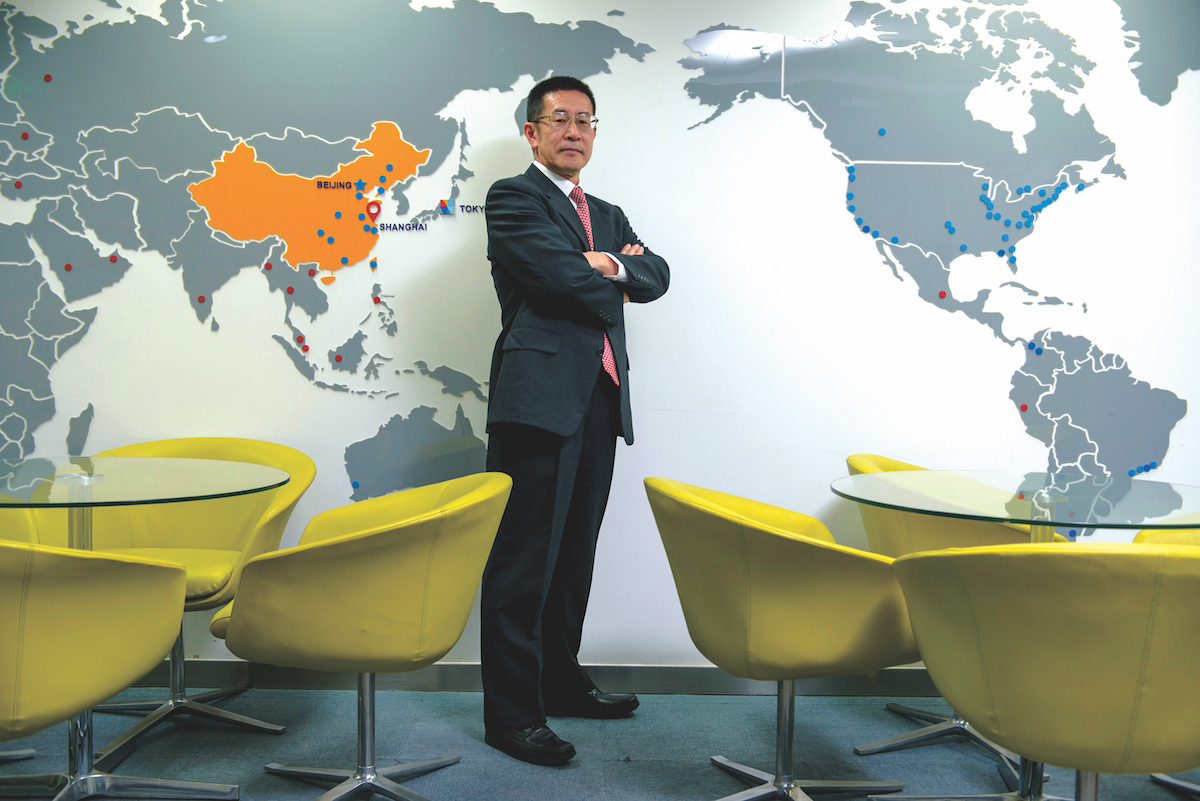 "I arrived in China in 2012 during a territorial dispute between China and Japan that created massive political tension between the two countries, so it was a tough environment to work in. However, because NTT DATA is funded mainly by mandates from Europe and the US, we were able to develop the business with the help of multinational companies rather than Japanese companies, which were banned for a number of years."
Constant innovation to compete with local and international competition
In response to accelerating globalisation, in 2005 NTT DATA created a new vision to become a global IT innovator by not only changing IT, but also using it to change the world. Yoshio aims to uphold the 'One Team One NTT DATA' business approach by enhancing creativity, respecting diversity, and combining global reach with local intimacy to provide premier services to its customers in China. "To compete with local and international players, innovation is crucial and we always have an eye on what's happening, not only in China, but also in the US, ASEAN, Europe and Japan.
We always have an eye on what's happening, not only in China, but also in the US, ASEAN, Europe and Japan.
"Originally a domestic company based in Japan, NTT DATA is a relative latecomer to the China market. It has been a challenge to build our presence and establish a strong relationship with customers in China because it's a completely different culture. Their expectations change frequently and the scope is not as clear. Our global competitors such as IBM, Accenture and Deloitte all have well-established, baseline businesses on which to build.
"On the other hand, NTT DATA is still quite new, and our knowledge and experience is very fragmented, so we try hard to work together as one team. While some of our competitors in China don't work well with the US, Japan or Europe, we are very flexible in meeting customers' requirements and we are in constant communication with our overseas offices. This makes a big difference to our customers.
"The speed of technological change in China is fast – for example, the rise of smartphones and the popularity of online payment as opposed to cash handling. Many companies have tried to use new levels of technology to take advantage of these changes.
Our team in China is still relatively small so our partners are very important – they strengthen our business, complement our offering, and help us keep up with industry trends. We can't do everything on our own, so we create opportunities for ourselves and our partners.
Clients first, foresight and teamwork
"My philosophy is to hide nothing: I am completely open with our shareholders during the good times and the bad. By doing this, I hope they understand the reasons behind my decisions," explains Yoshio.
"When we came to China, our business was almost invisible. We have been working hard to make it tangible and valuable so that one day we are in the top ranks. NTT DATA is currently ranked in the top 10 IT services providers worldwide, and we are aiming to reach the top five in the next few years.
"Traditionally, when you join a company in Japan, you are loyal to it and you stay there for life. This is rare outside of Japan – people come and go and they all have different backgrounds. To build a strong team, I believe it's important to respect and understand these differences. NTT DATA has three values at its core: Clients First; Foresight; and Teamwork.
We do annual 'value activities' outside our everyday business meetings where we align our business with our values. I was taught to 'always look at things from the moon'. Our view is often very limited so we need to step back to fully understand the scope of the issue before we can find a solution.
"I tell my team to think from a customer's point of view – what will bring them the greatest benefits. All too often, IT companies propose new technologies but tend to forget about what's best for the customer. We put the customer first."