Some of Francis Koh's earliest memories revolve around construction, like sharing a simple meal of chicken and rice with construction workers from his father's company, and wishing he was old enough to join his father as he went down a drainage system to inspect work on one of the company's project.
"From there, I developed a strong interest in construction," Francis recalls. "It was something I could see and touch. It wasn't something abstract, like electronics."
This early affinity for building meant he was a natural for the real estate and construction business his father founded more than half a century ago, and that now thrives under his leadership as Managing Director and Group CEO.
Keeping it creative
Francis says creativity is paramount for Koh Brothers Group and a means of competing against larger rivals. "We can't be the biggest developer in Singapore, or even among the top three, but we can be perceived as a leading developer in a niche market. We want people to think of us when they buy a home. The lifestyle concept and the quality are important to us and this is what we can offer."
Koh Brothers may not be the nation's biggest developer, but it has taken on and successfully completed some truly ambitious projects, both in the luxury real estate space and in infrastructure construction.
Examples of its ability to develop architecturally stunning residential spaces include Lumos, which comprises twin, 36-storey towers connected by a spectacular column of crystal glass 'living pods' and lush sky gardens.
The apartments include a range of innovative, upscale touches such as crystal-studded bathroom walls, Italian-designed 'Rainbow showers', a penthouse pool with sweeping views and regenerative hydro baths. Another development, Starville, features an astral sculpture as a centerpiece and even a state-of-the-art stargazing observatory for the residents.
Building for health and wellness
Francis says the company's emphasis on creating spaces that encourage wellness and a healthy lifestyle sets it apart. He says Koh Brothers' developments offer a complete lifestyle package, often incorporating facilities such as gyms, swimming and splash pools, and tennis courts.
The Parc Olympia condominium, for instance, facilitates an active, multi-sport lifestyle for its residents, including recreational rock climbing walls, basketball and indoor and air-conditioned badminton courts, a putting green and a skate park. It is Singapore's first sports-themed condominium that marries adrenaline action with resort-style facilities to inspire and nurture future Olympians.
The sporting facilities are completed with an attention to detail that extends to the synthetic material used for the jogging track. "Jogging on hard ground is bad for the knees, so we created a track with soft ground," Francis explains. Other developments have included outdoor gym equipment, bypassing a Singaporean rule that does not allow children in indoor gyms.
"We want to encourage healthy lifestyles, because health is wealth," Francis continues. "We've provided a biking track on our new property, Westwood Residences – the first-ever outdoor mini-velodrome in Singapore. We have created facilities like a BMX adventure park for residents to try stunts using their mountain bikes. Some developments even include facilities to help children learn road rules and the Singaporean highway code.
We want to encourage healthy lifestyles, because health is wealth.
"In terms of real estate projects, we are the ones who come up with distinctive lifestyle ideas. When people think of cycling parks in real estate developments, they think of Koh Brothers. This is something we like to promote."
Standing out from the competition
This approach has won Francis recognition; he was named Singapore's Real Estate Personality of the Year at the 2016 South East Asia Property Awards, with the judges impressed by his ability to design distinctive spaces, flair for doing new things and ability to turn around profitable projects in a generally sluggish real estate market.
Often, the developments combine a decadent approach with a real focus on fitness. This can be seen in the Lincoln Suites complex, where residents are able to exercise in a tree-lined, 50-metre, lap pool, or hit the treadmill and practise yoga in a stunning 'sky gymnasium' – a glass atrium linking the towers.
The company is also introducing the use of prefabricated, pre-finished volumetric construction (PPVC). "It's a newer construction method, where a whole house is built in boxes, and these boxes are assembled and finished at the site," Francis says, adding that it's a way of driving efficiency gains and also improving the safety of a construction project. "When you have fewer people at the work site, you have fewer chances of an accident. It's also better for the environment.
"I'm trying to make our subsidiary Koh Brothers Eco Engineering Limited a management-owned company, because construction is very much a people-oriented business. We need to let the talent have ownership of the company. This concept is not new in other countries, but
it's very new in Singapore. My target is to make this company management-owned within 10 to 15 years, with hopefully one-third owned by management, one-third by the public and one-third by Koh Brothers."
Another aspect of the company is its expertise in major infrastructure projects, particularly regarding flood control and water drainage. As a low-lying country with heavy rainfall, Singapore can be prone to floods, and there is a constant need for infrastructure that can channel water and mitigate flood damage. Koh Brothers has expertise in this space, having won contracts for work such as the Bukit Timah Canal, a S$99 million infrastructure project that alleviates the impact of flooding.
It also constructed the Changi Water Reclamation Plant, a cutting-edge facility
for treating and recycling water. Opened by Singapore's Prime Minister, the plant handles up to 176 million gallons of water a day and rates as one of the highest-volume water treatment facilities of its type in the world. It was also an innovative project, pioneering the stacking of treatment technology to save space.
Keeping the company successful
The group's most high-profile water project, however, is the Marina Barrage, a freshwater reservoir that draws water from a dam built across the 350-metre-wide Marina Channel. Four years in construction, it covers an area of 10,000 hectares, of the nation's total of 72,000 hectares, and supplies a large proportion of the country's desalinated water.
The barrage construction involved a system of drainage pumps to displace 280 cubic metres of water passing through each second. This system mitigates flooding in highly populated but low-lying areas such as Geylang, Jalan Besar and Chinatown. "There were a lot of challenges involved in that project," Francis says. "However, we handled all the challenges well and learned from them. We established ourselves as a local company that can undertake this kind of task."
The project was given the Superior Achievement Award at the American Academy of Environmental Engineers and Scientists Annual Awards. It was only the second project outside the US to claim the award in a decade. Tying in with Koh Brothers' interest in promoting healthy lifestyles, the barrage has also created opportunities for kayaking and boating on the now calm waters.
Francis is a leader who values creativity and innovation, and he has a few tricks up his sleeve to get the creative ideas flowing among his staff.
"Normally, we use brainstorming in terms of strategy and new methods of construction. We also use it to consider risk management. A lot of technology is now used widely across the world, not just in Singapore, so it is important that we stay up to date on new methods of construction that we can use here.
The importance of an open-door policy
He operates with a strict open-door policy. "Open door is open minded, and having an open-minded approach is important in this industry," he says. "We need to accept new ideas and new knowledge, and try different things, to stay at the forefront of construction and real estate development."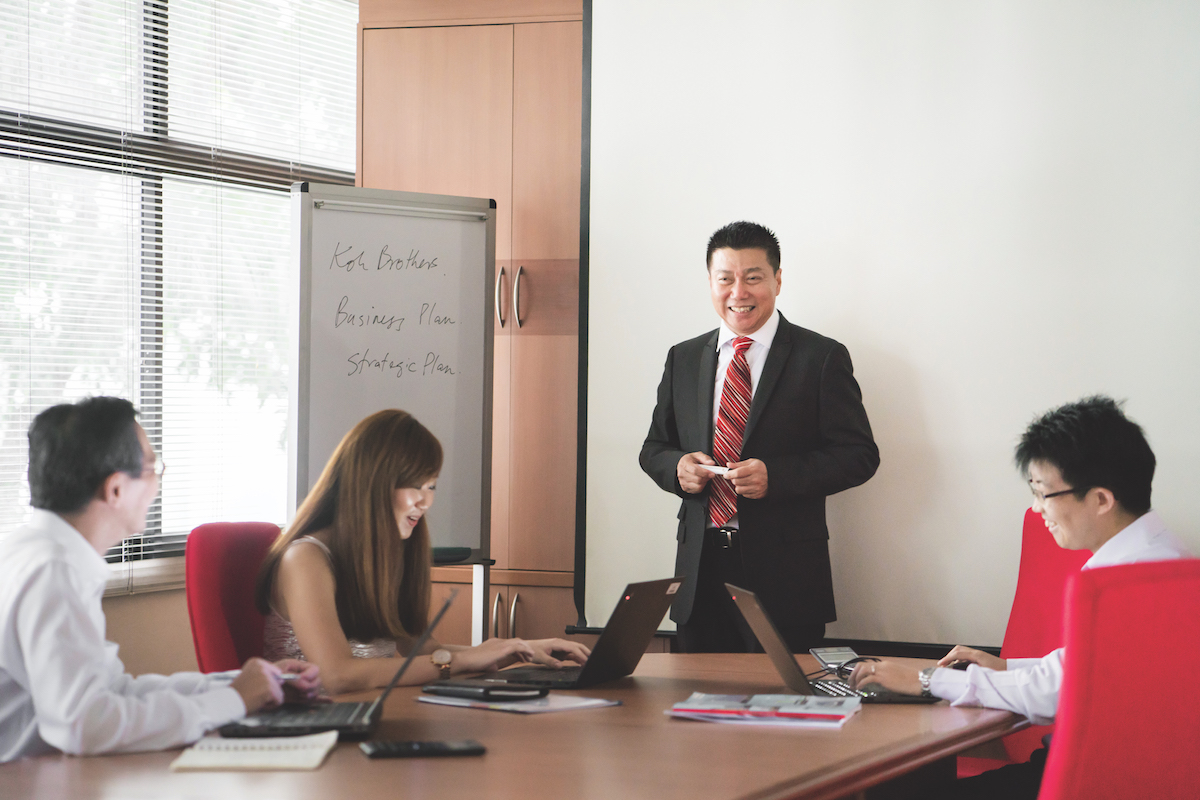 Having an open-minded approach is important in this industry. We need to accept new ideas and new knowledge.
Francis adds that a mindset of continuous improvement is also vital in an industry where change is a constant. "The technology of construction keeps evolving," he notes. "We are always using different kinds of machines and methods of construction. We always try to move ahead so construction can be an easier and safer process, while also saving on cost. That's the most important part, because if we can find savings, it allows us to be more efficient and to take on more complex projects."
The group's construction arm is undertaking its most lucrative contract to date, a S$1.12 billion agreement to develop three runways for Changi Airport. He says there could be further work in this field. "Some airports are expanding while others are improving their runways, and yet others are improving their connectivity and facilities to get ready for further growth. The potential is huge. I think there will be a lot of work around airports."
Having shown an ability to pull off both ambitious luxury developments and complex, large-scale infrastructure projects within Singapore, Koh Brothers will increasingly look outside national borders for work. In particular, Francis believes there may be opportunities for Koh Brothers to leverage its experience in infrastructure projects into work arising from the 'One Belt, One Road' initiative, a Chinese economic and development strategy of unprecedented scale to promote greater connectivity and cooperation between Eurasian countries.
"One thing I think is very promising is our improved connectivity with Asia," Francis says. "I have no doubt the whole working environment in Asia will be positive." The company has invested in property in South Korea and Malaysia and is examining property development opportunities there and in other countries across the region.
Francis expects some challenges around staffing in coming years. "The government quotas on foreign labour will probably be reduced, so we will probably look for new methods with less reliance on foreign workers." There are also likely to be more rigorous safety standards put in place as well as fluctuations in the price of construction materials, though the company is well placed to overcome these obstacles.
Overall, Francis sees a wealth of opportunities for the company to continue broadening its expertise and growing its reputation. "For real estate, the market is hot right now. However, costs and prices are going up, so it's a challenge for real estate developers to get projects to be profitable. The private residence market will likely pick up, though, so I think the market for both residential building and infrastructure will be stronger in the coming years."