There's a saying in Tagalog, Pwede na. In English, that translates into 'It's good enough' or 'That'll do.' While it is a pithy two-word phrase, it also encapsulates an attitude that can sometimes be found in Filipino society. Academics have long argued the origins of Pwede na. Some point to the extensive history of colonisation in the Philippines, first by the Spanish and then by the Americans, that has led to Filipino culture occasionally being deemed 'accepting' of mediocrity.
For Global Gateway Development Corporation (GGDC) President Michael Russell, this is something he has "tried to completely eradicate". "It's always been my personal creed that everything we do is done with excellence. There is another saying that goes, 'It's the good that hates the best,' and a lot of organisations will just settle for what's good enough," he says.
"We should be setting ourselves above and beyond anyone else in this industry in how we approach our business and how we plan for and execute what we put our hands to. It's being a steward of excellence. That's something that has always been a part of my professional pedigree, and it's very much translated into what we've done here and what we're actually seeing in terms of success."
We should be setting ourselves above and beyond anyone else in this industry.
To be the best, Michael knows, means working with the country's best. So he went about finding the best architects, consultants, contractors and subcontractors, or "those who have been building up the Philippines in terms of design and construction".
GGDC brought in Jojo Tolentino, President of Aidea Philippines, one of the country's leading architects and one of Building Design's World Architecture Top 100. It also approached six of the country's top 10 construction firms – EEI, DMCI, DDT Construct, Hilmarc, Datem and Monolith – before finally deciding to bring EEI on board. It then brought in consultants including Meinhardt, SY2 and Barone International and Inspira.
On top of that, GGDC hired Chairman and CEO of Santos Knight Frank (formerly CBRE Philippines) Rick Santos for consultancy on the design. "It has more than 1,000 employees, and some of the best buildings in the CBD surrounding Metro Manila," says Michael.
Building Global Gateway Clark
Together, they would begin the vertical phase of a project master planned for 5.8 million square metres and ultimately build Global Gateway Clark, a development spanning 177 hectares in the fast-growing Clark Freeport Zone.
"We want to be able to make sure we can showcase household names in terms of our consultants, and our contractors and subcontractors in terms of who's actually been participating in these projects," Michael says. "We need to find those who are best in class, best in their respective fields, niches or areas of expertise, and make sure we bring them in."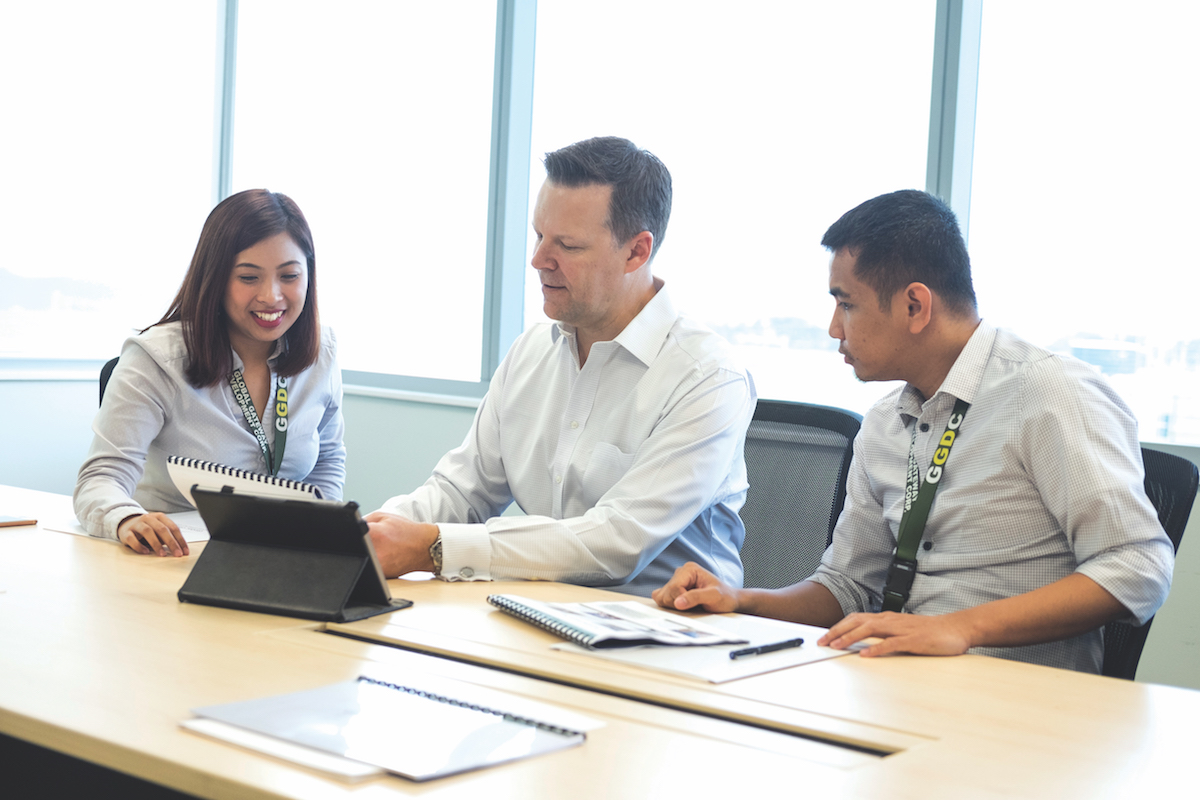 Michael's focus on excellence also stretches to the tenants GGDC wants to bring to its stable. It has been focused mainly on multinational and Tier 1 domestic firms, such as The Medical City group, for which GGDC built a US$42-million hospital within the vicinity.
Much like St Luke's Hospital in Bonifacio Global City, Makati Med in Makati or the Asian Hospital and Medical Center in Alabang, Michael noticed the most successful business parks in the Philippines had technologically advanced medical facilities. "We were very strategic in terms of how we went through the selection process. Access to high-quality health care is one of the top-five things that locators will look for," he remarks.
Attracting the BPO market
Not ignoring the country's business process outsourcing (BPO) phenomenon, GGDC also wanted to make sure it was offering quality office space that could be taken up by BPO firms at a discount compared with the other major business parks in the country.
"Overall, we're approaching it from an enterprise-wide risk-management perspective, and also looking to build a very successful business model that says operations will drive financial results, and vice versa," explains Michael. "What's served me well is that I'm not just a finance guy, or just an ops guy. I'm really a marriage of the two."
What's served me well is that I'm not just a finance guy, or just an ops guy. I'm really a marriage of the two.
Beginning his career at Ernst & Young in the 90s, Michael says the experience working alongside the best and brightest coming out of the various universities in the US set the bar for him in terms of creating a culture of excellence and professionalism. He adds that even after leaving public accounting, he has never really "taken the auditor's hat off", approaching everything from a process standpoint and with a healthy measure
of professional scepticism.
Michael then worked at Archbold Medical Center in the southern region of Georgia in 2002 as a director of Patient Financial Services, responsible for managing revenue of around US$500 million. It was there that he came to the realisation that, regardless of the organisation he was at, he had found a niche in operational restructuring and turnaround.
"It was always process improvements and building on and integrating systems, and then implementing processes that would help all the organisations to adopt best-practice benchmarks," Michael explains.
"You don't get what you expect"
From a project management standpoint, Michael adheres to a saying from former board chairman of IBM, Louis V Gerstner Jr. "It's along the lines of, 'You don't get what you expect. You get what you inspect'," he says. "That's management by walking around. You can't assume that just because you give a directive or because you engage a company to execute a contract package, it's automatically going to happen."
The Filipino economy has been more than hitting its straps for almost two decades, averaging above 5% annual growth and predicted to be between 6% and 7% in the foreseeable future. The Philippines is expected to be the sixteenth largest economy in the world by 2050.
So crucial is Global Gateway Clark for the country's future prosperity that it has enjoyed the favour of three different Philippines administrations including the current one under President Rodrigo Duterte, whose 'Build, Build, Build' initiative has put infrastructure as one of the leading priorities for the country.
"I like that the Duterte administration is doubling what it's spending on infrastructure in terms of the percentage of GDP, compared with historical spending levels," Michael says. "Infrastructure is really one of the things that we're looking to partner with, and to see how we can assist with its development."
Look at the infrastructure we're bringing online… Just come and see.
The government is currently looking at further expanding Clark International Airport, GGDC's long-term lessor, and is in the middle of a tender for the new passenger terminal. With an estimated cost of PHP12.55 billion, it will increase the capacity of the airport from 4.5 million to eight million passengers a year. "It's ultimately a master plan that takes Clark International Airport to three runways with the facilities to accommodate 80 million passengers a year," notes Michael.
By thoroughly rejecting one ingrained cultural norm, Michael hopes to harness the country's untapped economic potential, motivated by a deep love for the Philippines, a place that, according to him, "boasts some of the most incredible people and beautiful natural resources that can be found anywhere on the planet".
Since moving to the country seven years ago, Michael wants the country to take notice of what's happening at Clark. "Look at the infrastructure we're bringing online. Look at the office space, and look at the next-generation growth area for the Philippines," he says. "Just come and see." The Filipino attitude might now be Halika at tingnan, or 'Come and see.'
Duterte's 'Build, Build, Build' initiative
Much has been written about President Rodrigo Duterte, most notably about his controversial War on Drugs as well as his general maverick nature. But another major item on the Duterte administration's agenda is a significant increase in infrastructure spending.
Known as Build, Build, Build, the government is aiming to reach between eight and nine trillion pesos in public spending on all projects. It is also part of Duterte's much larger vision of reducing poverty from 21.6% in 2015 to between 13% and 15% by 2022.
According to GGDC President Michael Russell, the main purpose of 'Build, Build, Build' is really about decongesting Manila, and it's that from which Global Gateway Clark is best placed to benefit.
"If you look at it, just like Bonifacio Global City was a relief valve for Makati, there has to be a relief valve for Metro Manila, with average daily commutes of just a few kilometres now sometimes stretching out to two hours each way. That's really how saturated, how far beyond maximum density levels, Metro Manila is," Michael explains.
"Clark International Airport has already undertaken its study. There is some low-hanging fruit. There are nine million passengers a year who should be flying out of Clark International Airport, but they're having to fight five hours of traffic to make it to NAIA [!ninoy!]."