The year is 2015. An Indonesian school has sent out its first batch of graduates into the wide world of business following its establishment four years prior. While this may seem unremarkable at first glance, you realise, upon closer inspection, that this technical high school, SMK Mitra Industri MM2100, is not funded by either the government or a religious organisation.
Instead, the school has been set up by Bekasi Fajar – an industrial real estate developer which also provides services to its tenants so they can focus on their own business activities – as a way of preparing local students to work for the many tenants of MM2100, which is the industrial park in Bekasi, West Java, under its management.
"We set up a foundation for a technical high school to cater for industry needs brought about by the tenants in our estate," says Bekasi Fajar's President Director Yoshihiro Kobi. "Education is one of the most important things in a nation's development, and we felt there was a huge gap between industrial human resources needs and what school education was offering students."
Yoshihiro Kobi looks to the future
The results speak for themselves. Last May, SMK Mitra Industri MM2100 held its third round of graduations. Of the 320 students, 85 went to college or university, while many of the other graduates were already in jobs before graduating.
Before Bekasi Fajar's establishment in 1989, Indonesia had no privately developed industrial estate. "We created everything we needed for an integrated industrial estate from scratch. From zero. From nothing," says Kobi.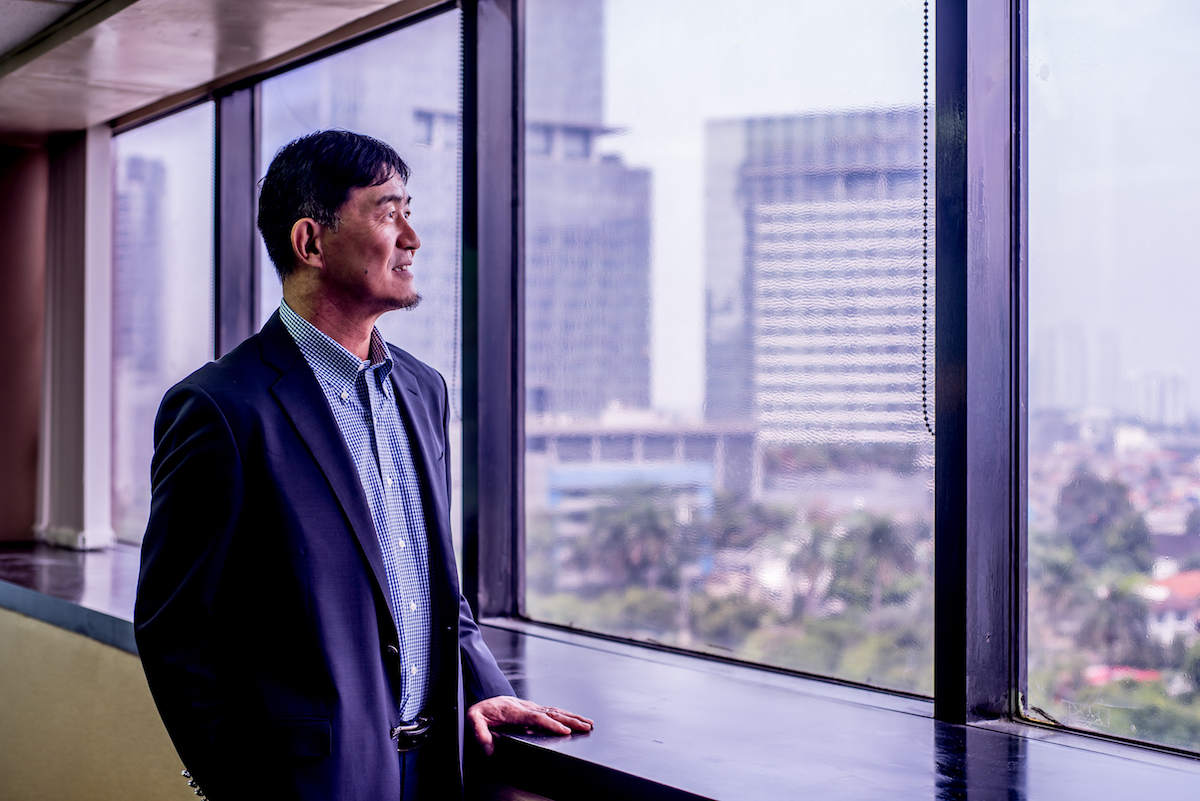 We created everything we needed for an integrated industrial estate from scratch. From zero. From nothing.
In naming the estate MM2100, the two Ms stand for the two founders, Japan's Marubeni Corporation and Indonesia's Manunggal Group. As for '2100', Kobi says he wanted to differentiate it from other industrial estates. "Normally, the name stands for the estate's location, but we wanted to do something different, so we picked '2100' to show that we are looking more than 100 years ahead," he explains.
When MM2100 opened for business in 1990, it covered just 240 hectares. That number has since grown to 1,500, according to Kobi, with aims to grow the estate to, you guessed it, 2,100 hectares. "Now, the number is not just about looking more than 100 years ahead, but also the target area we are aiming for," he notes.
Bekasi Fajar Industrial Estate weathers the storms
The journey to pioneer status has also not been without a few bumps along the way. In 1993, Indonesia – alongside neighbours Malaysia, the Philippines and Thailand – was experiencing a major electricity shortage, and the government began opening the door to private investment to keep up with surging demand. Then, in 1998, the Asian financial crisis hit.
Kobi says MM2100 had no sales for nearly two years during that time. However, the company always maintained faith that Indonesia would weather the storm and come out better and stronger. "We always believed that the Indonesian economy would continue to grow due to its large population and the significant emergence of a middle-income class, leading to a strong need for industrial land," Kobi says.
Creating sustainable communities
Since becoming president director in March 2015, Kobi has maintained his vision of creating "sustainable communities that increase value to all stakeholders." In addition to providing education to the local community, Bekasi Fajar also extends its corporate responsibility to the environmental realm, placing great importance on having a clean water supply and proper wastewater treatment.
"We have a centralised wastewater treatment plant so that if a tenant discharges the polluted water into our systems, intentionally or unintentionally, we still have other plants to ensure that the wastewater will not leave the industrial estate," Kobi explains. "If we didn't have such systems, the polluted water could leave the industrial estate and contaminate the surrounding area."
Kobi calls Jakarta home
Born in Nara, Japan, Kobi has travelled many places throughout his 35-year career. He studied at the Osaka University of Foreign Studies before starting his career in Jakarta. He then had experiences in India and the Philippines, but in 2010 he decided that Jakarta was home. "I ended up in Indonesia because of my love for the country and the people who live there," he says.
He even recently converted to Islam, the country's dominant religion. Kobi has no plans on leaving anytime soon, and hopes to see industrial estates in other parts of the country. Indonesia is very much his second home.