When Bernie Brookes joined Edcon as CEO in 2015, he saw an opportunity to help rebuild the embattled retail icon, preserve 48,000 jobs, and "hopefully turn it back into the powerhouse it once was". The company was saddled with enormous debt after Bain Capital purchased it in 2006 for R25 billion in a leveraged buyout.
"That has restricted the business in every way possible, from opportunities for expansion to creating a development strategy. At times, the annual debt interest payments were three times the overall profit of the company. It's been a significant millstone," says Bernie – one that was finally removed after he successfully negotiated a debt-to-equity conversion. In February this year, Bain exited and the banks and bond holders stepped in to take over the company.
Bernie Brookes: the right man for the job
When his time was not focused on debt restructuring, Bernie was working on restructuring the business. "We've just undertaken a period of significant and sizeable change in the company. This is a fresh new year for us. We've reached the bottom of the curve from a restructure point of view, and now we're starting to resurrect and show significant signs of business improvement in both sales and profit."
With nearly 40 years in retail, and a professional history that includes liquor businesses, supermarket businesses, department stores, discount department stores, and electronic businesses, Bernie had the right experience to turn Edcon around. Prior to his move to South Africa, he was head of Australian department store Myer for nine years.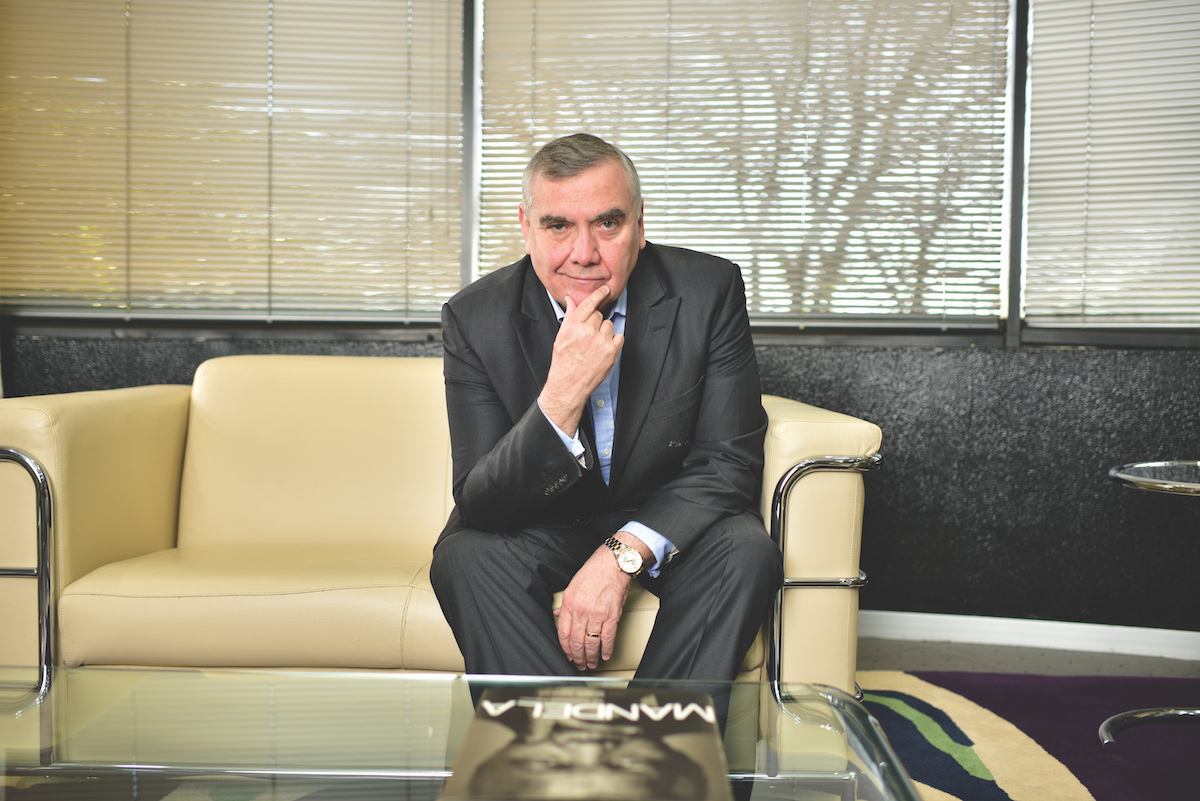 He counts one of his greatest achievements as "taking a business such as Myer, which was losing AU$60 million per year, and relisting it on the stock market five years later with a profit north of AU$200 million". He also spent 28 years with Woolworths Group, one of the largest retailers in Australia, with stints in both China and India as part of joint-venture opportunities between Woolworths and other companies.
Although these were all challenging in their own ways, particularly setting up a business from scratch in India, Bernie says the turnaround of Edcon has been by far the biggest challenge of his career.
"I had to turn around both Edcon's balance sheet and the company itself. The balance sheet has now been fixed with the debt-to-equity deal; however, the business is only in the second year of the turnaround strategy. It's starting to show significant green shoots, but there's still work to be done."
Edcon undergoes an overhaul
One of the first things Bernie did was reduce Edcon's store footprint, a move that makes sense considering the South African retail environment. According to Bernie, there is an oversupply of property and low-cost labour when compared to the growth in customer disposable income.
"The first thing we did was reduce both the number of new stores and the size of our stores, in line with the population of retail stores in this marketplace. The second thing was to reduce our prices quite significantly to make sure we are competitive."
South Africa's low consumer disposable income also means the retail environment in apparel is predominantly private label, which is why Bernie's third strategy was to exit 27 international brands, replacing them with Edcon's own private label network.
"People won't pay R2,500 for a pair of Lucky jeans; they won't pay R20,000 for a Ted Baker suit. In this environment, it's very much private label, with extremely limited international brands in the marketplace. There is little opportunity at this stage to effectively develop a business with anything other than private labels."
---
Online shopping
Edcon is preparing for online shopping to take off in South Africa. Omnichannel and online shopping are currently a very small percentage of Edcon's business, as internet access in South Africa is prohibitively expensive.
However, Bernie believes the nation will soon catch up to the rest of the world. "We just launched our own online website, getting ready for what will happen in South Africa, which is a move towards omnichannel, online shopping and online gathering of information."
---
Bernie's fourth initiative was to invest significantly in Edcon's customer service and build a strong customer-service mentality among employees. Strategies have included putting more staff on the floor to serve the customer, implementing "a sizeable amount of staff training", introducing a new reward-and-recognition system based on the provision of good service, and undertaking consumer research into what customers want instore.
Probably the single most significant change in the business that we've undertaken over the past two years has been the move away from efficiency and productivity towards a greater degree of customer satisfaction.
"Probably the single most significant change in the business that we've undertaken over the past two years has been the move away from efficiency and productivity towards a greater degree of customer satisfaction. Over the past 14 months, we've increased our NPS [!net!] from minus-20 to plus-51," says Bernie.
"Our customers like the moves that we've taken and really understand why we're doing what we're doing. And they're responding accordingly by coming in to shop with us more frequently."
Beginning to see the "green shoots" of recovery
Other improvements Bernie has made at Edcon include fixing the "archaic and laborious" supply chain – a significant challenge in a country where the infrastructure system is "fairly average" – and overhauling the IT system.
Finding and retaining quality retail human resources has been another difficulty, particularly at a senior management level. "Most of the major retailers are using expats as a way to bolster the quality of the people in this environment," says Bernie. And strict labour laws are also a challenge. While he says the "very rigid laws" regarding labour, particularly black empowerment, have been developed "correctly, for all the right reasons," they have been difficult to come to grips with.
"We've adapted to make sure we fulfil all our legal and moral obligations, while at the same time building and trying to resurface a business that's been broken for a long time." But, Bernie says, Edcon is beginning to see the results of his restructuring efforts.
"Our medium-term plan is to build a business model that is sustainable, growing, and making good levels of profitability. That certainly has started to commence now, and we're seeing some more-than-significant growth in the plan to deliver that."
In the next three to four years, the plan is to list the company on the Johannesburg Stock Exchange, although Bernie admits that will need more than mere "green shoots".
"To do that we have to build a very sizeable and significant business, as well as improve both the profitability and the top-line sales," he says. "We also plan to be, once again, a place that is desirable for people to work and also, as part of that, a place where our suppliers have continuity and consistency with supply."
Bernie's leadership style
Bernie's leadership style has been geared towards making this happen. His top priority has been creating a culture of putting the customer first, but a close second is empowering the employees who are "at the coalface and working hard to deliver that effective customer service".
Store managers and buyers in particular are empowered to make the right decisions for their stores and their customers. "I've also significantly stepped up the level of communication in the business to make sure that everyone is aware of the goals and objectives as well as the performance of the company," he adds. "And I've simplified each aspect of the operations to make it a business that's easily communicated, easily understood and simpler to run."
While Bernie plans to hand back the reins to Edcon at the beginning of 2018 and return home to Australia, he has enjoyed his time in South Africa. "It's a country with beautiful natural resources, some fantastic people, and enormous opportunity to develop as a world power that has been unrealised up until now because of the political, social and economic environment."
Philanthropy focused
When he first arrived in South Africa, he was keen to continue the philanthropic work he'd been involved in back home. "I was fortunate enough recently to be awarded the Order of Australia Medal for services to the Australian community and to Australian business. When I arrived in South Africa, I was quite committed to continuing that work," he says.
We've found a good balance between individual social responsibility, company social responsibility and – equally importantly – the corporate business.
True to his word, Bernie has undertaken a number of major initiatives at Edcon, including the Orange Day campaign, which supports women in abusive relationships.
"We help get them out of that abusive environment and provide them roles as seamstresses, and assisting with product design and development." Edcon also supports local community schools in disadvantaged areas.
"And there have been a number of one-off charitable initiatives. We've found a good balance between individual social responsibility, company social responsibility and – equally importantly – the corporate business. There are a large number of initiatives across the business, including supporting young designers, helping them to develop their fashion credentials."