David Koruni always knew he wanted to be an accountant. "I suppose you could call me one of those nerds," he laughs. The subjects he took at high school in Christchurch, New Zealand, and later at the University of Canterbury were all chosen "with the clear view of becoming an accountant," as he retells it. When he landed a graduate position as a fiscal investigator at Inland Revenue New Zealand, a career in his hometown appeared assured. 
Yet, three years after graduating, a friend sold him on the idea of a year's working holiday in Indonesia – and 24 years later, he hasn't returned home, save for the odd visit. He's lived and worked across the region in financial controller and CFO capacities for the likes of Manulife, Allianz and Prudential. "The plan was never insurance," he says with a smile. "And it was certainly never to become CEO."
His story demonstrates how life is full of unexpected twists and turns, so it's fitting that today David is talking to The CEO Magazine as the CEO of life and health insurance specialists Krungthai-AXA Life Insurance (KTAXA), with the bustling chaos of Bangkok – rather than Christchurch – as a backdrop. KTAXA is a joint venture between French powerhouse AXA Group and state-owned Krungthai Bank PCL, whose mission since it was established in 1997 has been to protect against unforeseen circumstances.
David Korunić is a staunch advocate for sustainability
David joined the company as CFO in 2007 and admits that at no point was his eye on the top job. So what changed? "I just had an amazing boss who really believed that I should succeed him." four years in, he knows he's made the right move. "I think this role suits me a lot better. I spend more time with employees, our partners, clients and with the community. This job gives me so much energy in life and provides me with the platform to write a weekly blog [!koruniclife!] about pressing issues in our sector."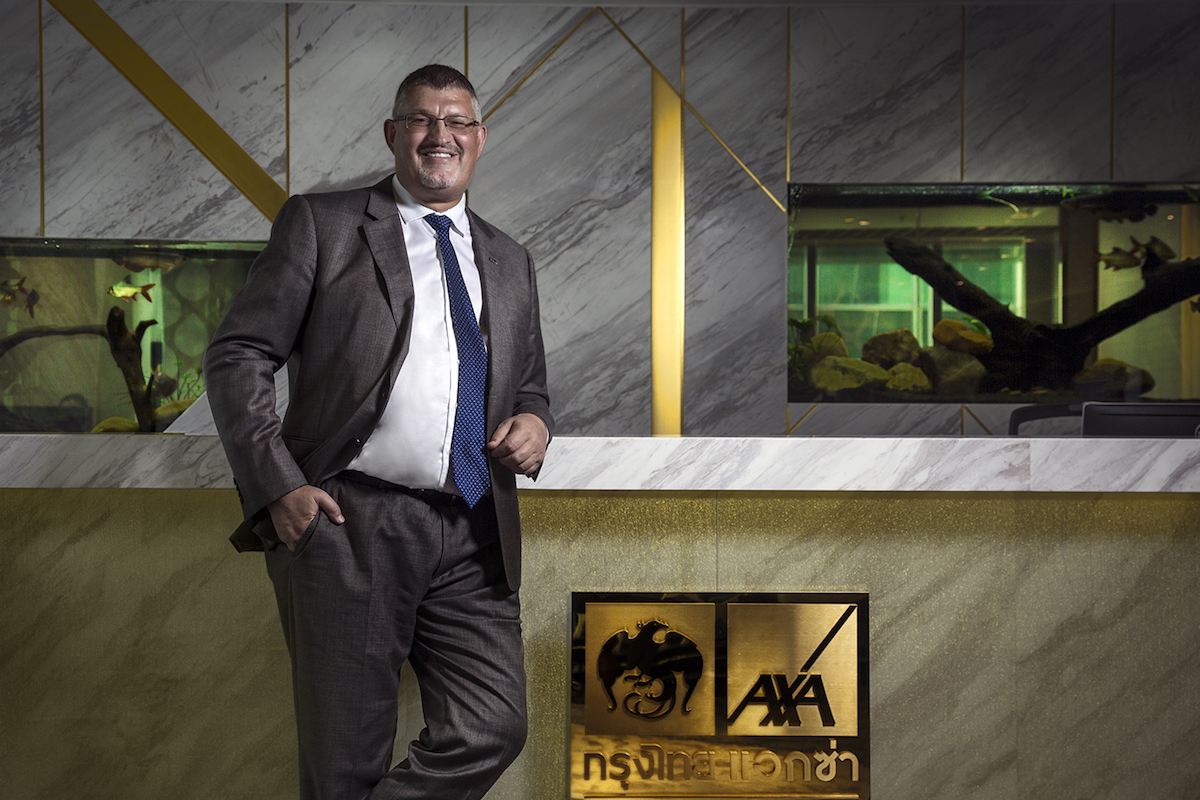 He calls his predecessor "a great role model," and today David's employees undoubtedly say the same about him. He is passionate about the industry, excited by the digital innovations currently underway at the company, and is a staunch advocate for sustainability. Not only is KTAXA's headquarters situated inside Bangkok's eco-friendly (and futuristic) G Tower Grand Rama G building, but David has instructed the interior to be fitted out using only sustainable products. 
Along with a sustainable investment policy – "We won't invest in companies that make guns, landmines or interests in coalmining or deforestation, et cetera," he explains – he defines 'sustainability' also in terms of career planning for staff. KTAXA employees volunteered more than 3,000 hours last year, and the scope of the company's initiatives include health checks, environmental projects and financial education. "Thriving communities are key to KTAXA's success, and we will continue to invest directly in them," he notes. 
At Krungthai–AXA Life Insurance, diversity & inclusion add value
The subject he is most enthusiastic to discuss, however, is diversity and inclusion. "There are too many sections of our society that have been excluded in recruitment policies, overlooking the value these people can add. They must be given a chance to bring their strengths to the workplace, without being looked down upon or without the fear that someone doesn't want them there because they are different," he explains.
Too often, he adds, inclusion is interpreted in the corporate world in gender or generational terms, but that is not going far enough: full inclusion embraces everyone, including the LGBT community and people with disabilities. "One of the biggest values that people with disabilities bring is resilience, built up from the adversity faced during their lives. They are a lot stronger than most of the able-bodied population."
David is well aware of the many layers of responsibility that lie on his shoulders. "We need to build a business that is sustainable, that will continue, because insurance is unlike most other industries in the world. We sell a promise, one that you cannot put your hands around too easily. Our clients, when they buy from us, need to trust that we'll stand beside them in their time of need, which could be tomorrow or 60 years from now."
Insurance is unlike most other industries in the world. We sell a promise, one that you cannot put your hands around too easily.
He channels the energy and enthusiasm he has for the CEO role into ensuring his legacy is rock solid. "I need to pass on to future generations this trust people have in us, because the last thing I want to hear from 6 feet under is that KTAXA couldn't deliver on its promise."