Originally from Birmingham in the UK, Steve Wallbanks came to South Africa almost a quarter of a century ago. While he still calls the Midlands city home, he has become a staunch believer in the possibilities and potential of his adopted African base.
"It was quite a fundamental change," Steve says of the initial move. "South Africa had gone through a number of changes over the years after the apartheid era and there was a big drive to renew localisation and uplift the community."
In his current role as CEO of Servest SA, Steve heads up a company that offers a full suite of facilities management services, ranging from hygiene to catering, to cleaning requirements. It can take care of an office's needs in terms of water, security, plants and pest control. Have a golf course as part of your property portfolio? Servest can manage that for you too.
It's a fair distance from his earlier work as an engineer, but Steve soon moved into management roles at facilities solutions providers Drake & Scull, and ECH » Management Solutions (previously EC Harris South Africa). He now has a wealth of experience in the field.
At the latter company, he achieved exciting results, overseeing seven years of consistent growth. "There was phenomenal success there because we employed all local staff and it developed an exceptional reputation for a business of its size. We built up a brilliant track record, had good references and punched well above our weight. I think that was because of the calibre of the people we employed in the business."
A successful merger
The success of ECH attracted the attention of larger companies and, in 2012, it was purchased by Servest SA. The parent company had been "predominantly a self-services company", and added to its expertise in facilities management consultancy
and project management with the acquisition.
Steve says that Servest had been operating with something of a silo mentality before purchasing ECH. "They had acquired ECH really to be the glue between divisions, because that was our forte going in – engineering services, improving the quality and getting better value for money. The value we added was immense because we came with a different skill set and became part of the family."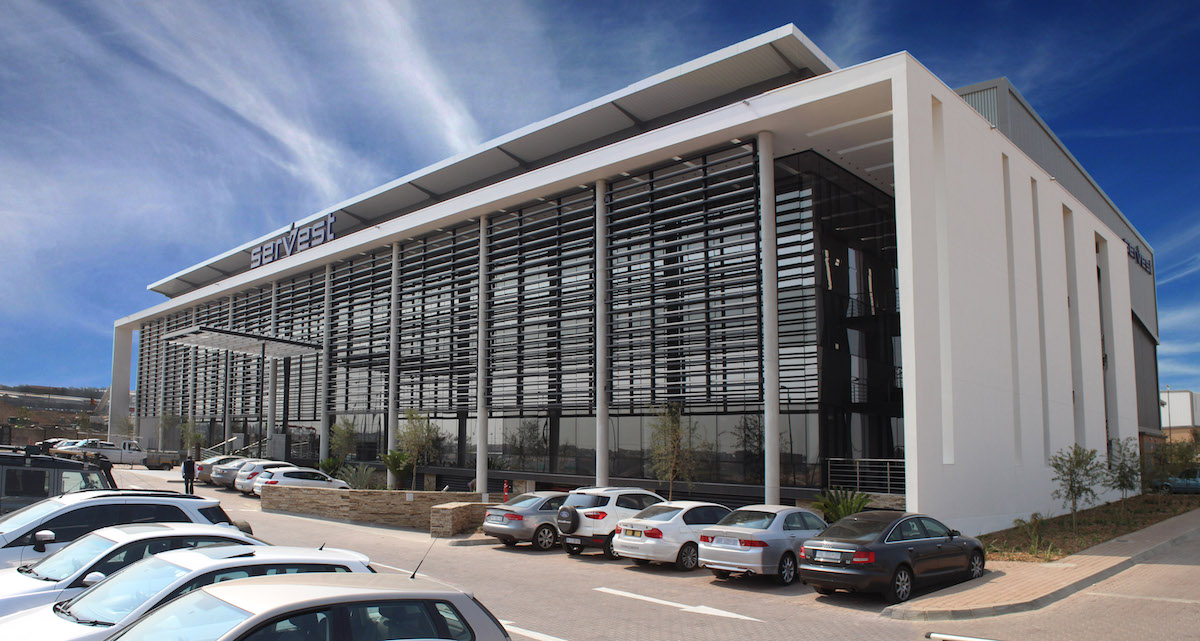 The influx of knowledge and experience in public–private partnerships was particularly useful and helped Servest win contracts in this area under Steve's guidance. He says Servest has felt buyer's remorse on occasion, but the absorption of ECH into its new parent company was handled deftly. "It's very easy to buy a company, but it's also easy to destroy the value of a company if you don't integrate it correctly." He believes a strong focus on people is essential to a well-executed acquisition. "You've got to be mindful that when you buy a company, you bring in a completely different culture."
After the successful integration of ECH, Steve led his new division at Servest to continued growth and was promoted to COO of the company. In this role, he was responsible for operations across the group, which then comprised around 25,000 people and 10 business divisions. In 2016, he was appointed CEO of the group in South Africa. He anticipates the rapid growth the company has experienced will continue: "We see phenomenal potential within the country."
When it acquired ECH, Servest itself was a young company, having undergone brisk growth since it was established by Chairman Kenton Fine just 20 years earlier. "It came from humble roots, a very entrepreneurial background," Steve explains. He believes that
the company's dynamic founding mindset remains, even as it has grown to now employ some 50,000 people internationally.
"We always push the boundaries. We are always looking to improve. "We're not a company that rests on our laurels and waits for things to happen. This group takes ownership. There's a phenomenal drive to develop, grow and go into new markets and to give a more all-encompassing service to the client."
We're not a company that rests on our laurels … There's a phenomenal drive to develop, grow and go into new markets.
The latter point is central to Servest's approach. It has researched the market for outsourcing facilities managed over the years and believes there are efficiencies in a single company offering all the services rather than the building owner contracting a whole range of individual companies for each function.
"We don't want to look at just one service," says Steve. "We want to look at everything that is in the building space or the built environment. If a business is going to do banking, we want to offer it every other service."
Servest is a believer in proactive listening and prides itself on being in touch with its clients' needs. With a strong understanding of what is required, it is then able to provide the best solutions at the best price.
Digital adoption
One new area Servest is already moving into is technical services and IT. It has recognised that workplaces are becoming increasingly digital and that providing complete facilities management solutions now involves offering a range of technical services such as CCTV and access control. Recently, it has expanded into the IT space, acquiring 30 per cent of an IT company that offers data rooms, analytics, software development and software integration.
The company comes with a strong existing client base and may have immense value in opening up new fields for Servest to expand into. "That's the future, no doubt. Data is the key to a lot of the things we do. It's not just about collecting the data, but analysing it and getting the benefits out of it. Anybody can collect data, so it becomes about how you use it," says Steve.
"Knowledge is king and the only way you can improve what you're doing is to analyse what you've done. "With the infrastructure and systems that we've put in place, we've invested heavily in IT systems that can proactively manage what we have to do on a day-to-day basis. There is too much data coming at you now from every angle."
Steve says information overload is a pain point for many businesses. "I've just looked
at my inbox and it frustrates me to death, because by the time you've got to your emails the problem has already passed." To address this issue, Servest has introduced a 'No email day'. "We're losing the skill of communication. We're a people business and we need to maintain multiple layers of relationships from the suppliers to ourselves, and from ourselves to our clients. Technology is a big piece of the business, but we can't forget there are still personal relationships that we need to maintain."
Servest may be able to offer solutions to clients in this area; however, like any other new business area it moves into, this expansion needs to be carefully considered. "This company doesn't just lurch around; it investigates and reviews where we are, develops a plan and then implements that plan. Yes, we tweak it as we go along, like any good company would, but we've always got a long-term vision of where we need to be."
South African at heart
Servest now has employees stationed across the UK and Europe, but it remains a South African company at heart and is a proud advocate of the country as an attractive investment destination. Steve says it can offer banking and manufacturing services on par with anything from the OECD nations.
"We definitely sing the praises of South Africa here. The country has had a lot of bad press, but we've got some great people with phenomenal skills in the country that we should be shouting about from the rooftops. I think if we can deliver the service that those international companies are looking for, it's going to attract more investment because they know they can operate well in this environment.
"I wouldn't be here if I didn't believe in this country. The culture is diverse and that's what gives you this energy. We just need to cut the noise out, focus on what we're good at and the strengths we've got, and promote ourselves in the right way. We can be so negative and forget about the positives. South Africa has gone through difficult times, but there is so much potential here."
Supporting start-ups
The company has put its money where its mouth is, setting up an entity called the Lesipho Trust, to mentor and fund promising local start-ups. "We want to develop micro-companies to deliver services and supply equipment to us," Steve explains. "We teach them about everything from basic business etiquette to the quality of the product that we're looking for. Then we promote the micro-companies to other organisations, sponsor them at exhibitions and so on."
While building up these fledgling companies will strengthen Servest's supply chain, the long-term goal is to equip them to supply multiple companies. That way, they will grow and achieve economies of scale. Ultimately, the objective for these companies is for them to foster employment and make the country's economy stronger.
We've got to transform, we've got to empower our people and that's what Servest has done.
"Obviously, the biggest challenge nationwide is a lack of economic empowerment. There's a lot of window dressing that's been done over a number of years. A lot of companies have manufactured answers and it doesn't lead to meaningful change. If we're going to do transformation, it's got to be meaningful. Until we embrace head, heart and hands, it will never achieve the results that we need to achieve."
Steve says that a number of companies, from small manufacturers to niche service businesses, have thrived with the support of Servest. The group also offers academic grants to individuals from disadvantaged backgrounds. Again, there are already a number of success stories. "We've got one young chap who is exceptional," Steve begins.
"We sponsored him through university, now he works for us and heads up a project division for the group. He did extremely well at university and is adding so much value to the group. That's what comes from believing in the youth of the country – we've got to give them more opportunities."
ApproachAbility is key
When he goes on the road, Steve makes a point of stopping to talk to everyone in the business he comes across, no matter what level they work at. "I'm very approachable. I think that's key in any business these days," he says.
This congenial approach can be seen across the organisation, which operates with a strict open door policy for management staff. "Any time anybody has got concerns, we will debate them, put a plan together as a team and work to solve any issues as and when they arise. We've got to live the company's brand and culture, and if that's not driven from the top level of our organisation, it's not going to be successful."
Steve describes himself primarily as an enabler and deflects credit for Servest's rapid growth to his team. "I'm just part of the jigsaw puzzle, and if I'm empowering them, giving them the tools to enable them to do their role, it can only help us focus on what we need to achieve as a group."
A keen rugby fan, Steve keeps a close eye on South Africa's Springboks even as
he stays loyal to England. The executive has three children who have grown up in South Africa; with deep roots in the country now, Steve looks forward to better days as the nation continues to move away from its turbulent history.
"You can never discount what happened in South Africa in the past, but we've had
a big transformation drive. We're 51 per cent black owned now, which is fundamental
to where South Africa is. We've got to transform, we've got to empower our people and that's what Servest has done. We're very committed to representing the demographics of the country."