In 2007, Kuala Lumpur's recurring flooding and traffic congestion problems were mitigated by a new 'smart' system. The longest and most technologically advanced tunnel in Malaysia, the Stormwater Management and Road Tunnel (SMART) was built under the supervision of the federal government
and implemented through a joint venture between MMC Corporation and Gamuda with Malaysia's Highway Authority and the Department of Irrigation and Drainage.
Clearing the roads
Stretching 9.7 kilometres and accommodating more than 30,000 cars a day, the dual-purpose tunnel lives up to its name. In the event of a flood, rainwater is diverted to its lower channel, while the upper level remains open to traffic, significantly relieving congestion at Kuala Lumpur's main Southern Gateway.
Over the past decade, SMART has created cost and time savings. Having already been used more than 200 times to divert floodwater, the tunnel converts 15-minute commutes into four-minute trips and has saved billions of dollars in flood damage costs.
Now a key player in the enhancement and maintenance of the RM1.9 billion project, Sharifah Alauyah joined SMART's headquarters, Syarikat Mengurus Air Banjir & Terowong, as COO in June 2016. Highly distinguished in the industry, Sharifah holds a postgraduate Diploma in Environmental Engineering from the Netherlands, a Bachelor of Science (Honours) in Civil Engineering from the UK, and a Diploma in Civil Engineering from Malaysia.
Prior to her current role, she served water concessionaire Syarikat Pengeluar Air Sungai Selangor (SPLASH) for more than 15 years, following a period in the infrastructure and the environment sector. Backed by her diverse experience, Sharifah was instrumental in enhancing the operational efficiency of SPLASH's water treatment plants.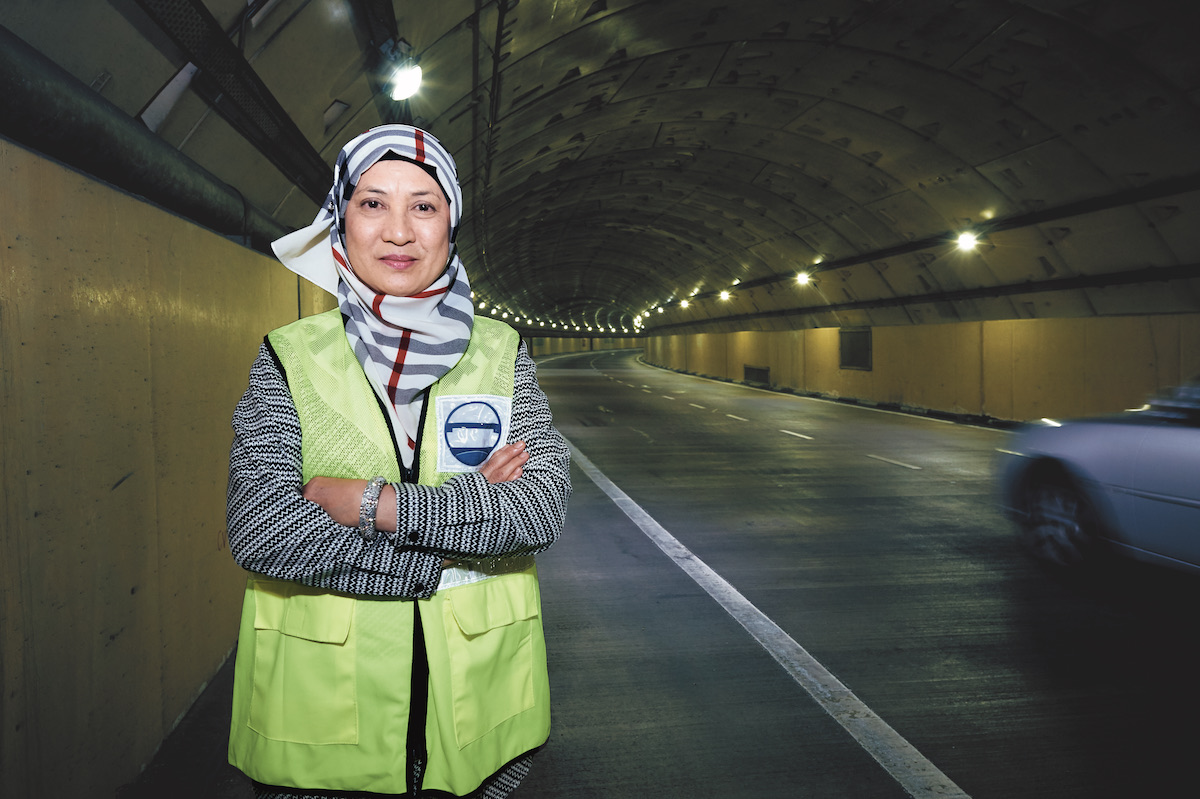 Sharifah identified opportunities to improve SMART's level of service to its users by providing enhanced comfort and a safe driving environment, as well as initiating several technological upgrades.
Being recognised on an international scale
"SMART is currently the only highway tunnel in Malaysia fitted with a minimum 3G signal. We have converted the conventional tunnel lighting to LED, completed in December 2017, and are working with telcos to upgrade tunnel communication systems from 3G to 4G, and implementing various cosmetic enhancements to provide further comfort for users," explains Sharifah.
"The uniqueness of SMART is recognised on an international level and its past success in mitigating flood and congestion issues is a testament to its utility. We strive to exceed expectations and achieve sustainable returns for our shareholders, and we never compromise on our responsibility to effectively and efficiently manage tunnel operations."
Sharifah has seen rapid changes since she joined SMART in 2016, and always tries to stay at least one step ahead of the fast-evolving transport landscape in Kuala Lumpur's city centre and the surrounding area. She has seen a trend in the use of transport systems such as Mass Rapid Transit, Light Rail Transit and convenient services such as Grab and Uber.
"These new competitors have significantly impacted the traffic on toll highways and in our tunnel system. To overcome this challenge, we think of out-of-the-box solutions as well as doubling our efforts to improve our level of service to tunnel users," explains Sharifah.
The envy of many countries
In the short-term, Sharifah's goal is to minimise traffic disturbance and leaks throughout the period of massive development around SMART's vicinity. As for the long-term, she aims to capitalise on the development to contribute to traffic volume through increased connectivity and traffic alignments.
"SMART's primary function as a flood mitigation system has been the envy of other countries, with many looking to emulate the concept. Given the current unpredictable weather patterns in countries around the world, I expect this concept will become increasingly popular as a viable option to mitigate natural disaster risks in the future."
The experience of SMART's existing management team averages more than 10 years across a variety of sectors within the highway and transport industries. Sharifah believes having the right culture is vital because it shapes the way the team behaves when handling crises and how they strive to uphold the company's reputation.
"SMART values its people and the skills they possess, and our success is reliant on tapping into these skill sets. We have a pool of niche talent here at SMART who willingly share their knowledge and experience to assist in building our nation," she says. "In my opinion, binding a team with a strong sense of loyalty and belonging to the company is crucial for SMART, so I encourage consistent engagement between management and employees. Good leadership means setting an example for your team – you have to walk the talk."
For Sharifah, success is not measured by recognition, money, fame, or material possessions. "Success is about the people you've changed positively, both professionally and personally. I always instil in my team that we must continually provide the best level of service to our customers by looking at things from their perspective.
Keeping up with customer expectations
Customer needs and expectations are always evolving so we must keep abreast of changes in demand," explains Sharifah. "Our approach to this will always be consistent engagement. Once we have established a trusting relationship with our customers and the public, it's much easier for us to tailor our corporate social responsibility initiatives to meet their needs."
SMART was recently involved in a Chinese New Year Road Safety Campaign
in collaboration with the Malaysia Inbound Tourism Association (MITA), as well as discounted tolls for major festive periods, and the annual SMART Tunnel Run.
Moving forward, SMART is working closely with its partners and suppliers to deliver efficient and sustainable stormwater management, and a road tunnel that meets the needs of all users.
"We continue to explore opportunities for win–win partnerships and neighbouring developers to work with," says Sharifah. "SMART's recent partnership with TRX City (TRXC), the Tun Razak Exchange and Bandar Malaysia developer, is a good example, where two TRXC developments located at opposite ends of the tunnel will be directly linked."
Sharifah says the partnership will enhance traffic infrastructure in the Greater Kuala Lumpur area, and will ultimately pave the way for further collaborations with other government-owned infrastructure players in the future.