In recent decades, the rise of industrialisation has gone hand in hand with environmental degradation, but Roel Z Castro has made it his mission to prove that
this need not always be the case.
An active player in the infrastructure industry for almost 20 years, Roel is President and CEO of A Brown Company (ABCI), a Philippine listed company engaged in real estate, agribusiness, power generation and infrastructure. Across all these industries, the company's actions are founded on innovative thinking, lasting relationships and genuine concern for stakeholders and the environment.
ABCI is a rising player in power generation sector through its subsidiaries Palm Thermal Consolidated Holdings and Hydro Link Projects, and its joint venture companies Peakpower Energy Incorporated (PEI) and Palm Concepcion Power Corporation – the last being responsible for the 2×135-megawatt coal-fired power plant project in Iloilo, developed as a new base load power plant in Panay Island to address the power capacity requirements in the Visayas grids.
Being competitive in the power market
The first unit commenced full commercial operations in August 2016, generating electricity for not only Panay, but also Negros, Cebu and Leyte islands. Roel says the second unit is now in the initial stage of pre-development activities.
"We set a completion date for the first unit of 36 months, but finished it in 37. In terms of international standards, this is really remarkable because the construction time for a plant of this kind would typically slip to 40–50 months," explains Roel.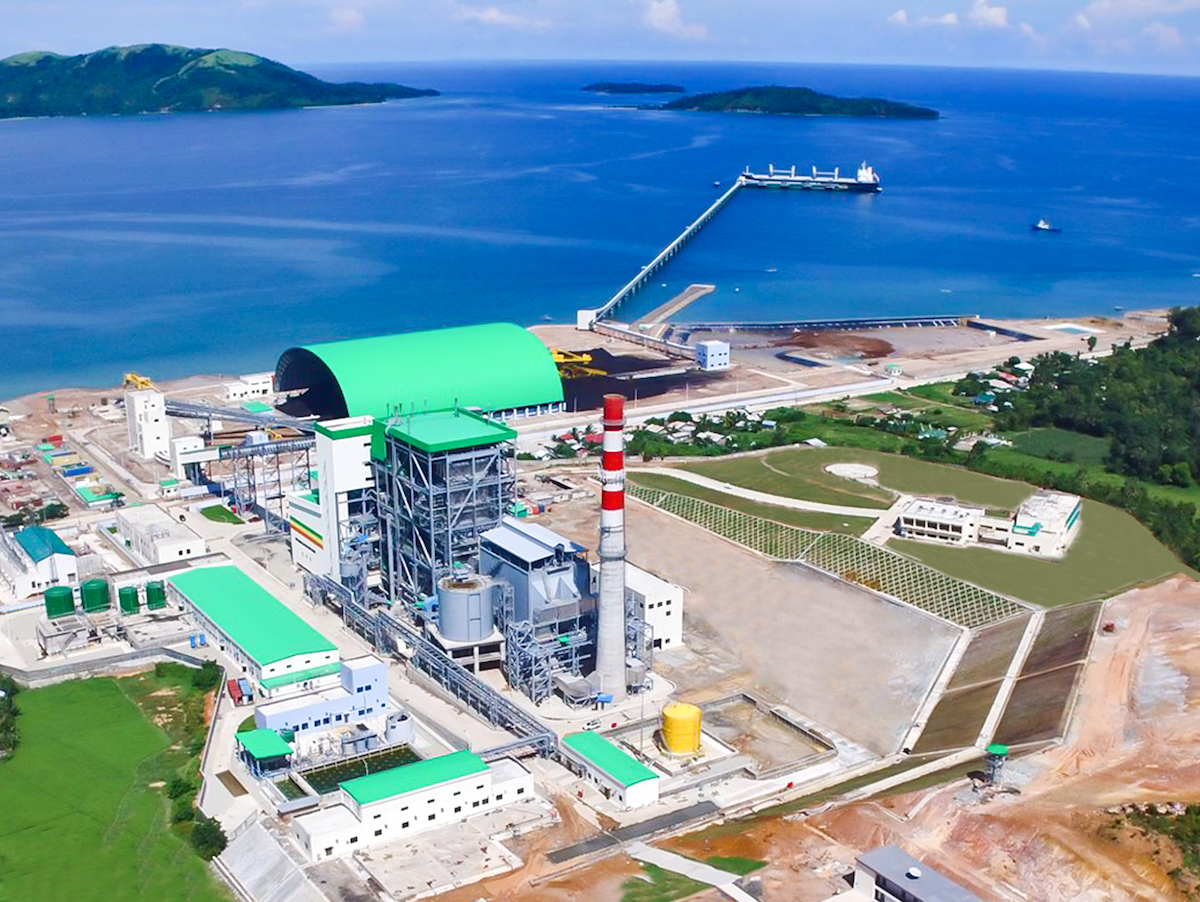 "To be competitive in the power market, we made a bold move in merging top-of-the-range European technology and cost-effective Chinese engineering, as well as procurement and construction services. For me, the success of the generator is largely attributed to this strategic customisation, which we achieved without budget overruns."
Following years of service at the National Grid Corporation of the Philippines and Monte Oro Resources and Energy, Roel joined ABCI in 2010 and worked his way
up to become President and CEO in 2016. His expertise includes project management, brand marketing, financial valuation and management, agribusiness systems, policy analysis, development banking and corporate planning.
"I went into the Iloilo project with two disadvantages. The first was that I'm not an engineer: I'm a finance and management guy," explains Roel. "And the second was that we had a massive Chinese construction workforce, and I didn't speak Chinese. Nevertheless, I didn't let these obstacles get in my way and I really had to trust and depend on the people working on the project."
Meeting demands
In 2013, ABCI launched PEI to address power shortages in Mindanao and allow the electric cooperatives in the area meet their demand for peaking power. Peaking plants are power facilities that run during high-demand hours to meet the sudden surge in power requirements in the electric power grid.
PEI is known for its short gestation periods of construction, with each peaking plant completed in just one year through build-operate-transfer arrangements with
each off-taker. "We were the first to offer this kind of scheme, which is attractive to our partners whose expertise is in power distribution. They know that at the end of the operating period, they will have control over the plant," says Roel.
Although PEI is mainly focused on business interests in Mindanao, it can be expanded in other regions. Roel manages the company's three wholly owned subsidiaries: Peakpower Soccsargen, Peakpower San Francisco and Peakpower Bukidnon.
In early 2017, PEI launched three bunker-fired power plants in General Santos City, Agusan del Sur and Manolo Fortich, Bukidnon. Roel plans to add more peaking plants across Luzon, Visayas and Mindanao by the end of this year. Currently, the company total peaking capacity in Mindanao is 55 megawatts.
Roel encourages his employees to live the company's shared values of integrity, passion for excellence, love for work, and family-spirit in everything they do. Balancing personal and professional growth is key. It's simple really – I focus on keeping employees happy.
Keeping employee's families involved in company activities
Professionally, I make sure they're always able to grow with the company and the industry, and we are heavily invested in making this possible. To encourage personal growth, we make sure our employees' families are involved in company activities. We find that when families are happy, our employees are a lot more motivated at work," he says.
"When we achieve certain goals or milestones, we have financial incentives in place to celebrate these achievements. We make sure that the benefits don't go to the shareholders alone, but to employees as well. When building the first unit of our plant in Concepcion, I promised that if we finished under-budget,
I would share some of those savings with our employees. And that's exactly what we did. Even if we're not yet profiting from it, the project could not have been completed without our staff's efforts and they deserved a reward for that," Roel emphasises.
An advocate for the environment
"Giving back is key to our culture and it is part of my personal leadership make-up," he adds. "This means not only giving back to the community, but giving back to the environment as well."
"Even before we sold our first commercial kilowatt hour, we had already invested close to US$2 million in our community stakeholders and the environment. Concepcion may be a fishing village, but I wanted to give the locals the opportunity to become involved in the construction. So, we invested in training for them," says Roel.
"I have always been an advocate for the environment when I'm building power plants. People often ask me how I can call myself an advocate for the environment when I'm building power plants. However, I don't see any conflict in that because my advocacy comes hand in hand with balanced development. We want to see all development – industrial development in particular – coexisting with the environment and the community. You don't have to choose one over the other.
"When visitors come to our power plants, they note how green and clean they are – not just full of concrete and steel. They see the environment we have invested in. We have planted hundreds of fruit trees across the grounds to bring in pollinators such as birds, bees and other insects. Why, you ask? Because if these pollinators are thriving and the trees are bearing fruit, it means that our air is clean," explains Roel. "A flourishing environment is a clear indicator that our power plant is environmentally friendly.
A flourishing environment is a clear indicator that our power plant is environmentally friendly.
We also partnered with the Department of Environment and Natural Resources, the Local Government Unit and the People's Organization in developing a 600-hectare plot of land surrounding the plant for our agrotourism and agroforestry projects to ensure this land will one day become a forest again."
"We have invested in mangroves and coral expansion – in areas that have been damaged by dynamite fishing way before we set foot in Concepcion – to try to bring them back to life. Again, I didn't see any reason why the power plant would prevent these corals from being restored.
We experimented in a range of mangrove areas and planted over 10,000 seedlings right in front of the power plant. This will help repair the ecosystem and ensure better resources for local fishermen. It's very important for me to see that this power plant coexists with its environment and community, and I want to prove that it can be done," says Roel.
Pricing, reliability and service
"Whatever the commodity, product or service, at the end of the day, there are three elements that give us the competitive advantage," he explains. "The first is pricing. We continuously apply new technology to reduce rates and increase efficiency. As long as our price is competitive, we will have a place in the market. The second is reliability. We deliver on our promises and clients know they can rely on us. Last but not least is service. Whether we're dealing with a small company or a large one, we always form trusting and respectful relationships.
"While we continue to look at expansion opportunities for the future, we still have the second 135-megawatt unit of the Concepcion power plant in Iloilo to put up. Right now, the market is challenging, so it's a matter of picking the right time to start the second unit and secure the necessary contracts."
The Philippines is known to be especially vulnerable to the effects of climate change, particularly rising sea levels and increasing disaster risks. In light of this, the country has made commitments to minimise increasing temperatures and switch to cleaner supplies. Working towards this future in renewable energy, ABCI is also developing hydropower projects as they can be used to contribute to power augmentation in the Philippines.
The company currently has a number of hydropower projects in different development stages. "We are considering a number of renewable projects in pursuit of our long-term goal, to have a mixed portfolio of power generation, so we can be flexible in terms of pricing and offering," explains Roel. "Renewable energy is the future and it will complete our already comprehensive power portfolio."