Every day, humans eat around one kilogram of food, drink two litres of water, and breathe up to 15 kilograms of air. Why is it then, that we take care of the food we eat and the water we drink, but rarely consider the air we breathe? The World Health Organization estimates that every year, 6.5 million people die from disease caused by indoor and outdoor air pollution – that's one in nine global deaths. And nearly 90% of these deaths occur in low to middle-income countries, particularly in Asia–Pacific.
Clearing the air
For more than half a century, Camfil has been dedicated to clearing the air – literally. A global leader in the air filtration industry, Camfil develops sustainable clean air solutions to benefit human health, increase performance and reduce energy consumption within four main segments: comfort air, clean processes, power systems, and safety and protection. With 26 manufacturing plants, three research and development sites, local sales offices and more than 3,800 employees, the company's presence is worldwide.
Headquartered in Sweden, Camfil is already a market leader in Europe and North America, while growing investments have made it the fastest growing clean air solutions provider in Asia–Pacific. Since its entry into the region 10 years ago, Camfil has four production units – in Dubai, India, Malaysia and China – and subsidiaries in Thailand, Singapore, Taiwan, New Zealand and Australia.
Executive Vice-President of Camfil Asia–Pacific and the Middle East, Dr Suresh Balan has helped grow Camfil by more than 40% since coming on board in 2015, and he shows no signs of slowing down. Suresh comes with 20 years' experience from Swedish multinational home appliance manufacturer Electrolux, where he held a variety of management positions, in Singapore, Sweden, Belgium and India.
"I was attracted to Camfil because, like Electrolux, it had a strong social, environmental and innovative cause that was focused on giving back to society and the environment," recalls Suresh. "Clean air is as essential as clean water, and Camfil was eager to expand across Asia–Pacific due to rising industrialisation and urbanisation, resulting in a phenomenal amount of pollution in the region."
"Having worked in both Europe and Asia, I was well equipped to build the business and increase awareness of air quality in the region."
"Camfil was eager to expand across the Asia–Pacific due to rising industrialisation and urbanisation, resulting in a phenomenal amount of pollution in the region."
Camfil cuts across all areas – hospitals, offices, schools, pharmaceuticals, semiconductors, oil and gas, microelectronics, as well as food and beverage. "These industries rely on clean air to operate. We have made it our mission to develop world-class air filters for every application," says Suresh.
He continues, saying that compared with the previous decade, the past few years have seen local governments enforce stricter standards to control pollution. "The Asia–Pacific is not yet on the same level as Europe in terms of awareness and regulation, but we have seen a huge improvement as more countries adopt ISO 16890 standards for environmental sustainability. This is where our solutions come in."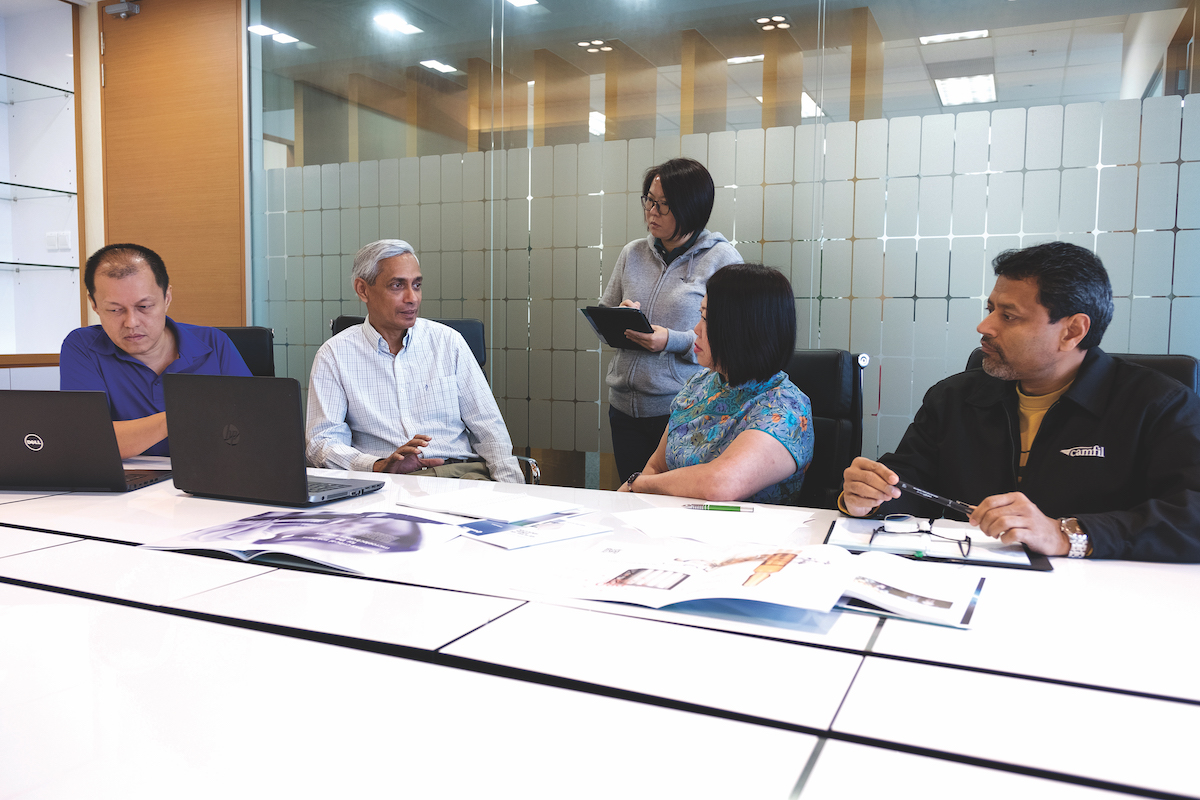 Rolls-Royce of air filtration
Camfil describes itself as the Rolls-Royce of air filtration. However, this reputation comes with a price. "Because of the quality of our products, our pricing is higher than some of our competitors'. Due to a lack of industry standards, it's very easy for cheap, uneconomical and unsustainable air filters to enter the market, particularly in Asia."
"We are working with non-government organisations, environmental agencies such as the Singapore Green Building Council, and other national agencies, to increase awareness of the necessity of clean air, and to implement industry standards so everyone is on a level playing field," explains Suresh.
"It's also a matter of educating people to make the right choice by investing in a reputable air filtration system with low energy consumption. This ambition stems back to Camfil's founders wanting to give back to society through our products, and it starts with the younger generation."
"They are already more socially and environmentally aware than those before them and we hope they'll go on to work for an organisation with a social cause and choose an established company like Camfil to take care of their air. By pushing for change and awareness like this, we are giving back to the community and the planet at the same time."
"We are giving back to the community and the planet at the same time."
Passed down through the same Swedish family for more than 50 years, Camfil has developed a tight-knit Scandinavian culture that is felt across all continents.
"We are flat and consistent, and we respect our employees and suppliers. They drive the business and share our ethical commitment to society and the environment. We involve our employees and suppliers in the R&D process and our commitment to them is strong," says Suresh.
"This is why we're able to work with global companies such as General Electric, Intel, P&G, Nestlé and Unilever, as well as some of the top hospitals in the world. We have an ethical culture, a social cause and innovative products that are recognised globally." The striving for clean air is universal, and so is Camfil's appeal. Suresh believes that it's the company's refusal to rest on its laurels that truly sets it apart.
Fast facts:

The WHO estimates that nearly 90% of air pollution-related deaths occur in low and middle-income countries, with 2 out of 3 occurring in South East Asia and the Western Pacific regions.

"Camfil products are the benchmark for the industry – it's one of our biggest strengths. We employ some of the best brains in the business, we continuously upgrade our factories and we have the latest high-tech equipment," explains Suresh. "This R&D focus has driven us forward for more than 50 years, and it still does today."
Camfil's internal sustainability efforts are yet another indication of the company's mission to give back to society and the environment. A lot of companies do corporate social responsibility activities, but for us, it is much more. We are a green company and we are proud to say that no other air filtration company has achieved a track record like ours," says Suresh.
Looking ahead, Camfil will continue to expand across the Asia–Pacific, with a strong focus on the food, pharmaceutical, microelectronics and healthcare industries. Despite being home to some of the world's most notorious polluters, Suresh believes Asia is more than willing to accept Camfil's help and increase efforts to clear the air in years to come.