A gourmet outlook: Echoes Boutique Hotel & Restaurant
Dinner at Echoes Boutique Hotel & Restaurant is a feast for the eyes and the tastebuds.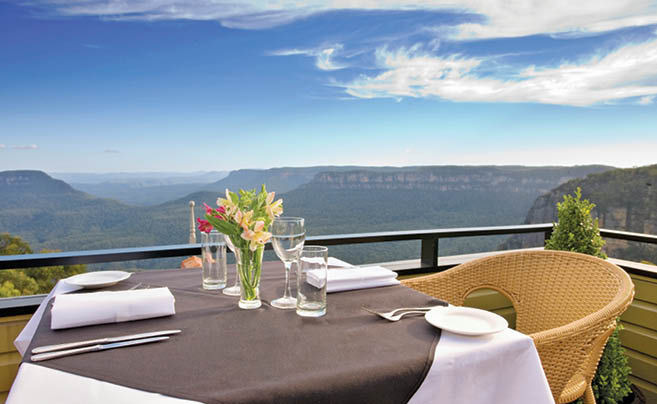 Echoes Boutique Hotel & Restaurant, located 90 minutes from Sydney, is part of the Escarpment Group, a collection of luxury escapes in the World Heritage-listed Blue Mountains.
Set among the most charming gardens and breathtaking scenery, Echoes Restaurant is admired for fine food dining complemented with fresh regional produce and spectacular views—a total haven for foodies.
Built for Australian writer Thomas Keneally and his television colleagues as an escape in the 1990s, Echoes was soon to become one of the first lavish guesthouses in the Blue Mountains.
With the sun setting in the mountains beyond, dusk is the perfect time to step foot inside Echoes Restaurant. Greeted by well-dressed and pleasant staff, you take a seat in the lounge, the perfect place for a relaxed pre-dinner drink. Soaking in the warmth radiating from the fireplace, you contemplate your peaceful surrounds before being escorted to your candlelit table. Bound by modern furnishings with a splash of federation, you are right away feeling stress free and ready to enjoy the next few hours of feasting.
You sip on a glass of Dunes & Greene Chardonnay Pinot Noir from South Australia while perusing the three-course à la carte menu, which is balanced by select boutique Australian and imported wines.
Although the ambience is relaxed, the attention to detail is endless. The entrées appeal to all tastes and are plated in an artistic style. The Gaulston Heights pan-fried quail with kale, shimeji mushrooms, tamarind and honey glaze is to die for. Another favourite is the fig salad served with compressed rockmelon, Persian feta, black olive purée, and hazelnut crumbs.