Coastal cool: Foam Lennox Head NSW
Foam is making waves in Lennox Head, New South Wales, with its weekly menu updates, attention-grabbing wine list and cool beach feel.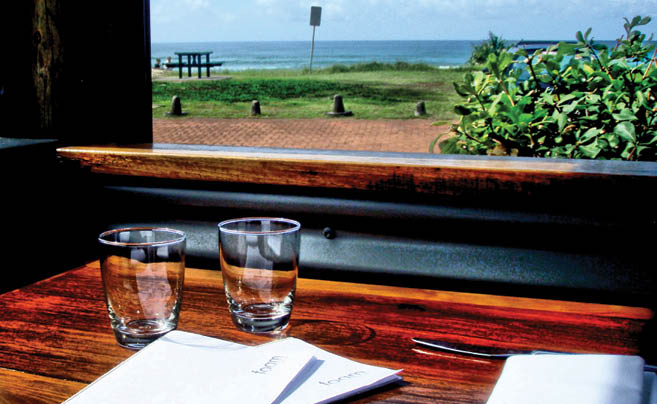 Situated on the stretch of coast between Byron Bay and Ballina in northern New South Wales is the seaside village of Lennox Head. Its breathtaking scenery and tranquil atmosphere exudes charm and allure, making it the prime location for a stylish restaurant like Foam. Unpretentious and playful, Foam offers fine-dining fare in an unfussy and down-to-earth environment.
The dining room is small and intimate with a relaxed beach vibe and seats up to 40 guests at a time. Large windows boast ocean views, tables are set with crisp white linen, and the bar is constructed from corrugated iron with a timber bench top.
Easy listening music hums in the background as restaurateur Marcus Corcoran introduces himself and seats you, giving you a moment to peruse the à la carte and tasting menus.
He offers his suggestions and darts off to find you a drink before the feasting begins.
The tasting menu consists of five courses and is perfect for those who would like to have a little bit of everything. Marcus works with his head chef, Chris Harrington, to change it up every week depending on what is fresh and readily available, keeping things especially exciting for locals and repeat customers. "I wouldn't call the menu seasonal, but it does change every week," Marcus explains. "We use a lot of local suppliers and go to the markets twice a week. It's a lot of hard work, but it's worth it. We have a bit of fun with it." The wine list is also progressive and tends to favour drops from lesser-known boutique labels, as well as natural varieties that have minimal chemicals and sulphur..