Dinner with a view: Eureka 89 Melbourne
On the top floor of the tallest building in the Southern Hemisphere sits an exclusive fine-dining restaurant offering 360-degree panoramic views of Melbourne.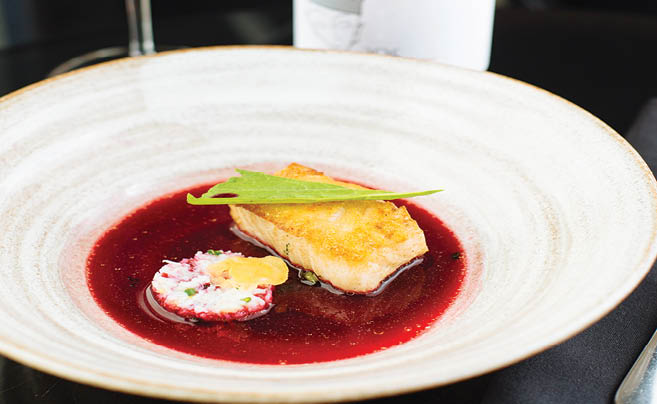 It's an Australian metropolis well known for its gastronomical delights, and Eureka 89 is doing its bit to keep that reputation intact as one of Melbourne's finest dining institutions. Located on the 89th floor of the Eureka Tower, a level above the popular Skydeck 88 cityscape viewing platform, the restaurant is elegant yet inviting and offers an elaborate degustation menu that changes with the season.
Entry is made upon a red carpet on the ground floor, where you are greeted by smiling staff and whisked away to a lift which zips you to the uppermost floor. It is here you are introduced to your host for the evening and escorted to your table, or to a stool by the custom-made bar if you prefer to start the evening with a pre-dinner cocktail. The floor-to-ceiling windows mean you won't miss a minute of the sunset wherever you decide to settle.
Eureka 89 is styled with deep-red hues, glossy black, and hints of luxurious gold. The hand-cut glass chandelier hanging over the bar is illuminated with a crimson light, and the rest of the room is dimly lit, creating a nice ambience for a maximum of 40 diners. The alternative is the Northern Point space, which happily accommodates up to 250 standing guests or 150 seated, making it ideal for functions.
At your table, the waiter brings you an amuse-bouche—a small dish containing a teeny slice of citrus-cured kingfish served on a fennel purée and decorated with seaweed fronds—to prepare your tastebuds for the seven-course degustation to come.
The restaurant employs the culinary talents of Consultant Executive Chef Justin Wise, who works with a talented team including Head Chef Renee Martillano and Sommelier Jeff Salt to ensure diners are treated to an unforgettable eating and drinking experience that is as spectacular as the view.
Without long to wait, the first plate arrives and your friendly waiter explains each component—melt-in-the-mouth venison carpaccio topped with native pepper berry, bronze fennel, and cucumber. All ingredients are gracefully presented and provide different textures as soon as they hit the mouth. The wine match is a refreshing glass of Louis Bouillot Perle d'Aurore Sparkling Rosé NV from Burgundy in France.