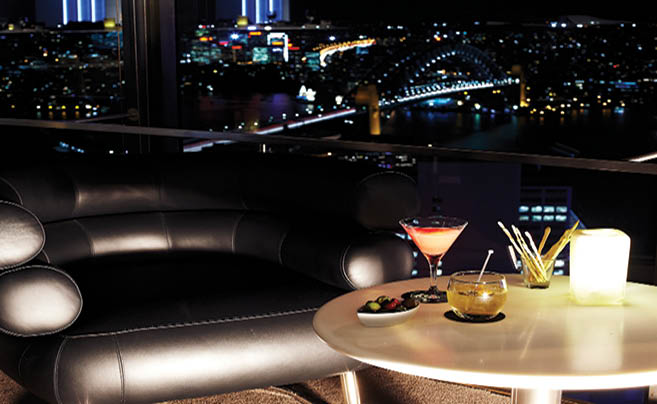 Sydney's O Bar and Dining is a restaurant full of contradictions. It's completely modern and breathtaking, with a glittering view of the skyline, contained in one of Sydney's landmark office buildings from the 1960s.
The bar and restaurant are buzzing with the who's who of Sydney society, yet it feels intimate.
The dishes are spectacular and internationally inspired, yet made with local ingredients and a healthy twist.
Chef and owner Michael Moore opened O Bar and Dining in 2012, taking over the space that held the iconic Summit restaurant for four decades. His reason for opening the restaurant, he says, was out of selfishness. After being diagnosed with diabetes at a young age, despite not having any of the risk factors, Michael became interested in creating healthy food that he could eat without depriving himself of flavour, and wanted to open a restaurant that showcased that.
O Bar and Dining is located on the 47th floor of Australia Square. You ascend in a small lift, leaving George Street far below. Stepping into the restaurant, you immediately feel transported from the everyday hustle and bustle of the CBD. Cool, steel-grey colours and ambient lighting set the scene perfectly, with intimate tables placed to optimise the incredible view through the high glass windows.
We're directed to our seats, a table for two situated right next to a section of curving window. It is only after a minute that we realise the restaurant is slowly revolving, allowing diners to get a 360-degree view of Sydney from above.
To start, we can't go past a pre-dinner cocktail. The cocktail list is extensive, with a selection that changes based on seasonal ingredients, ensuring that your drink is always as fresh as your food. The strawberry and rhubarb bellini combines a house-made strawberry and rhubarb purée with Ketel One vodka and prosecco, the crispness of the prosecco offset by the sweeter strawberry.
While we are enjoying our drinks, the attentive servers bring us warm roasted olives with lemon, thyme, and garlic, as well as slices of Sonoma sourdough with handcrafted Pepe Saya butter. The bread is so fresh it is tempting to eat piece after piece, but we have quite a few courses planned, so filling up on carbs is not advisable.