Cultural Calling: InterContinental Singapore
In Singapore's premier historic precinct is InterContinental Singapore — a grand, elegant hotel that encapsulates some of the country's many rich cultural layers.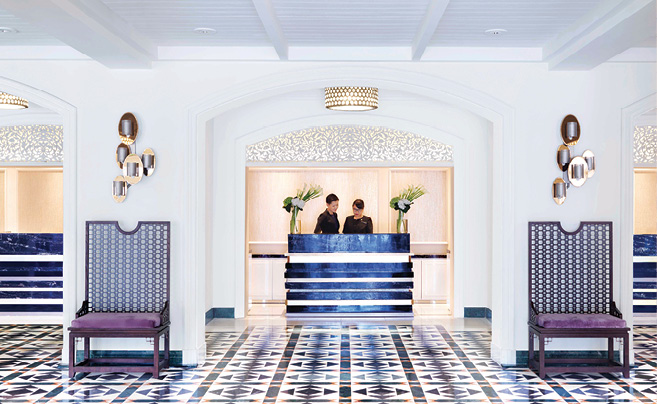 Tucked to one side of InterContinental Singapore's lobby and reception area is a colourful cocoon of a concierge area that captures the exotic spirit of the multi-million dollar hotel development. Here, in a light-flooded space, the essence of Peranakan lifestyle is captured in the precious pieces on display.
For those unfamiliar with Peranakans (pronounced per-rah-nah-kahns, and meaning 'locally born' in Malay), they are people descended from marriages between Chinese or Indian men and local Malay or Indonesian women from around the Malay Archipelago. These ethnic meetings create an undeniably rich cultural tapestry, but add some Portuguese, Dutch, and Indonesian influences to the mix, and you have an incredibly interesting culture and people whose art and cooking in particular offer a fascinating portal into times gone by.
The concierge area is set up like a Peranakan's living room, with a carefully curated collection of pieces, each one representing a particular element of their culture, while also conveying the essence of the downtown Singaporean locale where this culture has long thrived.
There are food containers bearing traditional prints of phoenixes and peonies, a fan-shaped wooden abacus, intricately carved candleholders, a basin stand typically found in bedrooms of houses with communal bathroom facilities, and so much more. Centre stage there's an arresting artwork bursting with vibrant colours that ties it all together — a modern montage of local characters engaging in daily life, and some of the activities that once took place on and around the site where the hotel now stands.