Touched by Tufi
Renowned for its stunning diving sites and as a peaceful place to get 'off the grid', Tufi is the antithesis of busy Port Moresby.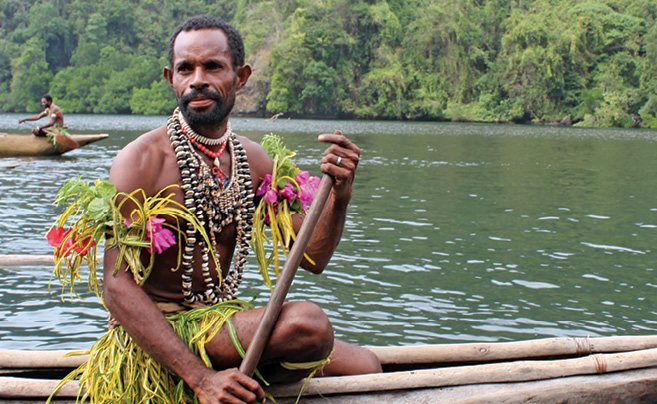 Virgil and the Craybobs are Tufi's local family band. By 'family', I mean Virgil, Frank Jnr, Elvis, Priscilla, Jane, Marckzin, Freda, and Mukawa—who comprise the band—are the many children of Tufi policeman, Frank. By 'local', I mean, even if the Craybobs wanted to play elsewhere, there are no roads out of Tufi. The last road is at Popondetta, 120 kilometres away. "A few fjords over," says Frank, is as far as the band's sunshiny harmonies and ukulele will resound.
Most fjords are created when glaciers erode. But when Yamewara volcano erupted 10,000 years ago in Papua New Guinea's (PNG) Oro Province, its lava flowed into the Solomon Sea, splitting and hardening into many-fingered fjords. The water wends back into dense forest where birds of paradise dance and people still live traditionally, fishing from dugout canoes and farming family gardens.
Excluding Port Moresby and a few larger towns, roads are scarce right across PNG, meaning its people are some of the world's most isolated. Four out of five Papuans live in remote coastal areas or rugged mountains—Tufi is both. For tourists who won't explore by foot or boat, travel is limited to places with an airstrip.
"The chewing of betel nut is prohibited on this flight," the airline host announces en route to Tufi, which boasts the last remaining rural airstrip on the north coast. The warning seems absurd until you see kids of primary-school age squirting out the fruit's red juice. Sold cheaply and activated with lime powder and mustard seed, betel nut (buai) is ubiquitous in PNG. It delivers a mellow buzz, but chew it long enough and your teeth darken to orange-red or rot away entirely.
The plane stops in Popondetta to collect four Australian Army reservists who've just finished the Kokoda Trail. They are seeking some R&R at Tufi Resort and a taste of the region's diving. For war history enthusiasts like them, Tufi is a natural next stop due to its wreck diving. Two torpedo boats were sunk here during a 1943 air raid and, just off the jetty, they lie on the sea floor along with machine guns, ammunition, and a couple of live torpedoes. Further out is a Dutch navy ship and a US bomber.
You can download the full article below…