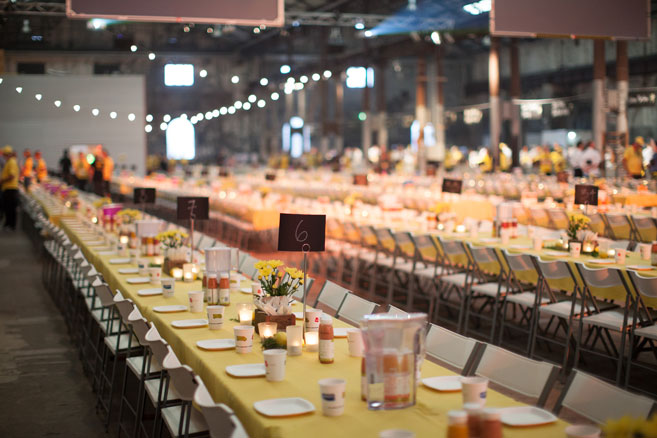 Chris Dutton, The CEO Magazine's CEO & Co-founder, will work alongside the country's top CEOs and business leaders to feed and entertain 1,100 vulnerable Australians at the CookOff, to be held on the 6th of March, at The Cutaway, Barangaroo.
As part of a team of other senior business leaders, Chris will be putting his cooking skills to the test, with a little help from one of Australia's leading chefs. Neil Perry, Matt Moran and Guillaume Brahimi are just a few of the culinary stars who will be on hand to make sure everyone gets a mouth-watering meal.
"Tonight is the night that they get to be treated with dignity, they get to celebrate, they get to be honoured, they get to be served. That is magical." – Ronni Kahn, CEO of OzHarvest.
It is estimated that $8-10 billion worth of food is wasted annually. The CookOff harnesses the competitive nature of Australia's CEOs and business leaders to raise the funds that will enable OzHarvest to reduce the amount of food wastage from Australian businesses. For every $1 donated, OzHarvest can deliver the equivalent of two meals to people in need.
In 2016, the CEO CookOff raised over $1.6 million. This year, the target is $2 million, and the funds raised will go towards OzHarvest's commitment to 'Nourish Our Country' through food rescue, nutrition education, hospitality training for disadvantaged youth and community engagement programs.
Two million people rely on food relief every year in Australia. But you can help by sponsoring Chris's culinary efforts at the 2017 CEO CookOff. Head to the website to support the cause: https://www.ceocookoff.com.au/fundraisers/chrisdutton
---
About OzHarvest
OzHarvest is the first perishable food rescue organisation in Australia. Collecting quality excess food from more than 2,000 commercial outlets and delivering it, direct and free of charge, to more than 900 charities.