Tasting success: Nadia Chauhan , Managing Director  of Parle Agro
From a little girl following her father around the office to following in his footsteps and becoming the company boss, Nadia Chauhan has an insatiable appetite for India's most iconic food and beverage company.
There's an unmistakable charm surrounding Nadia Chauhan. Perhaps it's the hint of the inquisitive young girl still bubbling within, or maybe it's her genuine love for the family business she grew up in. But whatever it is, the managing director of Parle Agro has a warm, infectious energy that can't be contained. 
As India's most iconic food and beverage company, Parle Agro's staple brands, Frooti and Appy, have long been household names. They also provide a sense of home comfort to the millions of Indians living abroad, as Parle Agro exports to 50 countries. And its bottled water, Bailley, was the first water brand to be given ISI certification by the Bureau of Indian Standards after its launch in 1993. Under Nadia's leadership at head office in Mumbai, the range has expanded to include carbonated drinks such as Appy Fizz, Café Cuba and Frio, and extensive research and development will soon see it expanding into more categories.  
It's no surprise this dynamic young woman has an entrepreneurial spirit; it's embedded in her DNA. Her history with the family business spans most of her 3 decades, starting as a young girl who spent weekends and holidays  shadowing her dad and company boss, Prakash Chauhan, at work. From the factory floor to the boardroom, from taste-testing new products to peering into microscopes, Nadia was there soaking up every aspect of the business. Well aware her father had revolutionised India's beverage industry with Frooti, India's first beverage sold in a Tetra Pak, and Appy, India's first apple nectar, Nadia instinctively knew that's where she belonged. 
But budding entrepreneurs are impatient, and young Nadia was no exception. She launched her own company, Just Divine, at age 11 — baking, packaging and delivering chocolate brownies. Business boomed, but ironically it was the company's spectacular success that also led to its ultimate demise. 
"I used to watch my father in meetings, how he made decisions from his intuition and his gut. I rely a lot on that myself."
"One time I had such a large order I spent all day and the entire night baking. All I could smell was brownies for days afterwards," she remembers. "I wrapped up the business shortly after that, and haven't been able to eat brownies since."
Nadia's next venture was tie-dyeing clothes and selling them door to door in neighbourhood buildings. Once again, the popularity of her business was her undoing. "In those days, no-one had elevators, so I walked up and down many flights of stairs, returning often to give change. I was so small and so exhausted all the time! I remember my sisters holding my hands and helping me walk when I couldn't walk any further. I had to give it up."
It's this sort of dogged determination, combined with a sense of restlessness, which has not only seen Nadia recognised as one of India's most influential women but heading a company of 3,000 working in sales, distribution and logistics. Then there's the 800% growth in business she's triggered since joining the company in 2003.
"I used to watch my father in meetings, how he made decisions from his intuition and his gut. I rely a lot on that myself," Nadia says. "I can't run a business without defining a strong reason for it; then I set a goal and make it happen. 
"I feel very lucky to have a team that believes not just in the company and our brands, but in my leadership," she adds. "I remember when I was around 11 and spent time with our R&D head who introduced me to a microscope, making me put my thumb print on a glass slide to see whether my hands were washed well enough. She still leads the department today, but handling a much larger portfolio. She has seen me as a little girl and today I am her boss. To be able to adapt to that change says so much about our company culture." 
Nadia's expectations for the next 12 months are not unrealistic considering she's rocketed the business from a Rs400-crore entity when she started to an impressive Rs2,800-crore today (2016 closing turnover). She wants to double that figure over the next 12 months and venture into new categories, including dairy. But don't expect to see ranges of new Parle Agro products fired onto the market all at once; Nadia is a firm believer that less is more.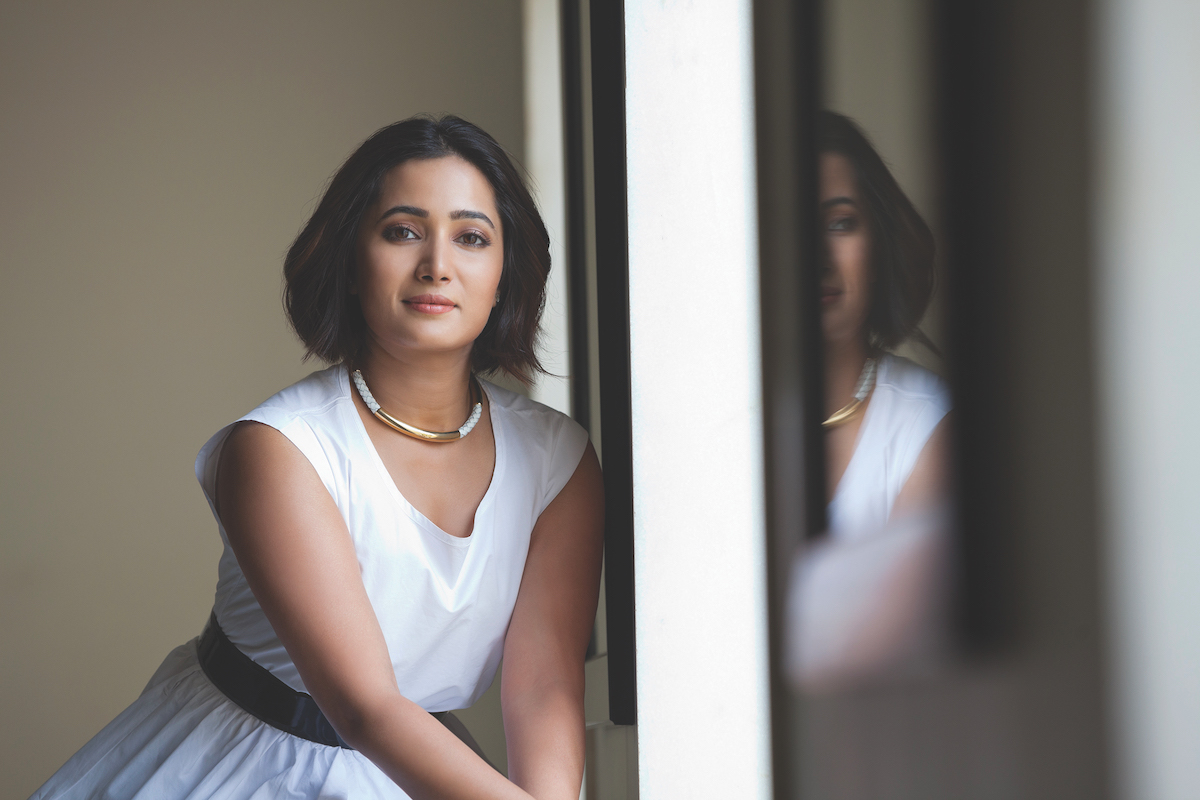 "You will never see us conducting a rampage of launches with 100 new things at a time," she says. "We spend a lot of time researching and developing products, and then we spend more time building them up. The company focuses on one project at a time. Right now we want everybody focused on the existing business." 
While understandably reticent to disclose too much about the new dairy products, Nadia admits she's not straying from her company's favourite mantra: 'The less we imitate, the more we innovate'.
"Our products cannot already exist in the market; it's a basic prerequisite," she says. "We created a history of successful products by creating new categories of our own, not copying. Of course, we have to be sensitive to taste and what people are used to, but consumers want more variety and are willing to try something new. So we spend a lot of time innovating and researching to give our customers new experiences and new products. It's something we try really, really hard to do."
And just as she did as a little girl following her father and sampling the products, Nadia is still diligently taste-testing. But what if the company ever decided chocolate brownies were the next sure thing? "Yes, I would still taste them," she laughs. "The thing is, no matter what I say, no matter how much I can't bear the thought of eating a brownie, nothing can compare to how much I love our business."  
You can download the PDF version (as seen in the magazine) below...