The Eddie McGuire you don't know
As he prepares to host The CEO Magazine's Executive of the Year Awards again this November (this will be his sixth time), he talks about making his own luck, giving back to communities, and celebrating wins in business.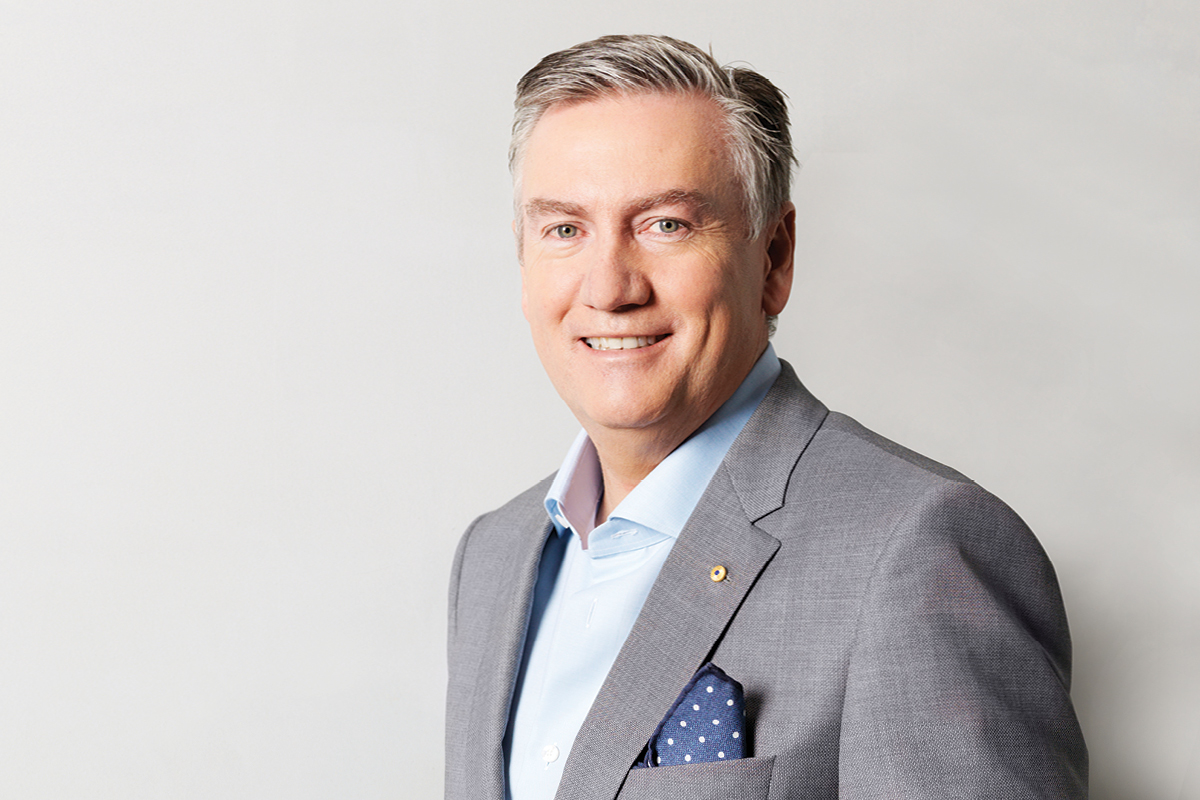 There's no question Eddie McGuire has had something of a charmed run. If there was a soundtrack to his life, it would be Midnight Star's 'Midas Touch'. The covetous resent him for it, and he is even targeted by factions of the media and public who wait, fingers hovering above their keyboards, for the moment he has that rare slip-up.
Of course, he has caught the odd lucky break, but his detractors would do well
to remember a popular aphorism that champion golfer Gary Player made famous – "The harder I practise, the luckier I get."
Eddie is testament to that, having practised his craft from the tender age of 13. His brother Frank, seven years his senior, was a reporter with the Herald in Melbourne. Sensing young Eddie was enamoured by the magic of the media world, Frank brought him into the fold.
"The media to me was always an enormous part of life. Just watching the television and reading the newspapers, they were the comics of my life as a kid," Eddie tells The CEO Magazine.
"I'd read about these superhero sportspeople, and I also had a great love of current affairs even as a young boy. From my brother introducing me to the industry, everything simply fell into line.
I loved the whole idea of newspaper reporting. Catching the train between Flinders Street Station and Richmond Station, you'd go past the Herald Sun building, as it is now, and then around the bend was the MCG. These were iconic buildings to me, and the combination of media, sport and show business was something I found exotic and exciting."
If there's one thing I'd tell my 20-year-old self, it's not to be afraid of making mistakes because you will – the critics are always there.
Eddie sacrificed his weekends to compile Aussie Rules stats for the Herald, all the while keeping to himself the fact that he was only in Year 8. "They didn't know I was 13, fortunately," he grins.
"And the following summer, they needed a district cricket reporter to file copy
for AAP [!australian!], and they asked me if I'd do it. Clearly,
I missed out on socialising with my mates, and I had to give up cricket, which I loved playing, but I knew it was too good an opportunity to pass up.
I mean, I was a kid in school, and I was picking up the paper and reading my
own words. I didn't make a big deal of it around my mates because it wasn't as though I was getting a big by-line, but it was still wonderfully exciting."
By the time his age became known, he was 15 and covering a cricket international between England and Victoria. "I'm sitting in the press box
at the MCG, next to legendary English journalist and commentator Henry Blofeld, surrounded by the greatest names in Australian and British sports journalism.
These guys were like gods to me, and to be sitting in the same room – I couldn't believe my luck. Then, by day two of the match, they invited me down to join them for lunch in the Long Room. They saw a young bloke excited to be there, who loved what he was doing, and they took me under their wing, or at least offered me the hand of friendship."
Eddie certainly had no shortage of influential figures around him as his career took off. Sportscasters of the ilk of Bruce McAvaney and Stephen Quartermain helped hone his skills at Channel Ten. He describes television executives Neal Miller, Ian Johnson and David Leckie as "some of the best media practitioners in history", and counts James Packer as a "mentor and confidant".
But no-one has played more of a role in shaping him as a media talent than his big brother. Eddie even went as far as to name Frank, alongside boxing legend Muhammad Ali and Collingwood full-forward Peter McKenna, when asked to share his three greatest heroes, during his own segment of This Is Your Life.
"Frank was by far my greatest mentor," he says. "The first time I had to go and report on my own, he came down to give me a helping hand. He showed me how to be a reporter, how to break stories, what to look out for, who to look out
for – all the tricks of the trade." It didn't take long for the fresh-faced reporter, with an encyclopaedic knowledge of sport, to be earmarked as a network pin-up.
And the 90s heralded the start of his transformation from being an interviewer of the stars to becoming a star himself. He became president of his beloved Collingwood Magpies, and started his long associations with The Footy Show and Who Wants to Be a Millionaire? – all while contributing to the Herald, and working as a radio commentator.
"It's been an amazing journey. I mean, I've been privileged to have a ringside seat to history," he continues. "As my career developed, rather than just being a commentator, I actually started to get in the paper myself. Then I began meeting wonderful people, and some of my greatest friends in life have been people I idolised as a young boy."
It's been an amazing journey. I mean, I've been privileged to have a ringside seat to history.
One of those is well-known TV personality and former Geelong Cats great Sam Newman. Eddie is currently relishing the opportunity to revive the pair's captivating on-air partnership, having returned to The Footy Show panel this year. "Sam and I have had a lot of success together; we've been through a lot of ups and downs," he observes.
"It's good to be back with Sam. Not only was he an amazing sportsman, but he's been a dominant figure in the media for a long time. We have to recreate the old show again, and that brings a lot of challenges, but it's a lot of fun."
It's also another commitment to add to an already very full plate,
which includes running his own production company, hosting a breakfast radio show, and commentating for Fox Footy, as well as his presidential duties with Collingwood Football Club and the Melbourne Stars. But Eddie's no stranger to keeping busy. In fact, his penchant for multi-tasking earned him the nickname 'Eddie Everywhere'.
"None of it is compulsory, so I never whinge about the long hours," he says. "Sometimes you get a bit tired, but that's what you sign up for. If you do decide to take something on, then you have to do it to the best of your ability."
He has a lot more energy too, after a recent health kick. "You hit 50 and you've been putting on a kilo and a half every year for the past 15 years, and suddenly you look down one day and say, 'Geez, I'm fat.' And when you get to this stage of life, diabetes and heart disease come into play, so you have to look after yourself.
I can tell myself that it's hard because I get up at 4.30 every morning and work long hours, but sooner or later you realise that's an excuse, not a reason. These should be the best years of your life, and if you want to live the lifestyle that you have worked hard to build, then you might as well get yourself in shape to enjoy it. So, I've got myself back to being fit, and I feel fantastic."
It means that when he does carve out a bit of free time, he can keep up with
his wife, Carla, and two sons, Joe (16) and Xander (14). "My family is really the centre of my whole life. My wife and our family have been a constant source
of joy and pride for me. Carla and I have a great relationship, thank goodness. And I've got two ripping kids who are coming into that stage in life where they are turning into young men and it's a pleasure to see them do so."
My family is really the centre of my whole life. My wife and our family have been a constant source of joy and pride for me.
Xander has made guest appearances on Neighbours, and even joined Eddie
on stage at the TV Week Logie Awards, poking fun at his father's less-than-stellar first day as a television reporter. He says his family are his most "trenchant critics" and have no trouble keeping him grounded. Of course, his upbringing keeps him in check too. He only needs to remind himself of Eddie Senior's swag of laborious jobs, and missing out on dinners with his mother, Bridie, because of her factory shifts.
He says what you see is what you get too. "I'm always ad-libbing, so you can't
make that stuff up. There's no point trying to be somebody who you're not."
His modest Broadmeadows background has no doubt played a part in his passion for philanthropy. Magpie Nest is one of the initiatives he and Collingwood chaplain Major Brendan Nottle pushed through the club, known for its working-class roots.
The pair orchestrated the residential program after a woman escaped a domestic violence situation only to find herself with nowhere to go. "After she confided in us, it brought us to tears, and we looked at each other and said, 'We've got to get in and do something here.' " The project now provides accommodation for 300 people who are "doing it tough", and it also serves 3,000 meals a week.
Eddie and his family also spend every Christmas Day handing out food and presents to the less fortunate. "There are a lot of people to whom life deals some bad cards, or they are left on the side of the road of life. So, to be able to come in and provide a beautiful room, great food and music, and genuine love and warmth on what can be such a lonely day for people, is a wonderful thing."
So, when he cops a barrage of abuse for a slip of the tongue taken out of context, he only needs to remind himself of how fortunate he is. And make no mistake, that luck has been earned.
"If there is one thing I'd like to tell my 20-year-old self, it's not to be afraid of making mistakes because you will – the critics are always there. Take on what they say because sometimes those things can be constructive, but don't take to heart the comments from those who might criticise you for the wrong reasons. "Above all, live a good life and enjoy yourself."