Samsung has stolen a march on rivals Apple by launching a cut-price flagship smartphone, the Galaxy S20 FE (Fan Edition).
The Galaxy S20 smartphones are some of the most technically impressive phones of the year with 120HZ refresh rates, triple rear cams, and 5G across the entire lineup.
However, the coronavirus pandemic has caused people to be more cash-conscious, and Samsung has never before released a budget edition of a flagship smartphone to compete against rivals like the standard Apple iPhone 11 (US$699). Apple also has delayed releasing a new iPhone so far this year.
"Galaxy S20 FE is a premium flagship smartphone that includes innovations Galaxy fans told us they love most, made available at an accessible price point, starting at US$699 for 5G. COVID-19 disrupted the world as we knew it and technology is now playing an even more crucial role in our lives and that is why we created Galaxy S20 FE to deliver flagship experiences to reach even more consumers. Samsung took select features of the Galaxy S20 series, such as the super-smooth scrolling display, an AI-powered camera, advanced chipset, hyper-fast connectivity, all day battery, expandable storage, with a streamlined premium design, in order to create the all-new Galaxy S20 FE," Samsung Newsroom said in a release.
The S20 FE has a 6.5-inch display, which sits it between the smaller Galaxy S20 and the larger S20 Plus. Like those phones, the FE has a 120Hz refresh rate for smoother animations and graphics, but unlike those phones, its screen is completely flat and can't be cranked up to a Quad HD+ resolution. It has a 4,500mAh battery, 6GB of RAM, wireless charging, IP68 water resistance, expandable storage, and the top flight Snapdragon 865 processor.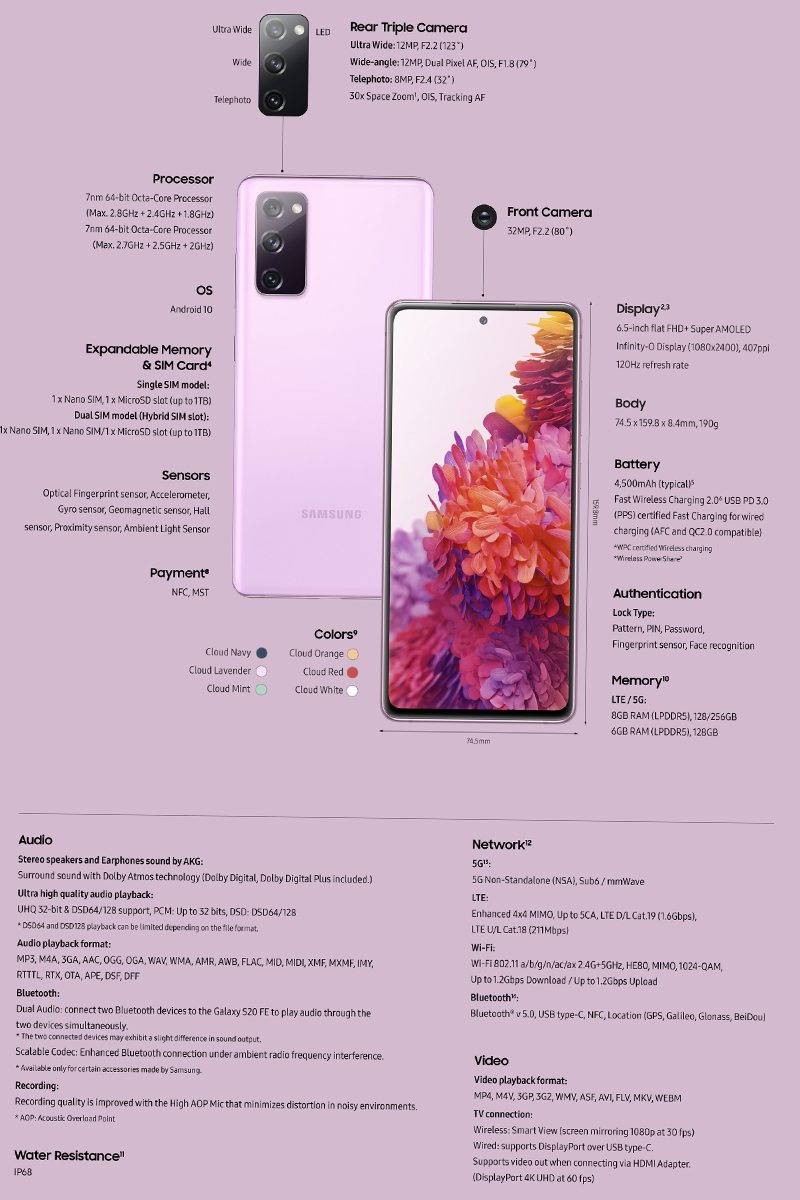 "We are constantly speaking to our fans and taking feedback, and we heard what they loved the most about our Galaxy S20 series, what features they used most often and what they would want to see in a new smartphone," said Dr TM Roh, President and Head of Mobile Communications Business for Samsung Electronics. "The S20 FE is an extension of the Galaxy S20 family and is the start of a new way to bring meaningful innovation to even more people to let them do the things they love with the best of Galaxy."
Samsung is providing six vibrant colours for the S20 FE: Cloud Red, Cloud Orange, Cloud Lavender, Cloud Mint, Cloud Navy and Cloud White. The S20 FE also features a premium textured haze effect that minimises fingerprints and smudges.
Starting on 2 October, the S20 FE will be widely available through Samsung.com, carriers and retailers online. Pre-orders for the S20 FE 5G and S20 FE begin on Samsung.com on 23 September.