Innovation Australia
What do we need to do to be more competitive in the global political economy? Become more innovative. That was the message shared at Innovation Australia.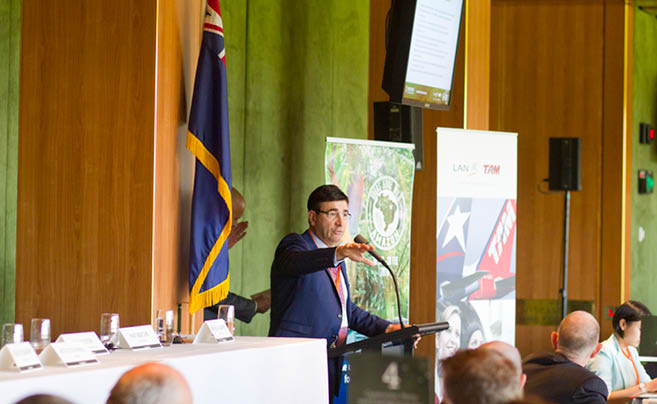 Change, disruption, innovation, and thinking outside of the box are words not normally synonymous with a speech by a government official—unless their portfolio is directly linked to these areas. You're more likely to hear the words steady, cautious, and tried and tested.
But it's almost 2016; Apple's just released its best iPhone yet, Cuba and America have forgiven each other, and it's socially acceptable to text our friends who are sitting at the same table as us. Times are changing and governments are finally beginning to catch on to the impact innovation is having in all areas of our lives.
Innovation Australia, an event hosted by entrepreneurial movement Unstoppables in collaboration with NSW Minister of Innovation and Better Regulation Victor Dominello, was recently held at NSW Parliament House. Its primary purpose was to show how bringing together intelligent government officials, CEOs, business leaders, and entrepreneurs to brainstorm and workshop could revolutionise Australia's innovative landscape—a landscape that should be embraced, not feared.
NSW Minister for Innovation and Better Regulation the Hon Victor Dominello shares his big plans for NSW at Innovation Australia.
Minister Dominello, in his Innovation Australia opening address, made it clear governments needed to work closely with all commercial industries or there would never be any substantial results.
"The only way we can keep pace with you is to collaborate with you, otherwise we're going to be left behind," he said.
Unstoppables founder Julio De Laffitte welcomed the ascension of Malcolm Turnbull as Prime Minister, saying Australia's business landscape needed certainty and could fail unless something drastic was done to let it grow by embracing innovation.
Unstoppables Founder Julio De Laffitte addresses the crowd at NSW Parliament House for Innovation Australia.
"There's an underlying thought process that makes us (Australians) sit back and wait. Just wait to see what happens, then we decide what should be our move as a nation," Julio said.
"Constant change in government directly impacts on our ability to compete internationally. How does uncertainty impede our hunger for innovation? What is the cost of waiting? For at this point the cost of waiting is everything. We must not be uncertain, we must be unstoppable.
Julio said change rarely came from the centre, and the best change often comes from the edges.
The event hosted 13 different industries, all of which came together for in-depth round table discussions. From the health industry, to mining and IT, the room had more than 120 high-level business participants and an expert panel of six.
The expert panel included Australian entrepreneur Jo Burston, who since starting her own multimillion-dollar business Job Capital in 2006, is now the owner of eight businesses. The panel also hosted Nicholas Adamo. Nicholas began his career in law and later sold his computer forensic firm, Forensic Data, to Deloitte Australia during the global financial crisis. He's now a sought after consultant currently working with Ernst and Young.
Innovation Australia panel discusses what they believe to be critical elements to push Australia to the forefront of innovation.
What did the Unstoppables expert panel (with panelists from Microsoft, Tecala, LinkedIn, Ernst & Young, Start Up Daily, and Inspiring Rare Birds) have to say about innovation? Watch this video clip from the day.
Julio said Innovation Australia was one of many initiatives his organisation Unstoppables was doing to try to get the message heard loud and clear—Australia needs to become more innovative if it wants to survive in the global political economy.
The findings recorded on the roundtables will now be analysed and a white paper with further actions will be presented to the NSW Government.
The next 'think tank' hosted by Unstoppables will be in the Amazon jungle early next year. Earlier this year the group took 106 people to Antarctica and achieved similar results, with more than 98 new business concepts created and millions pledged in sponsorship and investment.
"We need the government's help to become more innovative and get to the top of our game," Julio said.
"Less red tape, more incentives and firm leadership are all part of the necessary ingredients to achieving success. It's encouraging to see Minister Dominello fully supports that and is collaborating with Unstoppables to achieve our common goals."
If you're interested in learning more about Unstoppables visit: unstoppables.com.au.
The full article can be downloaded below…