IoT: Transforming manufacturing
The IoT is transforming manufacturing through the power of data analytics, cutting operational costs and rework, and driving better asset management.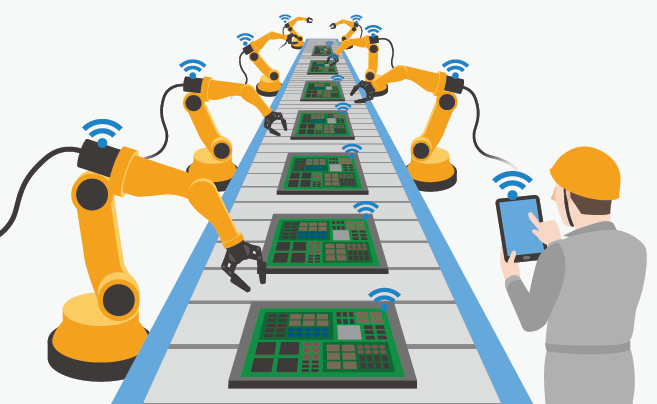 In many industries, manufacturing has been a linear, opaque, capital-intensive process, prone to rework, that often lets errors through to the end customer, or only catches them much further down the production line than we would like.
Of course, the automotive industry and other precision manufacturers have already made great strides in automation and consequent productivity and quality improvement. This is where the Internet of Things (IoT) has made the biggest impact to date. Now, IoT enables manufacturing companies in any sector to:
Operate a cradle-to-grave cycle, tracking provenance from source and enabling end of life assets to be recovered and recycled;
Transform assets into 'as a service' offerings, incorporating through-life maintenance and charging based on asset performance and utilisation;
Synchronise value chains from supply though manufacture, distribution and retail, optimising inventory levels and reducing unnecessary idle time and cost;
Deliver end-to-end visibility and control of the manufacturing process, through sophisticated visualisation and monitoring tools;
Instrumentation and automation of the manufacturing work, reducing labour costs and improving quality and precision of the process; and
Powerful ways to optimise manufacturing operations through machine learning and analytics, and using simulation modelling of the end-to-end process.
Not every manufacturing business will feel compelled to make the shift to IoT-enabled operations urgently. However, as more and more local and offshore competitors invest in IoT and begin to reap the business benefits, manufacturers who lag behind will come under increasing cost and quality pressures.
IoT is making a big difference already
The IoT is transforming manufacturing through the power of data analytics, cutting operational costs and rework, and driving better asset management. We are already seeing a number of IoT solutions for manufacturing to help reap these benefits:
Airbus — Visualising the Value Chain: Airbus has taken a lead in the manufacturing sector in adopting RFID technology as part of its 'value chain visibility initiative'. This solution has streamlined the full lifecycle from sourcing parts, to aircraft assembly and in-service operation of their aircraft by airlines. Airbus and its value chain partners now derive key business insights to support predictive maintenance, improved asset management and supply chain optimisation.
Omron Corporation — Using Big Data for Continuous Improvement: The global industrial automation business Omron uses big data to help its people find process improvements in the production of printed circuit boards. By integrating log data from different points on its production line to visualise the end-to-end process flow, operators can now identify problems and the root causes quickly and easily. As a result, their hourly productivity has improved by 30% in only a few months and the improvement in productivity continues.
Optex — Building an 'Internet of Sensing' to drive new business models: Optex manufactures world-class sensing equipment in the fields of automatic doors, security and measurement, among others. Using Fujitsu's Cloud Service IoT Platform, Optex has built a common infrastructure that can process a wide range of sensor data efficiently, in real-time. As the first step in creating its new data exploitation business, it has developed a simple water quality measurement system. This ground-breaking system uses the Cloud IoT service to obtain water analysis results in real-time, enabling Optex to create new data-driven services for its industrial customers.
Making the shift to IoT has its challenges
For most manufacturing companies, becoming an IoT-enabled enterprise will involve big operational changes and significant cultural challenges. Many manufacturers have complex legacy systems that are expensive to replace. Despite the undoubted value they see in the industrial IoT and the connected enterprise, practical considerations around costs and implementation will weigh heavily on their decisions.
The challenges facing the manufacturing sector's adoption of IoT include:
Interoperability and compatibility of IoT and data standards and applications;
Security of data and privacy concerns for staff and customers;
Cultural acceptance of new work practices, and education and training to support the transition to IoT-enabled operations; and
Tackling the 'silo mentality' across business functions and value chain partners.
At the heart of this IoT-enabled transformation is managing change — traditional systems were designed largely with human beings, not 'things', in mind. Our experience across industry sectors shows manufacturers must ensure IoT solutions are secure and fast to deploy, can be integrated with their existing core systems, and supported by a strong change management approach to address the critical human success factors at play.
Make no mistake — IoT will be at the heart of future digital transformation efforts for the manufacturing sector. When combined with other emerging technologies, such as biometrics, Artificial Intelligence, robotics and machine learning, these exponential technologies that have the potential to create new revenue streams, to reduce costs, and deliver new customer experiences in ways that manufacturers couldn't have previously imagined. For example, putting together IoT, augmented reality and 3D design, we can deliver virtual prototyping, allowing manufacturers to cost effectively experiment with design alternatives and confirm customer requirements with confidence, before making a single thing.