Take a look inside Apple's space-age HQ and be blown away
The 'think different' philosophy of Steve Jobs extended way beyond his visionary product designs to Apple's shiny new Silicon Valley headquarters – Apple Park, aka The Spaceship.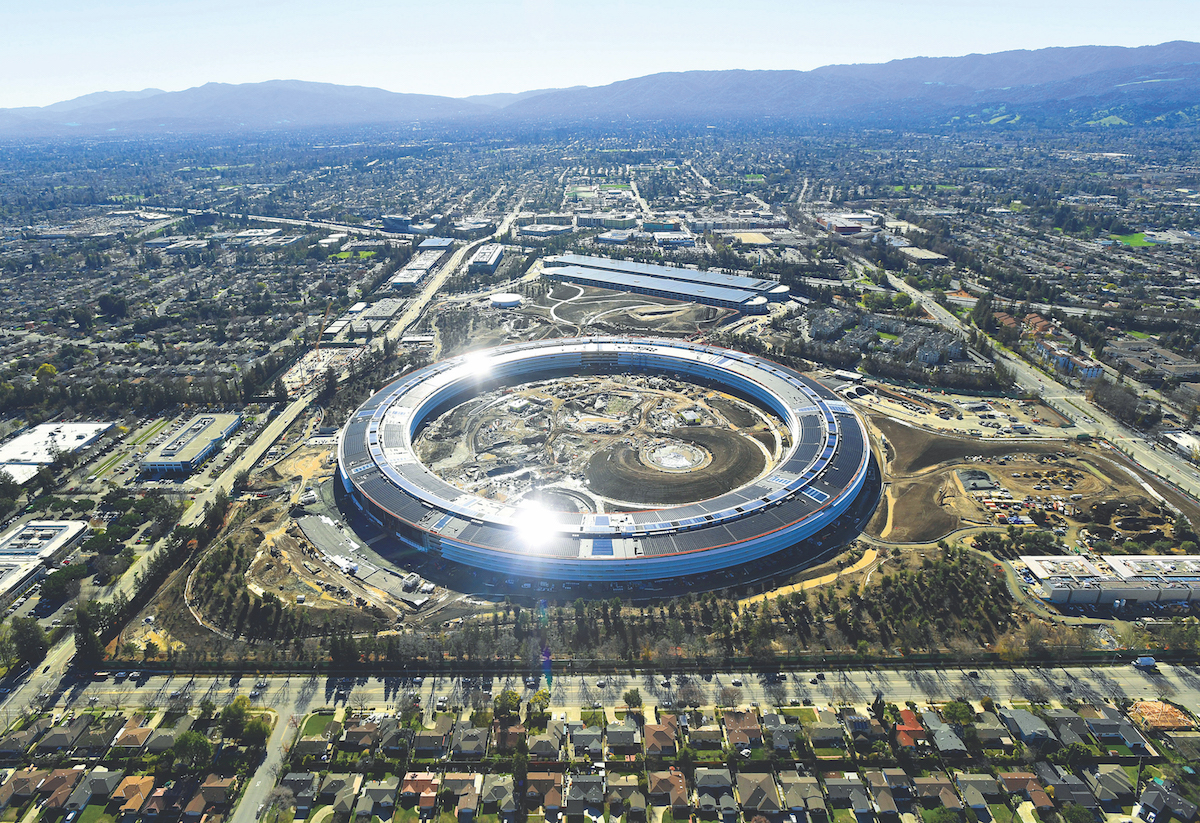 It is surely no accident that the final plans for Apple's vast and gobsmackingly gorgeous new headquarters crystallised in the final stages of Steve Jobs's extraordinary life. Here was a man who had devoted most of his life to building revolutionary yet ultimately disposable products, pouring the very last of his energy into a concrete-and-glass legacy he hoped would long outlast Apple's other products.
Critically, he wanted his company's new headquarters to be something he had never previously achieved with any of his storied product launches, no matter how successful they'd been. He wanted it to be futureproof.
This land is my land
While Apple had been quietly snapping up land in Cupertino, California, for a number of years, the full extent of the plans for this vast mega-facility weren't known until June 2011, when a visibly unwell Jobs – with his trademark attire of black turtle neck and blue jeans hanging off a stick-thin frame that had been shrunk by illness – addressed a Cupertino Council meeting, lobbying in person for the approval needed for construction to begin.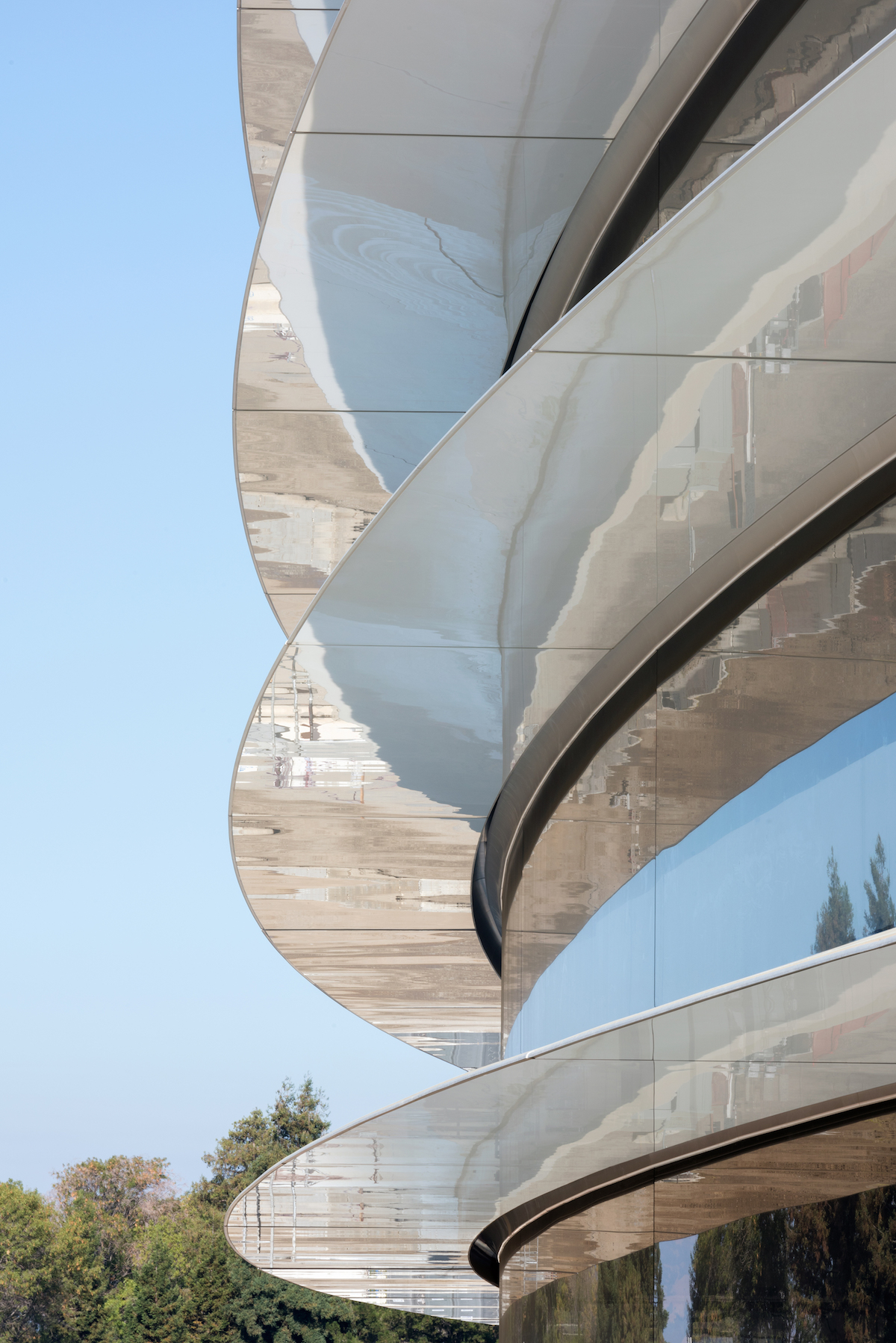 "This land is kind of special to me," he told them, explaining how the land purchased for the sale had been owned by Hewlett Packard, the computing firm that had given a 13-year-old Jobs his first summer job, building frequency counters.
It's a pretty amazing building. It's kind of like a spaceship landed.
"We've seen these office parks with lots of buildings and they get pretty boring, pretty fast. We'd like to do something better than that," he told the council, as an image of an enormous and circular building flashed onto the screen.
"What we'd like to build there is one building that holds 12,000 people. And it's a pretty amazing building. It's kind of like a spaceship landed."
Best office in the world
"I think we do have a shot at building the best office building in the world. I think it can be that good," Jobs concluded. As with most things Jobs went after, he got the approval he needed. In fact, the fawning reaction of the council members, recorded for posterity on YouTube, verges on embarrassing. That meeting would be Jobs's last public appearance. He passed away less than three months later.
Now known officially as Apple Park (and unofficially as The Spaceship), the US$6.4-billion, 260,000-square-metre facility, sitting on a 70-hectare property in the middle of Silicon Valley, is officially open for business – a shining glass realisation of a vision that had come to Jobs while strolling through London's Hyde Park.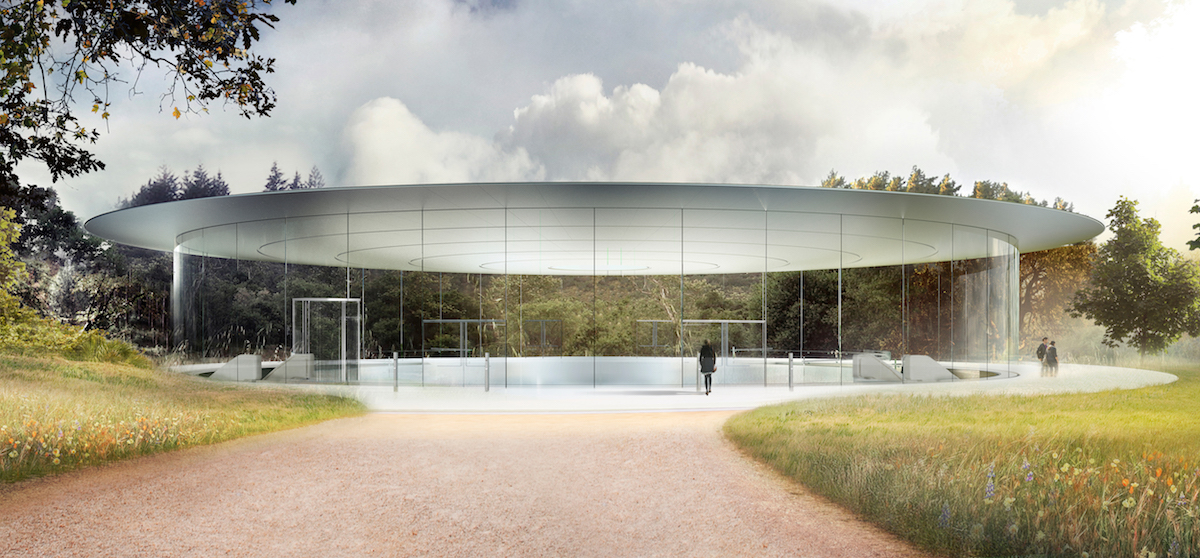 It was Jobs who demanded that the wood used to shape the office walls be felled in winter, to ensure minimum sap disruption to the grain. And it was he who demanded the stone used in the 9,290-square-metre 'wellness centre' (complete with dual-level yoga studio) was weathered in just the right way so it would remind him of one of his favourite hotels.
And it was Jobs who demanded that most of the parking lots be built underground, to ensure 80% of the site would remain green land.
The devil is in the detail
Applying the same detail-obsessed nature to the build that he brought to Apple's epoch-shattering products, Jobs demanded six-hour meetings with London architecture firm Foster + Partners, drilling down on the most minuscule of details.
The door handles, for example, are rumoured to be the result of 18 months of meetings. Likewise, Jobs had demanded perfectly seamless fittings between floors, walls and roofs, outlawing any visible seams or gaps.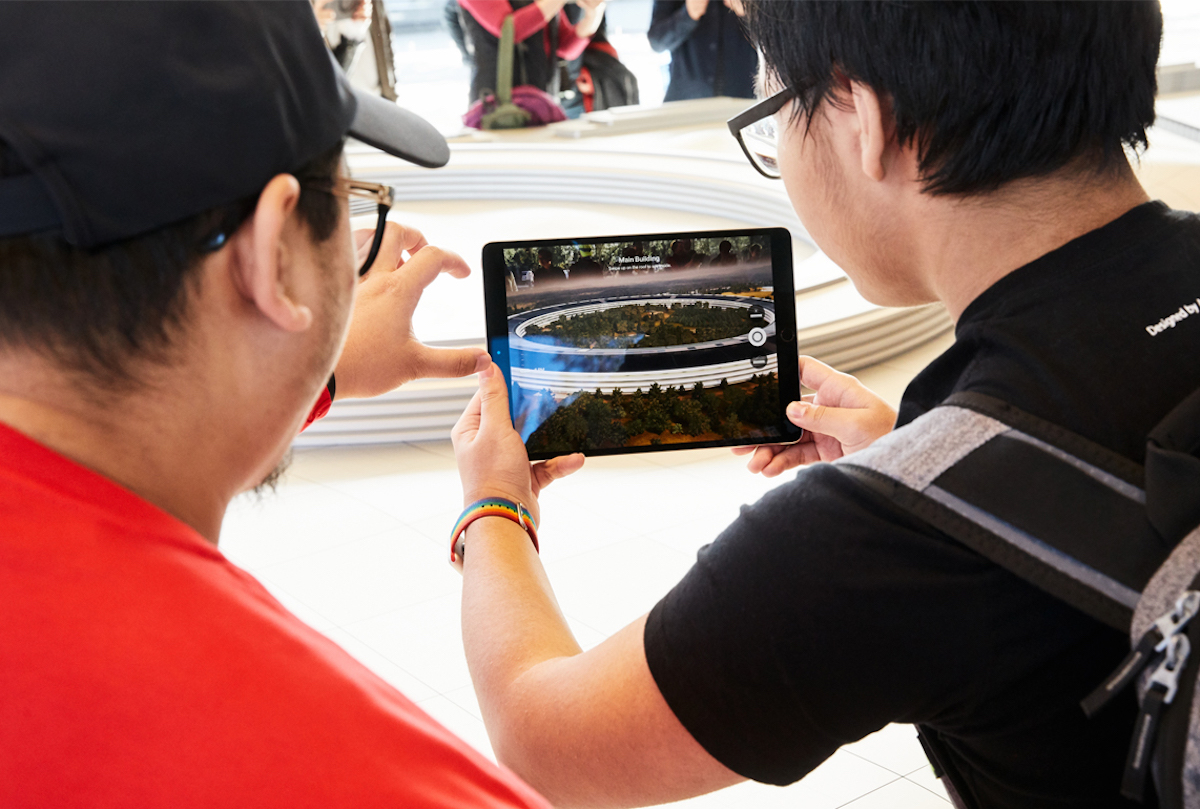 A little later than planned, in June 2017, Apple's employees began moving into the new HQ, with the numbers expected to have swelled to more than 12,000 by year's end. Those employees will be sharing open-plan offices, sitting at custom-made, 18-foot tables shipped in from the Netherlands.
More than 1,000 bikes are on hand to help staff navigate the giant facility, supplemented by electric carts and shuttles. "Steve's vision for Apple stretched far beyond his time with us. He intended Apple Park to be the home of innovation for generations to come," said Tim Cook, Apple's CEO, at a presentation to welcome the first employees into the facility.
The numbers are clearly incredible. A four-storey, perfectly circular building, framed in six kilometres of glass – made up of what Apple claims to be the world's biggest pieces of curved glass – encircles green parkland filled with some of the site's more than 9,000 planted trees, specially chosen to be drought-resistant in the face of California's worsening water crisis.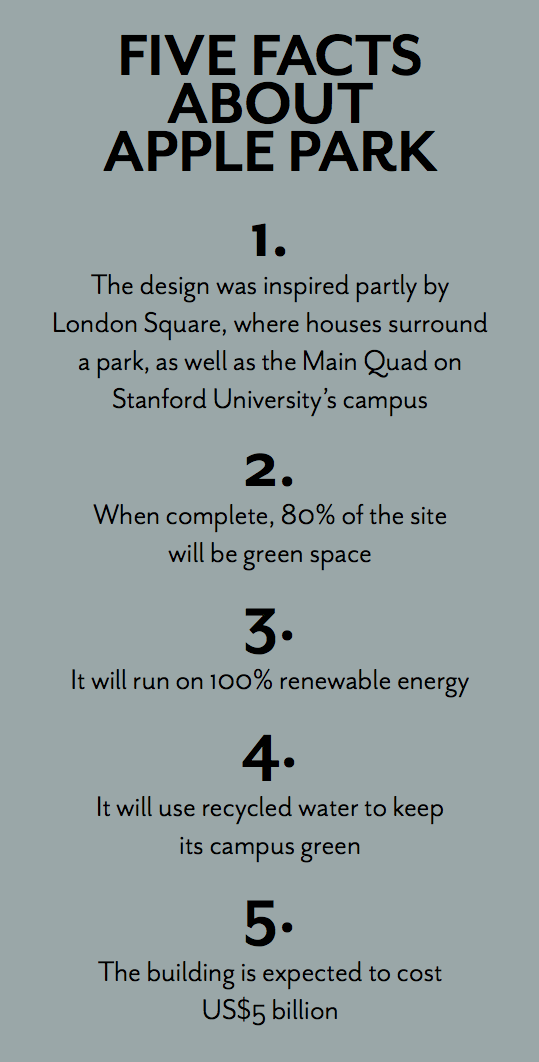 There are 3.2 kilometres of running and walking tracks through this vast parkland in the heart of Silicon Valley's urban jungle, along with countless cafes (one of which is open to the public as well as staff) and one staggeringly large restaurant, designed to encourage staff of all levels to mingle.
Jobs was conscious of the fact that reliance on grid electricity would leave Apple susceptible to brownouts and outages, so more than 75 per cent of the building's power comes from the vast forest of solar panels that line the roof, while biogas fuel cells housed in an onsite power-generating facility act as backup.
Largest 'breathing' building
The spaceship itself is the world's largest 'breathing' building, with the glass walls equipped with water-cooled vanes that act as natural air conditioning, and allow the building to do without traditional heating or cooling for nine months of the year.
The dual unveiling of the iPhone 8 and iPhone X took place in the recently completed Steve Jobs Theatre in Apple Park in September, when Jobs would have been 62 years old, launching the 1,000-seat auditorium that will be home to all future Apple presentations, with their frenzied excitement.
The attendant media were almost as excited about the building as they were about the new phones and their animated poop emojis or animojis. "Steve was exhilarated and inspired by the California landscape, by its light and its expansiveness," says his wife, Laurene.
"It was his favourite setting for thought. Apple Park captures his spirit uncannily well."